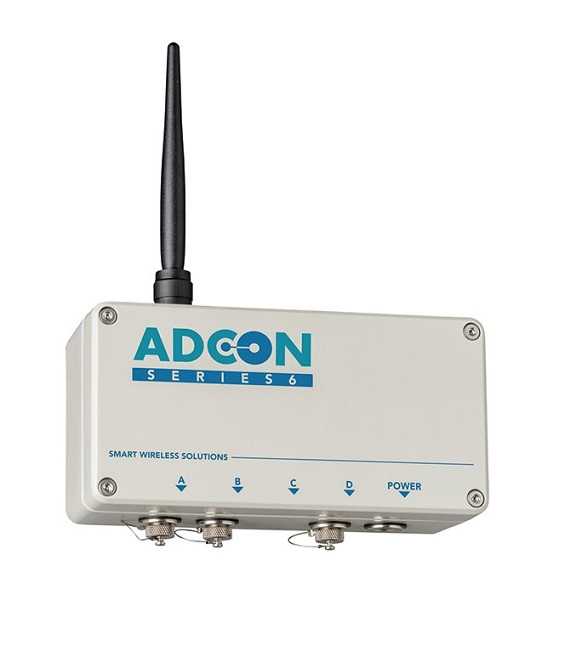 A760 4G/LTE Telemetry
The ADCON SERIES 6 RTU is the new generation of remote-controlled, ultra low-power dataloggers for agricultural, meteorological and hydrological applications. Available in three variants the A760, A764 and the A765. These 4G/LTE dataloggers are a drop-in replacement for the previous GPRS devices when the telecommunication companies shut down the current 3G networks.
Like all ADCON RTUs the SERIES 6 RTUs are fully integrated units: datalogger, cell modem and battery all together, fit into an extremely compact and robust aluminium case. The I/O ports support up to 40 SDI-12 values , 0-2.5V DC analogue and close contact pulse counters for a wide variety of compatible sensors. Internal battery is charged via a solar panel or an external mains power supply .
Sim card prevision for the Internet of things (Iot) networks and A850 hosting is available if required.
 

| | |
| --- | --- |
| Dimensions: | 160 x 60 x 80 mm |
| Weight: | approx. 1 200 g |
| Case: | powder-coated aluminum |
| IP class: | IP 65 & IP 67 |
| Temperature Range: | -30 to +65 °C |
| Connectors: | 3 x Binder M9 7-pin to sensors (A, B, D) |
| Battery: | 6.0 V NiMH 3300MAh |
| Sensor excitation: | unregulated batt. 5.6 to 7.2 V |
| 40 x SDI-12 values: | Version 1.3 compliant |
| 9 x analogue Inputs: | 0 – 2.5 V with 12-Bit resolution |
| 3 x pulse counter: | close contact 30Hz or 500Hz |
| 3 x digital in/out: | 0 to 5V TTL |
| Internal memory: | 16 MB (typ. 2,000,000 values) |
| Internal sensors: | Temperature |
| LTE information: | LTE Cat M1/NB1 |
| LTE bands: | 2, 3, 4, 5, 8, 12, 13, 20, 28 |
| LTE Rx Sensitivity: | Cat M1: -105 to -107.5 dBm (depends on band) |
| Tx Output Power: | 21 to 33 dBm depending on network |
| SIM form factor: | Mini SIM (2FF) |
| Antenna: | omni-directional, 4G, 2 dBi |
| Type Approvals: | RED, FCC, IC, PTCRB |