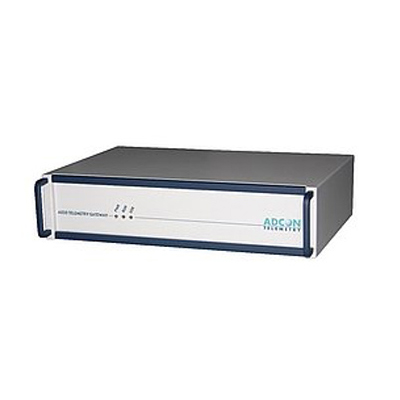 A850 Telemetry Gateway
The A850 Telemetry Gateway is the core of every Adcon monitoring network, be it a pure GSM / GPRS network, a UHF radio network or a combination of both – it's the A850 that knows exactly when and how to retrieve data from each RTU.
A network consisting of only GSM / GPRS RTU's requires only the A850 Telemetry Gateway, while a network using UHF radio RTU's also requires an A440 Wireless Modem. The A850 is available in several versions, managing from 5 up to 1,000 RTU's. Each version can easily be upgraded by software to support more RTU's.
What's new, compared to the A840?
During the 7 years of service of the A840 Telemetry Gateway we have gathered lots of experience with Base Stations, and the list of desirable improvements was long, including numerous requests from our customers. We have packed them all into the new A850! Here are the most important:
:
| | | |
| --- | --- | --- |
| | A850 | A840 |
| Data Memory | 1 GB | 16 MB |
| Data Viewer | yes | no |
| Max. Number of RTU's | 1.000 | 200 |
| Internal NiMH Battery | 4.500mAh | 2.100mAh |
| USB connector | 2 | no |
| Multi-User Access | yes | only 2 |
| Offline Configuration | yes | no |
| Gateway Locking | yes | no |
| Remote Update | yes | no |
| Support various time zones | yes | no |
| Diagnostics of Com-Quality | yes | no |
| Call out from Gateway | yes | no |
| RTU, battery and sensor tracking | yes | no |
| Send RTU commands from the GUI | yes | no |
| Secure Socket Tunnels | yes | no |
| Operating System | Linux | Linux |
Network Administration
An A850 Telemetry Gateway is handling up to 1.000 Adcon RTU's, no matter if they are long range or short range UHF units, GSM or GPRS RTU's. The A850 Telemetry Gateway knows the route to each radio RTU, the phone number of each GSM unit and the IP address of a GPRS RTU. It also knows exactly when and how often to poll data from each RTU. Changes to routes, phone numbers and polling intervals are programmed centrally in the Gateway, NOT the RTU!
RTU Management
It is crucial to know which equipment is installed in the field, where exactly it is located, which serial numbers it has, which battery type it contains, when it was last serviced etc. All these parameters are now stored in the A850. For the Network Administrator it is also crucial to be able to properly diagnose a system in order to recognize weak spots before they cause trouble. The A850 Telemetry Gateway will let him assess battery voltage, internal temperature, uptime of the RTU, firmware versions and many other parameters.
Sensor Administration
The A850 Telemetry Gateway provides a wide range of sensor drivers for almost any parameter around, be it an analog or an SDI-12 sensor. In it's largest version an A850 will be capable of handling up to 10.000 sensors in a single network! Custom drivers can easily be created and stored. Proper driver assignment to the respective RTU port, data interpretation, sensor calibration and maintenance info are all handled by the A850 Telemetry Gateway.
Integrated Data Visualization
This unique feature will enable you to directly open a trend panel in the A850's Configurator! Visualize sensor and diagnostical data with a mouse click – and assess any kind of data in graphical or table format right in the Gateway, without the need to download the data into another software package, not even addVANTAGE Pro 5! This feature is particularly handy for industrial clients, who use their own SCADA software, but have difficulties to create new views and trends for diagnostical data.
Autonomous Operation – Large Data Buffer and integrated UPS
Imagine a large network of 500 ETo stations. Imagine every station delivering 100 data sets per day. An A850 Telemetry Gateway will be able to store all that data for over a month!
And if a lightning will cause several hours of blackout, the internal battery pack of the A850 will be able to maintain the unit operational.
Data Retrieval
Data can be retrieved from the A850 through its 100 MBit Ethernet connector, or an external modem connected to a USB or RS-232 port. In most cases the A850 will be part of a clients Intranet. But it can basically be installed anywhere, even in the remotest of areas, as long as there is a mains connection, and a phone line or GSM coverage. addVANTAGE Pro will automatically retrieve the data from this remote Gateway.
Wireless Modems
The A850 Telemetry Gateway communicates via a 30m RS-485 cable with the roof mounted A440 Wireless Modem. For very large buildings or installations on a high mast an optional 75m low-attenuation cable can be supplied. The A440 Wireless Modem comes in an IP67 rated case and is compatible with all Adcon RTU's sold to this day.
The A850 supports by default not only an A440 Wireless Modem, but also the RA440 Remote Wireless Modem. This device lets you collect data via a GPRS connection from remote UHF RTUs. Optionally up to 10 RA440s can be connected!
Future Features
The A850 Telemetry Gateway is prepared for future firmware upgrades, that will enable it to run up to ten external USB modems, and to operate several Wireless Modems on different frequencies. That means that your A850 will be capable to run a network of 450MHz RTU's AND at the same time a network of 868 resp. 902 MHz RTU's.

•SPECIFICATIONS

A850 Telemetry Gateway
Dimensions
182 x 260x 52 mm
Weight
1.862g
Connectors
1 x 100Base-T Ethernet
1 x RS-232 (ext. modems)
1 x RS-232 (Console)
1 x RS-485 (Radio Modem)
2 x USB (ext. modems)
1 x Mains Power
Analog Modem
external via USB or RS-232
Micro Processor
Cirrus Logic 32-bit ARM
Memory
1GB Flash, 32MB RAM
Operating System
Linux OS 2.4 Kernel
Power Supply
90 … 240 V AC; an integrated 8.4V NiMH battery with 4.500mAh serves as uninterruptible power supply
Operating Temperature
-10°C … +55°C

A440 Wireless Modem
Dimensions
119 x 79x 60 mm
Weight
590g
Connector
1 x RS-485 to connect to A840 / A850
IP Protection
IP67
Power Supply
via the RS-485 connection to the A850 / A840 Telemetry Gateway
Mounting
Mast mounting bracket
Operating Temperature
-30°C … +60°C
Tx Output power
500mW e.r.p.
Rx Sensitivity
-120dBm (10 dB S/N)
Channel spacing
12.5 / 25 kHz (factory preset)
Antenna
Omni-directional, 0dB
Antenna connector
TNC with external seal
Frequencies
430 … 470MHz (in 4 bands of 10MHz each)
Approvals
R&TTE, CE, FCC, Ind.Canada, AUS