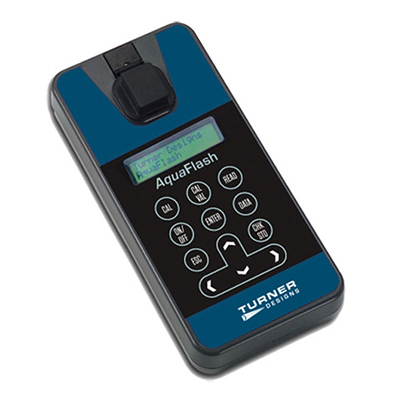 AquaFlash
The AquaFlash is a highly portable Fluorometer specifically designed for the quick and accurate estimation of total chlorophyll and photosynthetic efficiency "health" of algae using in vivo fluorescence detection.
Simply insert a 10x10mm square glass or quartz cuvette with your sample and press READ.  Results will be displayed in less than 15 seconds.
Results are displayed and automatically logged to be viewed or downloaded at a later time.
The AquaFlash has a total data storage capacity of 1,000 measurements which include raw fluorescence values along with calculated estimates for user reference.
Fast
Results in <15 seconds
     º Total Chlorophyll (µg/L)
     º Photosynthetic Efficiency (yield)
Quick Calibration Check
Portable
Handheld, Battery Powered
Highly Durable Case
Internal Data Logging
>10,000 measurements per AA battery set

AquaFlash Handheld Active Fluorometer Specifications
 MDL
 0.3 µg/L
 Linear Range
 0.3 – 100 µg/L
 Linearity
0.99R2
 Weight in Air
0.4 kg
 Size
4.45 cm x 8.9 cm x 18.4 cm
 Warm-up Time
 5 seconds
 Case
IP 67 standard; dustproof/waterproof
Temperature
 5-40°C
 Power
 4 AAA batteries (standard or rechargeable)
 Max Data Capacity
1,000 measurements
 Data Output
 ASCII




AquaFlash limits were determined using using P. micans and
Tetraselmis sp.; limits may vary for other algal species

Available models include:

AquaFlash Portable Fluorometer
Product number# 8600-000

AquaFlash Portable Fluorometer: Wrist Strap
Product number# 030-8500
AquaFlash Portable Fluorometer: Replacement Download Cable
Product number# 021-0850
AquaFlash Portable Fluorometer: Replacement Storage Pouch
Product number# 142-8000

What is Active Fluorescence?

AquaFlash Package & Accessories

Factory Calibration Check

Resetting Factory Calibration

How to Measure a Sample

Data Downloading