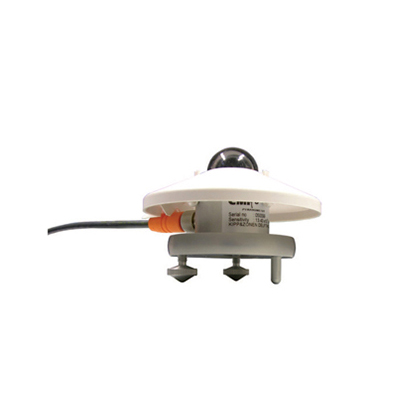 CMP3
Kipp & Zonen CMP-3
CMP-3 is a pyranometer according to ISO-9060 Second Class standard. It is measuring the irradiance on a plane surface from radiant fluxes in the wavelength range from 310 to 2800nm by means of a thermopile element. This makes the CMP-3 ideal for meteorological routine measurements which require neither a First Class nor a Secondary Standard instrument.
The output signal of the thermopile sensor is converted by the integrated Adcon amplifier to a 0-2.5V signal, compatible to all Adcon RTU's.
The sensor comes complete with all mast mounting equipment, two pipe clamps, and a shielded 2m cable with a 7-pin Binder jack, compatible to all RTU's of the A723 and A733 families.
Features:

Albedometers, Pyrgeometers, Net Radiation Sensors, First Class Pyranometers, Secondary Standard Pyranometers
Adcon custom builds amplifiers for other products of Kipp & Zonen, such as the CMP-6, CG3 and NR1 sensors. The German Aerospace Center in Mecklenburg uses 25 Albedometers and 25 Pyrgeometers, built around A740 and A753 weather stations, for the ground truthing of satellite images. Got a project?

Benefits:

Automatic weather stations for regulatory monitoring (odour modeling & plume dispersion) Solar array performance monitoring Evapo-transpiration calculation

CMP3
SP-Lite
Sensitivity
5…20 µV/Wm²
100 µV/Wm²
Spectral Range
310 … 2800nm
400 … 1100nm
Max. Irradiance
2000 W/m²
2000 W/m²
T.C. of Sensitivity
+/-5% (-10°C … 40°C)
+/- 0.15% /°C
Operating Temperature
-40°C … 80°C

-40°F … 176°F

-30°C … 70°C

-22°F … 158°F

Non-stability (change/year)
+/-1%
n.a.
Non-linearity(0-1000 W/m²)
+/- 2.5%
n.a.
Tilt response(at 1000 W/m²)
+/- 3%
n.a.