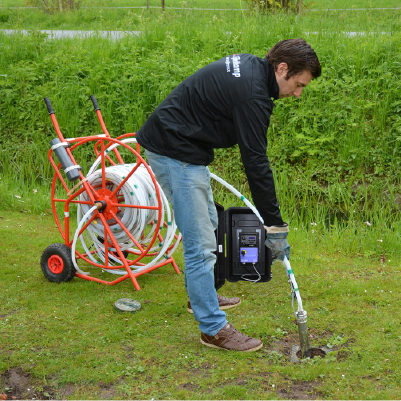 Grundfos MP1 Pump Set
For a complete, pre-mounted, all-in-one package, assembled & tested  by the Factory, the Grundfos MP1 Submersible Pump Set cannot be beat.
This package incorporates it all:
• Grundfos MP1 Submersible Pump
• Grundfos Frequency Converter
• Grundfos Hose Reel
Perfect for high flow purging applications, the Grundfos MP1 Submersible Pump is a high performance, beautifully engineered, workhorse of the environmental industry.
Suitable for 50mm monitoring wells, the Grundfos MP1 Submersible Pump capable of purging water from a depth of 90m.
An adjustable 110v or 240v  Frequency Converter allows flow rates to be adjusted to between 0 and 2m3/hour when connected to mains power. This pump is so powerful that purges rates of 1m3 can be achieved 74m head!
A Hose Reel Cart is available to facilitate portability.
High pumping capacity for purging, slow pumping for sampling
Easy to install; mobile
Resistant to corrosive liquids
The pumped material only comes into contact with stainless steel and Teflon
Anaerobic sampling
Simple cleaning procedures

Various standards sets are available with a sampling depth of 30 (art.no. 1227SF with Teflon tube and 1227SL with LDPE tube), 60 (art.no. 1227SG Teflon and 1227SM LDPE tube) and 90 m (art.no. 1227SH Teflon and 1227SN LDPE tube).

The standard sets include: the Grundfos MP 1 submersible pump, frequency converter, cooling jacket, service set, cable, hose with connection, hose reel cart and service kit.

All materials in the set are fully assembled.

Various models are available depending on your requirements.

Please consult with Aqualab before ordering.

Available models include:

Grundfos MP1 Submersible Pump Set - LDPE (30m)
Product number# 1227SL
Grundfos MP1 Submersible Pump Set - LDPE (60m)
Product number# 1227SM
Grundfos MP1 Submersible Pump Set - LDPE (90m)
Product number# 1227SN
Grundfos MP1 Submersible Pump Set - Teflon (30m)
Product number# 1227SF
Grundfos MP1 Submersible Pump Set - Teflon (60m)
Product number# 1227SG
Grundfos MP1 Submersible Pump Set - Teflon (90m)
Product number# 1227SH

Grundfos MP1 Submersible Pump Set - Grundfos MP1 Submersible Pump (30m) - Pump Only
Product number# 122703
Grundfos MP1 Submersible Pump Set - Grundfos MP1 Submersible Pump (60m) - Pump Only
Product number# 122706
Grundfos MP1 Submersible Pump Set - Grundfos MP1 Submersible Pump (90m) - Pump Only
Product number# 122709
Grundfos MP1 Submersible Pump Set - Grundfos Hose Reel (60m)
Product number# 122718
Grundfos MP1 Submersible Pump Set - Grundfos Hose Reel (60m - 200m)
Product number# 122719
Grundfos MP1 Submersible Pump Set - Frequency Converter (240v) in case - suitable for use with Grundfos MP1 submersible pump
Product number# 12274601

Grundfos MP1 Submersible Pump Set - Replacing the Motor Cable

Grundfos MP1 Submersible Pump Set - Checking & Refilling Motor Liquid