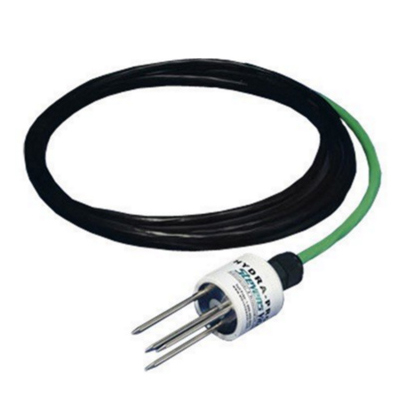 HydraProbe
The Steven's HydraProbe is a single level soil moisture sensor which may
be used as an insertion probe or buried in the soil at a fixed depth. The
sensor measures soil moisture, soil temperature and EC.
The HydraProbe is a robust, accurate single level soil sensor, which measures soil moisture, soil temperature and soil conductivity. Using these three readings it is then able to calculate the EC of the water held in the soil pores – the salt level the plant sees.
The HydraProbe can be used as a portable probe for turf applications or buried
below the surface for monitoring at a specific depth. Multiple sensors may be
connected to the same logger.
The HydraProbes may be installed in an over-sized hole drilled into the soil with a 40mm auger. The probe pins are pushed into the soil at the bottom of the hole
using a push rod and the hole backfilled with a mix of sand & bentonite. For
shallower sites, a hole can be opened up with a spade or post hole digger and the probe pins pushed into the undisturbed soil on the side of the hole. The hole can then be backfilled.
The HydraProbe sensor may be connected to any data logger which supports the SDI-12 serial interface specification.
Features:

Instantaneous sensor response
Serial addressable: multiple units on one cable
Maintenance-free
Easily linked to wireless systems
No calibration for mineral soil
Custom calibration available for peat, grain, and organic soil
Compatible with ADCON RTU's
Temperature corrected
Compact, rugged for years of in-soil use

Benefits:

Instantly measure soil moisture, conductivity, salinity, and temperature
Optimize soil analysis, watering and fertilization
Enables measurement of native (undisturbed) soil
Low risk: ten years of field-proven science
Measure flow of water, fertilizer from topsoil to sub-root zone
Performs well in high-salinity soil
Easier monitoring of remote sites
Review real-time soil data and trends from the office

Celsius : +/- 0.6o Celsius

Soil Conductivity: 0 – 20 dS/m, :

+/- 2% or +/- 0.002 dS/m (whichever is greater)

Measurement Volume30 x 60 mm

Dimensions Diameter 42 mm

Length 125 mm

Weight 200 g

Cable Length 5m

Maintenance Interval Nil – fully sealed unit

Warranty One year

Ordering Information:

203.733.103 Stevens HydraProbe SDI-12
Power supply 5.6 to 20 V DC

Power Consumption Idle: < 1mA Read: 30mA

Weight 60cm : 1.6Kg 100cm : 1.9 Kg

Output SDI-12

Accuracy Soil Moisture: 0-60 % VSWMC +/- 3%

Soil Temperature: -10 to +65o