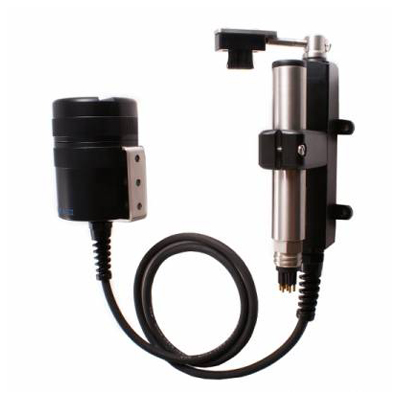 Hydro-Wiper
The Hydro-Wiper is an innovative mechanical wiper system customised to fit a wide variety of optical instruments.
Ideal for extended deployments where external power supplies are not available. The wiper unit is connected to a rugged underwater housing that contains the batteries, control electronics, diagnostic LED, wipe angle controls, and wipe interval select switch.
Powered by six user-replaceable alkaline batteries, the Hydro-Wiper will operate for over 6 months with a 1 hour wiper interval.  For extended deployments, a larger battery housing is available.
The wipe interval can be set from 15 minutes to 12 hours, to suit the environment.
Why purchase a Hydro-Wiper:
Cost effective: The Hydro-Wiper reduces the need for costly site visits to manually clean the instrument, maintaining data integrity throughout long deployments.
Proven in the field: Developed in 2007, Hydro-Wipers have been deployed in some of the harshest environments by educational institutions, research organisations, government agencies and private companies in all parts of the world.
Standard models: From flourometers to turbidity sensors, dissolved oxygen instruments to nitrate analyzers, PAR sensors and more, we can wipe them!
Custom design: We can provide custom clamps, brushes and cable lengths, power and triggering options, and depth ratings. Please contact us to discuss your requirements.