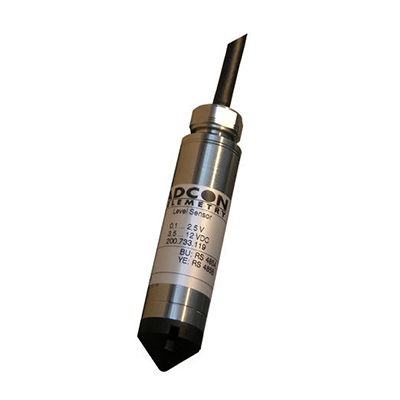 LEV1
Adcon's digitally compensated level sensors are top quality products Made in Switzerland, and are suitable for a wide range of applications. A pressure relief box with a silica pack inside is fitted to the end of the reference tube, which is embedded into the cable, to prevent condensation from blocking barometric pressure compensation.
LEV1 is an extremely accurate sensor that provides excellent long term stability. Built entirely from stainless steel it is also mechanically very robust and can withstand a number of chemicals, which makes it suitable not only for level monitoring in surface, ground and drinking water, but also in industrial process applications.
The sensor is available in three different pressure ranges of 10, 30 and 100m water column. By default it is equipped with 15m of cable for the 10m version and 40m of cable for the 30m version. Power supply is provided by the RTU's internal battery pack.
•SPECIFICATIONS

Pressure Ranges
1, 3, 10 bar
Overpressure
3, 7, 20 bar
Type of reading
relative, compensated against barometric pressure
Operating temperature
-40°C … +80°C
Pressure transmitter
piezo resistive
Compensated Range
0°C … +80°C
Accuracy (0-40°C)
0,1% FS
Resolution
< 0,01% FS
Long Term Stability typ.
Range < 2 bar: 1mbar

Range > 2 bar: 0,1% FS

Output Signal
0.1 … 2.5V DC
Supply Voltage
3.2 … 12V DC
Length
95mm / 3.74″
Diameter
22mm / 0.9″
Cable
Polyethylene (PE), vented
Cable length
15m (others upon request)
Connector
7-pin M9 Binder jack (male)
IP Protection
IP68 (Probe), IP67 (Connector)
Material in Contact with Media
Stainless Steel 316L (DIN 1.4435) /Viton / PE