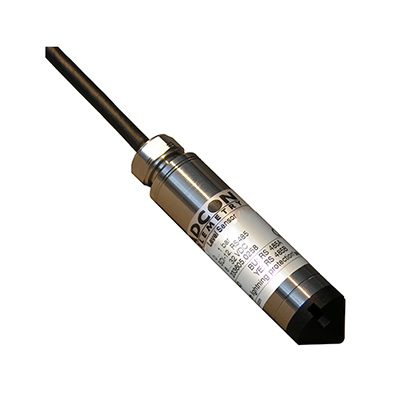 LEV2
Like its analog counter part the new LEV2 level sensor is fully digitally compensated and built for Adcon in Switzerland. In addition to the pressure reading it also outputs the temperature of the water table. A pressure relief box with a silica pack inside is fitted to the end of the reference tube, which is embedded into the cable, to prevent condensation from blocking barometric pressure compensation.
The probes are extremely accurate and provide excellent long term stability. Power is provided by the RTU's internal battery pack.
Three different pressure cells are available, 1, 3 and 10bar, corresponding to approx. 10, 30 and 100m of water column.
•SPECIFICATIONS

Level Sensor:
Pressure transmitter
piezo resistive
Measuring Ranges
1, 3, 10 bar
Overpressure
3, 7, 20 bar
Type of reading
relative, compensated against barometric pressure
Operating temperature
-40°C … +80°C
Compensated Range
0°C … +80°C
Accuracy (0-50°C)
0,1% FS
Resolution
< 0,01% FS
Long Term Stability typ.
Range < 1 bar: 1mbar

Range > 1 bar: 0,1% FS

Temperature
Measuring range
-20°C … +60°C
Accuracy
<0,2°C
Interface
SDI-12
Supply Voltage
5.5 … 34V DC
Length
95mm / 3.74″
Diameter
22mm / 0.9″
Cable
Polyethylene (PE), vented
Cable length
up to 100m
Connector
7-pin M9 Binder jack (male)
IP Protection
IP68 (Probe), IP67 (Connector)
Material in Contact with Media
Stainless Steel 316L (DIN 1.4435) /Viton / PE