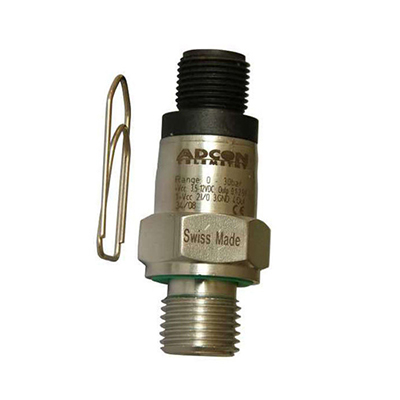 PA1
Pressure monitoring with a spectacular price-performance ratio!
The Adcon PA-1 absolute pressure sensor with a G1/4″ manometer thread makes pressure monitoring affordable for any kind of application. Its low price notwithstanding it's a top quality product Made in Switzerland.
Digital temperature compensation ensures high accuracy and repeatability, while at the same time providing excellent long term stability. This pressure transducer takes absolute readings within a range of 0 to 10bar (also available with a measuring range of 0 to 30bar).
As the image above shows the sensor is extremely small and compact. A robust M12 connector accepts a female jack as can be found on the optionally available 5 and 10m cables. Matching adapters for G1/2″ and NPT threads are available upon request.
•SPECIFICATIONS

Pressure Range
10bar
Overpressure
20bar
Operating Temperature
-40 °C … +80°C
Pressure Transmitter
piezo resistive
Compensated T-Range
0°C … +50°C
Accuracy (0…50°C)
typ. 1% FS max. 1.5% FS
Linearity
typ. 0,25 % FS max. 0,5 % FS
Manometer Thread
G 1/4″ (NPT adapters optional)
Output Signal
0.1 … 2.5V
Supply Voltage
3.5V … 12V DC
Length
49mm (1.93″)
Diameter
22mm (0.87″)
Weight
30g
Cable
shielded PVC2
Cable Length
5 or 10m (please order separately)
Connectors on probe and on cable
4-pin M12 male on probe,

4-pin M12 female and

7-pin M9 Binder male on cable

IP Protection
IP67
Material in Contact with Media
Stainless Steel 316L (DIN 1.4435) /Viton / PE