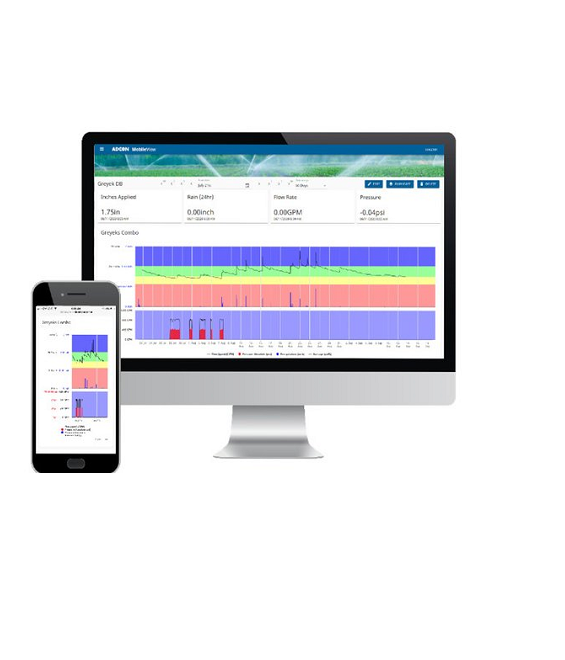 AddVANTAGE Pro 6.8
AddVANTAGE Pro 6.8 is the latest incarnation of the ADCON's universal data visualization, processing and distribution platform. It is fully web based, runs on a fast and reliable PostgreSQL database engine, and is fully scalable from a single user version for 5 RTU's to a super server, serving hundreds of clients and hundreds of RTU's.
With the addVANTAGE Pro 6.8 release ADCON introduce the new MobileView user interface for easy access to telemetry data from mobile devices. What is new in addVANTAGE Pro 6.8:
NEW MobileView add-on available for customized dashboard views in a mobile-optimized web app
NEW Table Conversion extension for functions like water storage height to volume
LiveData 2 now included with standard 6.8 license
Database & Security Improvements

Updated PostgreSQL database version (v9 to v12) and libraries
Updated Tomcat server version (v6 to v9)
Updated Java version (v8 to v11) – transition to OpenJDK / Amazon Corretto to avoid license costs associated with newer versions of Java / JDK
MobileView Key Features:
Responsive design adjusts the size and layout of data to best fit the viewing device (smartphone/tablet/PC)
Modernized look & feel
Display multiple existing data view panels from addVANTAGE Pro

Trend / Chart (with interactive cursor)
Table
Event List
Last Value of any sensor tag
Virtual Instruments
Additional widgets to be added with future releases

Create multiple dashboards for you and your clients
Customize each dashboard view by adjusting the order, size, and layout of widgets
Scroll through widgets with a swipe
Login-based access to dashboards using addVANTAGE Pro credentials and security settings
The Template Library

Operators of large networks and many, many stations are repeatedly faced with the need of "recreating" graphs, trends, extensions, all sorts of nodes – in identical setups as have previously already been created. 6.8 allows the administrator to now create a suite of templates, store them in the new template library, and recreate an entire area with all its content with the click of a mouse button. This will largely accelerate and facilitate the creation of new areas and make an administrators live much easier!

The RTU Wizard

Another one of these annoying tasks – setting up a new RTU. However, the new Wizard will guide you through this work stream in one, clean sweap – from creating a data source to setting up user rights. Nothing can be forgotten, no deviation needed, no search required how to do it and where to find it – the Wizard does it all!

The BEE – the new, Basic Export Extension

This will in the long run replace the A2A export utility. Now you can create and recreate and duplicate any configuration of an export file that you need, for whichever application. Define your export parameters, field delimiters, headers, and target directory – BEE does the rest!
A future, soon to be released version, will also provide you with the options to automatically transfer the files you just exported by FTP or by email directly to your target clients. Please note that this is an optional extension, not part of the free extension package.

The Server Status "Health Panels" for administrators

For administrators it is more important than for "standard users" to have a quick an comprehensive overview as to the current status of their addVANTAGE Pro server's health. These new panels will provide an excellent overview at a glance to important issues such as
available harddisk space for the database and the backups,
when the last backup was performed
if the backup was successfull and the DB consistent
how many users are logged in
how many RTUs are present on this server
how much time extensions take to calculate
how much memory and CPU power are being used
how many extensions are in the queue

Benefits:

addVANTAGE Pro in short is
a browser-based, fully Internet enabled
data visualization
data processing and
data distribution platform
offering customizable trends, tables, statistics
alarms and events
disease and irrigation models
for all kinds of environmental and industrial data
Pro 6 is a powerful yet universal software package to collect, store, process and graphically display data. The inherent flexibility of the software makes it an ideal tool for many applications, for weather and environmental data as much as for hydrographics, for leakage detection, frost warning and pump monitoring to countless other applications. Pro 6 not only displays data graphically, as can be seen in the screenshot on the top of this page, but also as text in a table, informs and/or alarms the user about specific events, provides a number of tools to process the data according to the needs of the clients, be it a simple report, an advanced statistic, or even a complex expert system, such as a disease model for phytophtora in potatoes.
But addVANTAGE Pro 6 does much more: its integrated web server enables its users to get access from anywhere in the world through an internet connection – using nothing else but a common web browser. This makes addVANTAGE Pro 6 the ideal platform for those who not only want to collect, store and visualize data for themselves, but also for others – the ideal solution for "Service-Providers".

Recommended server system requirements

Static IP internet 25Mbps or faster
Min 16 GB Ram, to support a couple of hundred sites
Separate SSD drive for addVANTAGE PRO installation, 500GB or larger
RAID 1 for the Windows OS and local backups
Server grade components for 24h/7/365 operating time
Uninterruptible power supply (UPS)
Operating System: Windows 64 bit / Windows 10/ Server Version 2019, 2016, 2012 R2

PC Client access via browser

Google Chrome, Microsoft Edge, Mozilla Firefox, Safari

MobileView

Android or iPhone with internet access.