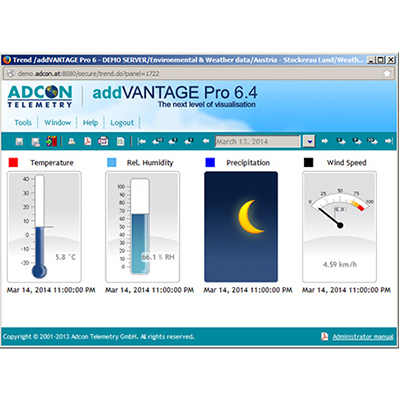 addVANTAGE Pro 6.4
ADCON Telemetry releases Pro 6.4 – with new, powerful tools for system administrators, a template library, a convenient RTU Wizard, and a brand-new export extension.
addVANTAGE Professional is Adcon's universal data visualization, processing and distribution platform. It is fully web based, runs on a fast and reliable HSQL database engine, and is fully scalable from a single user version for 5 RTU's to a super server, serving thousands of clients and thousands of RTU's.
The Template Library

Operators of large networks and many, many stations are repeatedly faced with the need of "recreating" graphs, trends, extensions, all sorts of nodes – in identical setups as have previously already been created. 6.4 allows the administrator to now create a suite of templates, store them in the new template library, and recreate an entire area with all its content with the click of a mouse button. This will largely accelerate and facilitate the creation of new areas and make an administrators live much easier!

The RTU Wizard

Another one of these annoying tasks – setting up a new RTU. However, the new Wizard will guide you through this work stream in one, clean sweap – from creating a data source to setting up user rights. Nothing can be forgotten, no deviation needed, no search required how to do it and where to find it – the Wizard does it all!

The BEE – the new, Basic Export Extension

This will in the long run replace the A2A export utility. Now you can create and recreate and duplicate any configuration of an export file that you need, for whichever application. Define your export parameters, field delimiters, headers, and target directory – BEE does the rest!
A future, soon to be released version, will also provide you with the options to automatically transfer the files you just exported by FTP or by email directly to your target clients. Please note that this is an optional extension, not part of the free extension package.

The Server Status "Health Panels" for administrators

For administrators it is more important than for "standard users" to have a quick an comprehensive overview as to the current status of their addVANTAGE Pro server's health. These new panels will provide an excellent overview at a glance to important issues such as
available harddisk space for the database and the backups,
when the last backup was performed
if the backup was successfull and the DB consistent
how many users are logged in
how many RTUs are present on this server
how much time extensions take to calculate
how much memory and CPU power are being used
how many extensions are in the queue

Benefits:

addVANTAGE Pro in short is
a browser-based, fully Internet enabled
data visualization
data processing and
data distribution platform
offering customizable trends, tables, statistics
alarms and events
disease and irrigation models
for all kinds of environmental and industrial data
Pro 6 is a powerful yet universal software package to collect, store, process and graphically display data. The inherent flexibility of the software makes it an ideal tool for many applications, for weather and environmental data as much as for hydrographics, for leakage detection, frost warning and pump monitoring to countless other applications. Pro 6 not only displays data graphically, as can be seen in the screenshot on the top of this page, but also as text in a table, informs and/or alarms the user about specific events, provides a number of tools to process the data according to the needs of the clients, be it a simple report, an advanced statistic, or even a complex expert system, such as a disease model for phytophtora in potatoes.
But addVANTAGE Pro 6 does much more: its integrated web server enables its users to get access from anywhere in the world through an internet connection – using nothing else but a common web browser. This makes addVANTAGE Pro 6 the ideal platform for those who not only want to collect, store and visualize data for themselves, but also for others – the ideal solution for "Service-Providers".

Platforms

addVANTAGE Pro 6 is entirely programmed in Java, thus potentially operating on a large variety of hardware platforms and operating systems. The current version of Pro 6 supports Windows 2003 Server, Windows XP and Windows 7. In terms of browsers Pro 6 will run with most browsers like Firefox 27, Internet Explorer 9 or 10, or Chrome.

Client – Server based

addVANTAGE Pro 6 is based on a client-server concept. The modular concept of the Server allows almost unlimited scalability and expandability.

Scalable

The server has a modular structure allowing for virtually unlimited scalability. A Pro 6 server can scale from a single user system with 5 RTU's up to a large super server, managing 2,000 RTU's, servicing thousands of users and running a multitude of software extensions in parallel. Moving to a larger version, allowing for more RTU's and more concurrent data base accesses, is a very fast and easy process .

Embedded HyperSQL Database

When setting up addVANTAGE Pro 6.2 or later it will automatically install its embedded HSQL database. The user doesn't need to get involved at all with data base setup, management and administration. Whichever configuration adjustments might be necessary can all be done through the graphical user interface of addVANTAGE Pro 6, including an automatic daily or weekly backup of the database. This database will hold years of data of hundreds of stations and still perform with blazing speed and reliability!

Full Internet Access

With addVANTAGE Pro 6 all features of the software are accessible via a standard web browser. All you need on your machine is a sufficiently fast internet connection and a browser (Firefox 27 or Internet Explorer 9/10).

Customizable access permissions and user groups

The administrator of the addVANTAGE Pro 6 server (that can be you, that can be your consultant, that can be a data service provider) can assign to every user a profile of access rights, according to the users capabilities and needs. You can grant users access to graphs, extensions, RTUs, let them read, write, delete, modify, etc. various elements. By making a new user member of a group he automatically has all the rights of this group.

Concise Data Visualization

With addVANTAGE Pro 6 you can freely choose how you want to look at your data. Your options to individualize your trend panels are virtually unlimited. You want to compare the air temperature readings of 5 different stations? No problem: put them together into one trend panel and call it "Air Temp. Comparison". For hardware diagnostics you would like to see the charging level of all your stations internal batteries at a glance? Just throw all of them in a single "Battery status" panel!

Of course you can freely select the colors of your trend lines and panel backgrounds, and choose between lines (e.g. for temperature) and bars (e.g. for rain). Setting horizontal guidelines, e.g. for irrigation full and refill point, eases significantly the early detection of critical conditions. Mark areas with individual colors.

Connect two panels with each other for better comparison or overview. Example: when opening the weather graph you can see at the same time the precipitation statistics and the temperature MIN, MAX and Average values.

Trend panels can display any desired interval. Select hourly, daily, weekly or monthly or even annual graphs from a drop-down menu. If you would rather look at your data in the form of a table rather than a graph – it's just a mouse click away.

WAP-Interface

Got a mobile phone? Then you can look at your current data from anywhere at any time, even without a PC and an internet connection. The addVANTAGE Pro 6 Server offers a convenient WAP Interface, which can easily be configured for permanent access.

Application Specific Extensions, e.g. for Agriculture

Since addVANTAGE Pro 6 is not only meant to collect and visualize data, but also to process it, there is meanwhile a large variety of disease extensions for agriculture available. Read more about these extension in the "Disease Model" section.

Since data within the addVANTAGE Pro 6 HSQL database can easily be accessed via the addUPI protocol (see next §), it is fairly easy for third parties to develop their own applications, and market them to the addVANTAGE Pro 6 users. Furthermore Pro 6 now introduces the Extension API, a new programming interface that will let advanced and trained users program and integrate their own extensions!

The addUPI Protocol

addUPI = addVANTAGE URL Programming Interface
This html-based protocol was developed by Adcon Telemetry and allows rapid access to every single record in the database. This protocol is used by addVANTAGE Pro 6, our A-2-A ASCII Export utility, our OPC Server, and our A850 Telemetry Gateway.

Upon request we will make this protocol available to third party software developers in order to retrieve data from a Pro 6 database or an A850 Gateway.

Data Export into Third-Party Software

On a more traditional level of data exchange are ASCII files. These can be created in four ways: by simply clicking onto the csv icon on top of a trend (as of version 6.2), by right-clicking into a table or trend view and saving the data, through "the BEE", the Basic Export Extension (as of version 6.4), or with the export extension "A2A" (="addUPI to ASCII"). The user can configure these files to a large extent, defining his own headers, averaging methods, export intervals, file extensions (.csv or .txt), etc.

Multi-Language

Crossing borders is a must in a global economy. Providing data to users that do not speak English is much easier if the data can be presented to the user in his own language. Therefore addVANTAGE Pro 6 allows each user to define his own language interface on the fly, independently from the language on the Pro 6 server or his own PC. Currently addVANTAGE Pro 6 is available in English, Spanish, French, German, Portuguese, Italian and Greek. It will soon also be available in Hungarian. More languages are planned.

Pro 6 – The Platform of the Future!

addVANTAGE Pro 6 is the latest product of Adcon's software development department. It will be our platform for many years to come. Thanks to its modularity, versatility and scalability it can be used for a large variety of applications, from agriculture to water management, from environmental monitoring to professional meteorology, from flood warning to sports and leisure. Being programmed in Java it is platform independent and can be run on Windows and Linux machines, and can easily be ported to UNIX systems. addVANTAGE Pro 6 is a safe investment into the future of data visualization and distribution.

Hard- and Software requirements

The following recommendations do not apply for small, low-profile systems – but they are absolutely fundamental for all those addVANTAGE users and service/hosting providers, who are running a real server for professional clients, which expect performance, data security, and stability.


Server:

We very much recommend to buy a real server machine from a real IT provider, such as Dell, HP or IBM!

CPU Intel XEON E5-xxx Quad-Core
4 or 8GB RAM
250 to 500GB Harddisk (SATA or SAS, server grade, RAID 1)
DVD drive, keyboard, mouse, hi-res monitor
Ethernet and LAN-Card built-in
For Data Providing: =>1 MBit UP and DOWN
Uninterruptible Power Supply (~30 minutes)
Professional routers (no home-hobby gear, please!)

Operating System:

We strongly recommend to use

Windows 7, 64-bit (!!!!) English version (!!!)

Why?

It is a stable OS
It will be supported from Microsoft for several years
Adcon knows it to work well
Adcon can support it
Non-English versions ARE different from the English version!

Will other Operating System works? Yes – we know that

Windows 8 and 8.1
Windows 2012 R2 Server
Windows 2011 Server
Windows 2008 Server

also work – but we do not have these systems installed in our offices and thus recommend their use only if your internal IT knows how to support them.

Client:

Windows 95, 98, ME, NT, 2000, 2003, XP, 7; Linux
Pentium IV 1 GHz, 1 GB RAM
Ethernet and LAN-Card built-in
Internet browser Mozilla Firefox 26 or later or MS Internet Explorer 9 or 10; Google Chrome seems to work, but is not a browser we fully test for compatibility.
Internet connection needed, when data shall be accessed remotely from a Data Provider.

All systems need to run Java VM 1.6 or higher. We ship Pro 6 with a bundled Java version, so you will not have to install Java separately. The server should have a sufficiently fast and large hard disk to cope with many concurrent data requests and growing data bases. Please do not forget to properly adjust your backup settings!