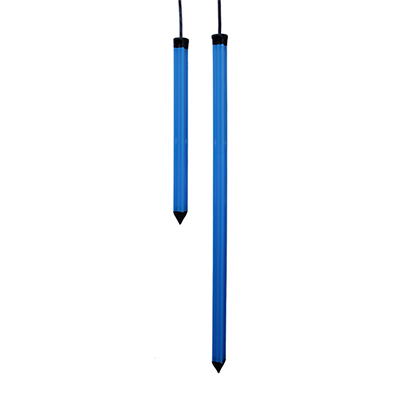 GroPoint
The GroPointTM Lite Profiling Probe uses TDT technology and is accurate, reliable and
robust. The sleek light weight design installs quickly with minimal soil disruption using a
pilot rod and slide hammer tool. Designed for vertical installation, the sensor takes
measurements over multiple soil layers, with each measurement zone providing the
average volumetric soil moisture content over a 15 cm range (approximately 6 inches).
The probe is attached to a 5 meter / 16' 4" cable, with custom lengths (shorter or longer) available upon request. Soil temperature measurements are also provided.
Features:

SDI-12 Command set with SDI-12 i/o (other interfaces available*)
Moisture range 0% to 50%
Accuracy < +/- 1%
Repeatability of 0.5%
Cable length of 5m – (other lengths optional)
Connection – standard 4 pin, IP66/IP68 rated environmental connector
(bare wires optional)
Measures volumetric soil moisture over multiple depths, 15 cm segments
Easy to install with minimal soil disruption
Available in 2 segments, 4 segments or 6 segments, 8 segments –
approximately 30 cm, 60 cm, 90 cm, and 120 cm
Compatible with existing ADCON RTU's

Benefits:

Why measure soil moisture over a profile?
This highly accurate GroPointTM Lite Profiling Probe provides cost effective soil moisture measurement over several depths using one probe, eliminating the need for multiple sensors placed at different depths and cumbersome installations. GPLP can be deployed in irrigation sensitive zones, to enable full control of precision irrigation needs, providing an understanding of water movement through the soil. Profiling moisture measurement is ideal in a multitude of agricultural applications including vineyards, row crops, and orchards as well as silviculture and research to better manage irrigation practices, increase plant / crop quality and yield, and reduce fertilizer run-off. GroPoint Moisture Sensors have a high level output signal for direct interface to a variety of control, datalogging, and telemetry systems.

Moisture Measurement: 0% to 100% volumetric water content
Output: SDI-12 V1.3 (all basic commands)*