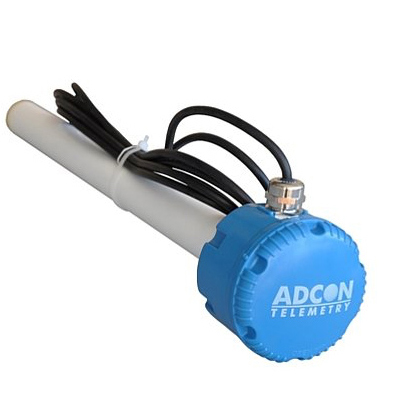 SM1 V2
The new Adcon SM1 soil moisture sensor was developed to provide farmers with an inexpensive means to measure soil moisture in all kinds of soils and in a wide range of depths, from 30cm all the way down to 150cm. By default all models come with one sensor every 10cm.
Using the principle of capacitance measurement the SM1 has an unusually low power consumption, which allows several sensors to be connected to one RTU. At the same time its sphere of influence is larger than that of most probes, extending beyond a 10cm radius around the access tube.
The outer diameter of the access tube of only 32mm (1.25″) allows for a quick and easy installation. Up to a length of 60cm the probe can usually be installed by pushing the access tube into an undersized hole, while beyond 60cm a slurry installation is recommended.
The sensor is built of one or several two sensor boards, each 30cm long. Each such sensor board also has a centrally located temperature sensor. Therefore an SM1 sensor can come with up to 5 soil temperature sensors.
An SDI-12 interface provides compatibility to a large variety of data loggers, and allows cable runs of up to 60m according to the SDI-12 standard (allthough we don't really recommend to run cables that long).
To power the probe it requires any voltage between 5,5V and 12V DC. To connect to your Adcon RTU please order an extension cord in the desired length. These cords are by default available in 2, 4 and 8m length.
•SPECIFICATIONS




Measuring range soil moisture
0-100% Vol
Measuring range temperature
-20°C … +60°C
Method
HF Capacitance
Accuracy
+/- 2% (with site specific calibration +/-1%)
Interface
SDI-12
Lengths
30, 60, 90, 120, 150cm
Number of Soil Moisture Sensors
One every 10cm on all versions
Number of Temperature Sensors
30cm sensor: 1 at 15cm
60cm sensor: 2 at 15 and 45cm
90cm sensor: 3 at 15, 45 and 75cm
120cm sensor: 4 at 15, 45, 75 and 105cm
150cm sensor: 5at 15, 45, 75, 105 and 135
Power Supply
5.5 …12VDC
Connector
7-pin male Binder connector M9
Tube diameter
32mm (1.25″)