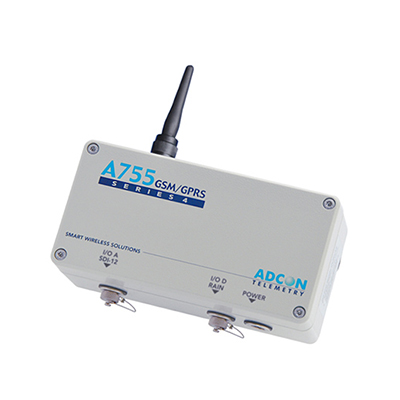 A755 V2 GPRS RTU
The A755 V2 addSDI GPRS RTU was developed to provide users of SDI-12 sensors with an inexpensive means to log and transmit up to 40 SDI-12 values of environmental data, while at the same time providing 2 pulse inputs, e.g. for water meters and rain gauges, and 2 digital TTL ports which are custom configurable either as in- or as outputs.
Should the GSM network go down or the GPRS connection be interrupted no data will be lost as the A755 features plenty of internal memory. Example: 15-minute data from a multi-parameter water quality sonde with 8 parameters will be stored for about 4 weeks. All functions can be remotely configured through the A850 Gateway. A quad-band GSM/GPRS modem from Telit (formerly Motorola) and a powerful NiMH battery are built-in. The rugged aluminium case has stainless IP-67 connectors and an integrated mast mounting bracket.
Power is supplied by means of a solar panel (e.g. Adcon's 200.733.522 540mA panel) or an external power supply.
Applications Weather stations, Soil moisture monitoring, Water Management Science, research & development, and much more.

•SPECIFICATIONS

Mechanics
Case
Aluminium, powder coated
Protection class
IP-67
Dimensions and weight
160 x 60 x 80 mm / 6.3 x 2.4 x 3.1 inches
1150g / 2.4lb
Connectors for sensors and power
2 x M9 female 7-pin to sensor
1 x M9 female 5-pin to power
Made in Germany by Binder
IP-67 protection class

 


Sockets: brass, nickel plated, with gold plated socket contacts
Protective cap
Antenna connector
TNC with external seal, water tight , Made in Germany
Mounting
Mast mounting bracket integrated
Operating temperature
-20°C … +65°C / -4°F … 149°F
-30°C … +75°C / -22°F … 167°F extended temp. range upon request

Logger
Sensor Input
1 for standard SDI-12 sensors; up to 40 values can be addressed
Counter Inputs
2 for standard reed contacts; electronically debounced, e.g. for rain gauges; max frequency up to 30 pulses per second; min. pulse length 17ms, min. break time 17ms
Digital I/O ports
1 x 3V TTL
1 x 5V TTL
Both I/Os can be configured as either inputs or outputs
Memory
2MB for up to 500.000 readings

Data transmission
Frequencies
900 & 1800 MHz (Europe) and
850 & 1900 MHz (Americas)
Modem
Telit G24L
Telit G24 and H24 upon request
SIM-Cards
small footprint
Security
SIM-Cards are PIN-Code protected
Connection types
– GSM: CSD Circuit Switched Data
– GPRS
GPRS Connection Frequency
User selectable:
– permanent connection
– connect from 1 x per minute to 1 x per day
Antenna
Omnidirectional, +2dBi, TNC, waterproof

General
Power Supply
internal 6.2V battery, charged by solar panel or mains adaptor;
optional: non-rechargeable Lithium-Thionyl battery (to operate the RTU w/o solar panel)
Battery
Panasonic high-temperature industrial grade NiMH battery, 3300mAh
Type approvals
FCC, R&TTE, CE, Industry Canada, ACMA Australia