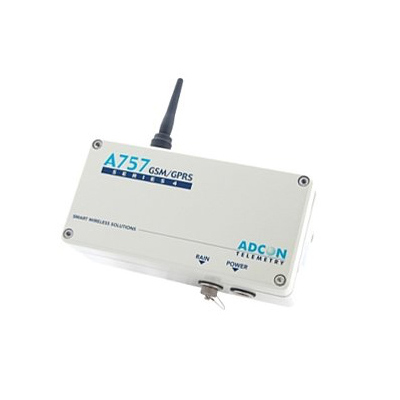 A757 GPRS RTU
A757 addPULSE was developed with hydrographical services in mind, that are required to establish dense networks of rain gauge stations to improve flood warning and civil protection. Nonetheless this RTU is as suited to monitor rain in other applications such as agriculture.
A757 features only one port to connect to a pulse output of e.g. a rain gauge or a water meter. The RTU can collect data in two different ways: either pulses are totalized over a user-programmable time slot, or every single pulse is time-stamped, a requirement for rain intensity monitoring.
Data transmission is done through the integrated Motorola quad-band GSM/GPRS modem.
•SPECIFICATIONS

Mechanics
Case
Aluminium, powder coated
Protection class
IP-67
Dimensions and weight
160 x 60 x 80 mm / 6.3 x 2.4 x 3.1 inches
1150g / 2.4lb
Connectors for sensors and power
Made in Germany by Binder
IP-67 protection class
Sockets: brass, nickel plated
Socket contacts: gold plated
Protective cap
1 x M9 female 7-pin to sensor
1 x M9 female 5-pin to power
Antenna connector
TNC with external seal, water tight , Made in Germany
Mounting
Mast mounting bracket, integrated
Operating temperature
-20°C … +65°C / -4°F … +149°F
-30°C … +75°C / -22°F … +167°F extended temp. range upon request

Logger
Counter Inputs
1 for standard reed contacts; electronically debounced, e.g. for rain gauges; max frequency up to 30 pulses per second; min. pulse length 17ms, min. break time 17ms
Rain Intensity Monitoring
Date and Time of every single pulse are stored; max. resolution: 1 second
Memory
2MB for up to 500.000 readings, depending on the programmed operating mode (totalizer or time stamping)

Data transmission
Frequency ranges
900 & 1800 MHz (Europe) and
850 & 1900 MHz (Americas)
Modem
Motorola G24L
SIM-Cards
small footprint
Security
SIM-Cards are PIN-Code protected
Connection types
– GSM: CSD Circuit Switched Data
– GPRS
GPRS Connect Frequency
User selectable:
– permanent connection
– connect from 1 x per minute to 1 x per day
Antenna
Omnidirectional, +2dBi, TNC, waterproof

General
Power Supply
internal 6.2V battery, charged by solar panel or mains adaptor
Battery
Panasonic Hi-temperature industry grade, NiMH, 3100mAh
Type approvals
FCC, R&TTE, CE, Industry Canada, ACMA Australia