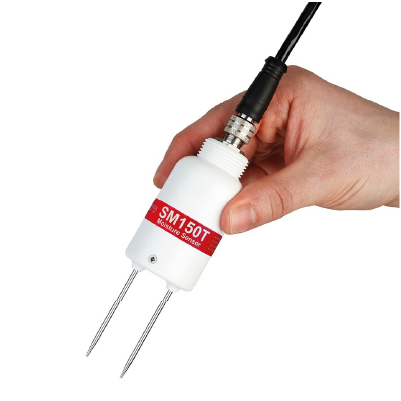 Soil Moisture Sensor SM150 (142405)
The Eijkelkamp Soil Moisture Sensor SM150 (#142405) measures soil moisture content.  Its sealed plastic body is attached to two sensing rods which insert directly into the soil to enable readings to be taken.
A waterproof plug connects to a range of signal cables. Both extension cables and extension tubes can be connected. The soil moisture output signal is a differential analogue DC voltage. This is converted to soil moisture by a data logger or meter using the supplied general soil calibrations.
Available models include:

Eijkelkamp Soil Moisture Sensor SM150
Product number# 142405

Eijkelkamp Soil Moisture Sensor SM150 - Replacement Sensor
Product number# HH150
Eijkelkamp Soil Moisture Sensor SM150 - 1.5m cable (connects SM150 to HH2)
Product number# SMCS/d-HH2 1
Eijkelkamp Soil Moisture Sensor SM150 - 5m cable with 100mm flying leads (connects to GP1 & DL6 loggers)
Product number# SMSC/sw-05
Eijkelkamp Soil Moisture Sensor SM150 - 5m cable with 200mm flying leads (connects to DL2 logger)
Product number# SMSC/lw-05
Eijkelkamp Soil Moisture Sensor SM150 - Logger Extension Cable (5m)
Product number# EXT/5W-05
Eijkelkamp Soil Moisture Sensor SM150 - Logger Extension Cable (10m)
Product number# EXT/5W-10
Eijkelkamp Soil Moisture Sensor SM150 - Logger Extension Cable (25m)
Product number# EXT/5W-25
Eijkelkamp Soil Moisture Sensor SM150 - Extension Tube (50cm)
Product number# ML/EX50
Eijkelkamp Soil Moisture Sensor SM150 - Extension Tube (100cm)
Product number# ML/EX100