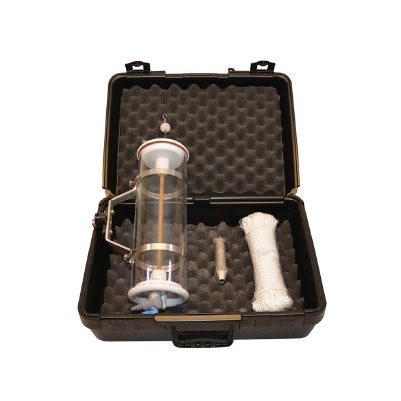 Van Dorn Sampler (12.06)
The Van Dorn Sampler (horizontal water bottle) is a discrete sampler, specially designed for the horizontal sampling of open water bodies, in both fresh water & sea water.
Deployed in the "open" position, the Van Dorn Sampler is simply lowered to the required depth using a rope (30m rope included) before a weighted messenger is deployed.  The weighted messenger travels down the rope, triggers the Van Dorn Sampler and a sample is captured.
With a capacity of 2.2 litres, the Van Dorn Sampler is perfect for a variety of discreet sampling applications including heavy metals analysis (no metal components touch the sample), microbiological sampling, and stratification sampling.
Complete with drop-weight, 30 metre polyester rope and transport case;
The sample does not come into contact with metal parts;
Minimum contamination;
The CTD Diver can be used to monitor temperatures, vertical water depth and, if required, conductivity.

Diameter (D) and /or size (L*W*H)
10 * 10 * 30 cm
Point or profile
Point sampling
Power supply
manual
Product material
PVC, other material
Rod or Cable length
30 m
Rod or cable operated
cable
Sample specification
disturbed
Sample stored in
tube
Sample volume
2200 ml
Sampler position
horizontal
Package size
47 x 19 x 35 cm
Weight
5.4 kg
Application

Water quality research
Monitoring water quality
Water sampling