Trimeter Multi-Parameter Sonde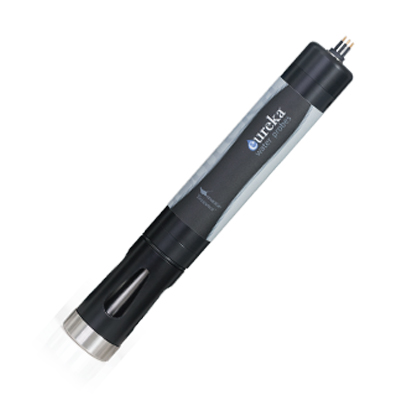 Trimeter Multi-Parameter Sonde
The Eureka Trimeter is the latest "mini-probe" launched as part of the Eureka Manta+ line of multi-parameter water quality meters.  It is suitable for low flow sampling, downhole, spot check, unattended deployment, and telemetry applications.
When used for low flow sampling and spot check investigations, the Eureka Trimeter connects to the Eureka MantaMobile allowing wireless communication with any Bluetooth enabled User Display device,  such as Windows mobile, Windows for PC, Android or IOS (Eureka Manta Manager Application required).   Alternatively the Eureka Trimeter connects to the Amphibian2 Handheld display.
The Trimeter
To create your Trimeter package, simply choose:
• Temperature
add optional Depth sensor:
• Low Range Depth (0 to 10m / vented only)
• Low Range Depth (0 to 25m)
• High Range Depth (0 to 200m)
plus any one of the following sensors:
• Conductivity
• Salinity
• pH
• Oxidation-Reduction Potential
• Dissolved Oxygen (LDO)
• Depth
• Turbidity
• Blue Green Algae (fresh water)
• Blue Green Algae (salt water)
• CDOM/FDOM
• Chlorophyll a
• Chlorophyll red
• Crude Oil
• Eosin
• Fluorescein
• Optical Brighteners
• Refined Fuels
• Rhodamine
• Tryptophan
• Carbon dioxide
• Photosynthetically Active Radiation (PAR)
• Total Dissolved Gas
An internal battery pack for unattended deployments is optional.
Cable Options
The Eureka Trimeter has various cable lengths available:
• 5 meter
• 10 meter
• 20 meter
• 30 meter
• 40 meter
• 50 meter
• 75 meter
• 100 meter
• 150 meter
• 200 meter
Vented cable lengths (for depth sensor) include:
• 5 meter
• 10 meter
• 20 meter
• 30 meter
• 40 meter
A Cable Reel is available for Eureka Trimeter models with up to 200m of cable.
Additional options include:
RS-232, SDI-12, USB and Bluetooth connection to third-party devices, Bluetooth-equipped tablet (Apple and Android) with rugged field enclosure, flow cell, copper anti-fouling kit, pipe kit, telemetry kit, and calibration solutions.
Choose any Eureka sensor and add Depth and/or Temperature
Use as a spot checker/profiler, self-powered logger, or with telemetry
LED indicators for sonde status (power, logging, communication)
Uses off the shelf "D" replaceable batteries
Compact, rugged design
Works with all Eureka's display options, such as the Amphibian2 (Windows Mobile), PC/Laptop (Windows), or Leapfrog Bluetooth (Android, BT Enabled Windows device)

| | |
| --- | --- |
| Length | 12" (without battery pack); 22" (with battery pack) |
| OD: | 1.85" |
| Weight: | 0.8Ib,1.8Ib with internal battery pack |

Eureka Trimeter - Flowcell
Product number# flow cell 20
Eureka Trimeter - Cable Reel (up to 200m)
Product number# cable reel
Eureka Trimeter - Carry Case (hard sided), for Trimeters without extended battery packs
Product number# case hard Trim - 30
Eureka Trimeter - Carry Case (hard sided), for Trimeters with extended battery packs
Product number# case hard Trim - 30 IBP
Eureka Trimeter - Anti-Fouling Kit (Copper Gauze)
Product number# copper antifoul kit 20
Eureka Trimeter - Protective Pipe Kit (with hinged locking cap), for Trimeters without extended battery packs
Product number# pipe kit 2"
Eureka Trimeter - Protective Pipe Kit (with hinged locking cap), for Trimeters with extended battery packs
Product number# pipe kit 2" IBP

Eureka Water Probes Overview