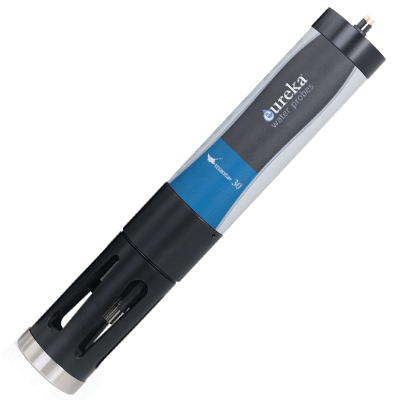 Manta+ 30 Multi-Parameter Sonde
The Eureka Manta+ 30 multi-parameter water quality meter incorporates the below "Big Five" sensor configuration within a 2.95″ diameter housing. It is suitable for low flow sampling, downhole, spot check, unattended deployment, and telemetry applications.
When used for low flow sampling and spot check investigations, the Eureka Manta+ 30 connects to the Eureka MantaMobile allowing wireless communication with any Bluetooth enabled User Display device,  such as Windows mobile, Windows for PC, Android or IOS (Eureka Manta Manager Application required).   Alternatively the Eureka Manta+ 30 connects to the Amphibian2 Handheld display.
Available sensors include:
• Temperature (Temp)
• Conductivity (EC)
• pH / ORP Combination
• Dissolved Oxygen (LDO)
plus any one of the following sensors:
• Turbidity
• Photosynthetically Active Radiation (PAR)
• Chlorophyll a
• Blue Green Algae
• Rhodamine
• Crude Oil
• Refined Oil
• CDOM/FDOM
• Fluorescein Dye
• Optical Brighteners
• Tryptophan
A Depth sensor is optional.
The Eureka Manta+ 30 has various cable lengths available:
• 5 meter
• 10 meter
• 20 meter
• 30 meter
• 40 meter
• 50 meter
• 75 meter
• 100 meter
• 150 meter
• 200 meter
Additional options include:
RS-232, SDI-12, USB and Bluetooth connection to third-party devices, Bluetooth-equipped tablet (Apple and Android) with rugged field enclosure, flow cell, copper anti-fouling kit, pipe kit, telemetry kit, and calibration solutions.
Anti-corrosive housing and sensors
Sensor health indicator
Automatic recording of internal calibration data
LED status indicator
One touch and automatic data capture
Intuitive software

| | |
| --- | --- |
| Length | 19", 483mm |
| Number of sensors: | Up to 7 |
| Weight: | 5 lbs, 2.2kg |

Eureka Manta+ 30 - Flowcell
Product number# flow cell 30
Eureka Manta+ 30 - Cable Reel (up to 200m)
Product number# cable reel
Eureka Manta+ 30 - Replacement LDO Sensor Cap
Product number# replacement DO cap
Eureka Manta+ 30 - Replacement Turbidity Brushes (4pk)
Product number# turbidity brush replacements
Eureka Manta+ 30 - Replacement Turbidity Wipers & Turbidity Brushes (4pk)
Product number# turbidity brush & wiper replacements
Eureka Manta+ 30 - Carry Case (hard sided), for Eureka Manta+ 30 without extended battery packs
Product number# case hard Trim - 30
Eureka Manta+ 30 - Carry Case (hard sided), for Eureka Manta+ 30 with extended battery packs
Product number# case hard Trim - 30 IBP
Eureka Manta+ 30 - Anti-Fouling Kit (Copper Gauze)
Product number# copper antifoul kit 30
Eureka Manta+ 30 - Protective Pipe Kit (with hinged locking cap), for Eureka Manta+ 30 without extended battery packs
Product number# pipe kit 4"
Eureka Manta+ 30 - Protective Pipe Kit (with hinged locking cap), for Eureka Manta+ 30 with extended battery packs
Product number# pipe kit 4" IBP