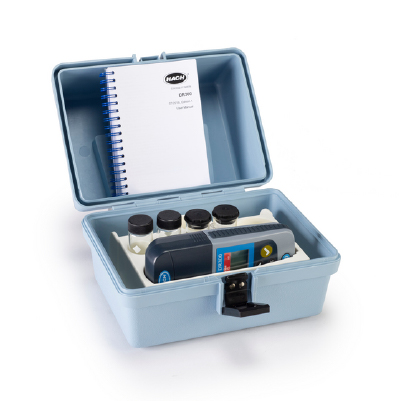 DR300 Pocket Colorimeter
Proven past. Innovative future.
The Hach DR300 is a single parameter, field portable, photometer.  Highly portable, the Hach DR300 is perfect for field use & lab use alike, and will fit both into your pocket or the glovebox of your car.
Keep a Hach DR300 in your field kit to challenge samples sent for lab analysis.
Hach DR300 parameters include:
• Aluminum
• Bromine
• Chlorine dioxide
• Chlorine free & total (LR & HR combo)
• Chlorine free & total (MR & HR combo)
• Chlorine & pH (HR Chlorine)
• Dissolved Oxygen
• Iron (Ferrover)
• Iron (TPTZ)
• Manganese (HR)
• Molybdenum (LR & HR combo)
• Nitrate
• Ozone
• Phosphate
• Zinc
Hach DR300 Pocket Colorimeters are NOT sold with chemical reagents.
Reagents must be purchased separately.
Hazardous Item
Some reagents associated with this item may be considered hazardous under some shipping conditions.  If necessary, we will change your selected shipping method to accommodate.  Please consult Aqualab prior to purchasing.
Proven past. Innovative future.

Meet the newest Hach pocket colorimeter

How do you make the best portable colorimeter on the market? Start with the tried and true Hach Pocket Colorimeter II – one that has been used by hundreds of thousands of water professionals in harsh conditions for almost two decades – and make key mechanical improvements: upgraded waterproofing; larger display; ergonomic design. Then infuse it with the smart capabilities that modern technology has to offer: optional Bluetooth connectivity with automatic data transfer, and seamless system integration*. The result is the Hach DR300 Pocket Colorimeter, the next generation in portable instrumentation. Reduce data collection hassles, eliminate transcription errors, and ensure stronger compliance traceability.

Used by hundreds of thousands of water professionals around the world, over a period of 20 years, the DR300 features:

• Battery operation for a maximum of 5000 tests;
• IP67 Waterproof rating;
• Larger, backlit display;
• Bluetooth connectivity with automatic data transfer to Claros*

* Claros is Hach's innovative Water Intelligence System, enabling you to seamlessly connect and manage instruments, data, and process – anywhere, anytime. The result is greater confidence in your data and improved efficiency in your operations. Currently only available in USA & Canada.

LPV445.97.00110
Chlorine, LR/HR
0.02 – 2.00 mg/L Cl₂; 0.1 – 8.0 mg/L Cl₂
DPD
528 ±2 nm
LPV445.97.62110
Chlorine, MR/HR
0.05 – 4.00 mg/L Cl2
0.1 – 10.0 mg/L Cl2
DPD
528 ±2 nm
LPV445.97.12110
Chlorine, pH
0.1 – 10.0 mg/L Cl2
6.0 – 8.5 pH
DPD
Phenol Red
528 ±2 nm
LPV445.97.51110
Chlorine dioxide
0.05 – 5.00 mg/L ClO2
DPD/Glycine
528 ±2 nm
LPV445.97.04110
Ozone
0.01 – 0.25 mg/L O3
0.01 – 0.75 mg/L O3
Indigo Trisulfonate
600 ±2 nm
LPV445.97.02110
Nitrate
0.4 – 30.0 mg/L NO3-N
Cadmium Reduction
528 ±2 nm
LPV445.97.22110
Iron, Ferrover
0.02 – 5.00 mg/L Fe
Ferrover
500 ±2 nm
LPV445.97.25110
Aluminum
0.02 – 0.80 mg/L Al
Aluminon
528 ±2 nm
LPV445.97.01110
Bromine
0.05 – 4.50 mg/L Br2
0.2 – 10.0 mg/L Br2
DPD
528 ±2 nm
LPV445.97.03110
Oxygen, dissolved
0.2 – 10.0 mg/L O2
HRDO
528 ±2 nm
LPV445.97.06110
Phosphate
0.02 – 3.00 mg/L PO4
Phosver 3
600 ±2 nm
LPV445.97.09110
Zinc
0.02 – 3.00 mg/L Zn
Zincon
600 ±2 nm
LPV445.97.15110
Manganese, HR
0.2-20.0 mg/L Mn
Periodate Oxidation
528 ±2 nm
LPV445.97.16110
Iron, TPTZ
0.01 – 1.70 mg/L Fe
TPTZ
600 ±2 nm
LPV445.97.10110
Molybdenum, LR/HR
0.02 – 3.00 mg/L Mo
0.1 – 12.0 mg/L Mo
Ternary Complex
600 ±2 nm

Various DR300 models are available depending on your requirements.

Please consult with Aqualab before ordering.

Available models include:

DR300 Pocket Colorimeter, Aluminum, with Box
Product number# LPV445.97.25110
DR300 Pocket Colorimeter, Bromine, with Box
Product number# LPV445.97.01110
DR300 Pocket Colorimeter, Chlorine Dioxide, with Box
Product number# LPV445.97.51110
DR300 Pocket Colorimeter, Chlorine (Free + Total), LR & HR with Box
Product number# LPV445.97.00110
DR300 Pocket Colorimeter, Chlorine (Free + Total), MR, with Box
Product number# LPV445.97.62110
DR300 Pocket Colorimeter, Chlorine & pH, with Box
Product number# LPV445.97.12110
DR300 Pocket Colorimeter, Dissolved Oxygen, with Box
Product number# LPV445.97.03110
DR300 Pocket Colorimeter, Iron (TPTZ) with Box
Product number# LPV445.97.16110
DR300 Pocket Colorimeter, Iron (Ferrover) with Box
Product number# LPV445.97.22110
DR300 Pocket Colorimeter, Manganese, HR, with Box
Product number# LPV445.97.15110
DR300 Pocket Colorimeter, Molybdenum, LR & HR, with Box
Product number# LPV445.97.10110
DR300 Pocket Colorimeter, Nitrate, with Box
Product number# LPV445.97.02110
DR300 Pocket Colorimeter, Ozone, with Box
Product number# LPV445.97.04110
DR300 Pocket Colorimeter, Phosphate, with Box
Product number# LPV445.97.06110
DR300 Pocket Colorimeter, Zinc, with Box
Product number# LPV445.97.09110

DR300 Pocket Colorimeter, Aluminum (Method 8012)

DOC316.53.01441_2ed-1.pdf
Download now

DR300 Pocket Colorimeter, Bromine (Method 8016)

DOC316.53.01443_2ed-1.pdf
Download now

DR300 Pocket Colorimeter, Chlorine Dioxide (Method 10126)

DOC316.53.01447_3ed-2.pdf
Download now

DR300 Pocket Colorimeter, Free & Total Chlorine HR (Method DPD)

DOC316.53.01449_6ed-1.pdf
Download now

DR300 Pocket Colorimeter, Free & Total Chlorine LR (Method DPD)

DOC316.53.01450_4ed-1.pdf
Download now

DR300 Pocket Colorimeter, Free & Total Chlorine MR (Method 10245)

DOC316.53.01451_2ed.pdf
Download now

DR300 Pocket Colorimeter, Chlorine HR & pH, (Method 10069 & Method 10070)

DOC316.53.01490_2ed-1.pdf
Download now

DR300 Pocket Colorimeter, Chlorine & pH (Method 10076)

DOC316.53.01491_2ed.pdf
Download now

DR300 Pocket Colorimeter, Dissolved Oxygen (Method 8166)

DOC316.53.01467_2ed.pdf
Download now

DR300 Pocket Colorimeter, Iron Ferrover (Method 8008)

DOC316.53.01458_2ed.pdf
Download now

DR300 Pocket Colorimeter, Iron TPTZ (Method 8112)

DOC316.53.01457_3ed.pdf
Download now

DR300 Pocket Colorimeter, Manganese (Method 8034)

DOC316.53.01460_2ed-2.pdf
Download now

DR300 Pocket Colorimeter, Molybdenum LR (Method 8169)

DOC316.53.01463_2ed-1.pdf
Download now

DR300 Pocket Colorimeter, Molybdenum HR (Method 8169)

DOC316.53.01462_2ed-1.pdf
Download now

DR300 Pocket Colorimeter, Nitrate (Method 8039)

DOC316.53.01465_2ed-3.pdf
Download now

DR300 Pocket Colorimeter, Ozone (Method 8311)

DOC316.53.01468_2ed-1.pdf
Download now

DR300 Pocket Colorimeter, Phosphate (Method 8048)

DOC316.53.01471_3ed-2.pdf
Download now

DR300 Pocket Colorimeter, Phosphate (Method 8007)

DOC316.53.01470_2ed-2.pdf
Download now

DR300 Pocket Colorimeter, Zinc (Method 8009)

DOC316.53.01476_2ed-1-2.pdf
Download now

DR300 SpecCheck Secondary Gel Standards Set, DPD Chlorine - LR (model specific)
Product number# 2635300
DR300 SpecCheck Secondary Gel Standards Set, DPD Chlorine - MR (model specific)
Product number# 2980500
DR300 SpecCheck Secondary Gel Standards Set, DPD Chlorine - HR (model specific)
Product number# 2893300
DR300 SpecCheck Gel Secondary Standard Set, Ozone, MR (model specific)
Product number# 2708000
DR300 Sample Cell: 1" Round Glass 10mL
Product number# 2427606
DR300 Sample Cell: 1" Round Plastic 10mL with 1cm Pathlength
Product number# 4864302
DR300 MultiTest kit case (147 x 224 x 171 mm), blue polypropylene
Product number# 4660200
DR300 Battery, AAA, 1.5 Vdc, Alkaline
Product number# 4674300