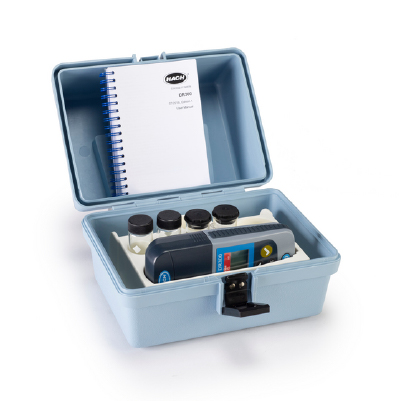 DR300 Pocket Colorimeter, Molybdenum, LR/HR
Proven past. Innovative future.
The DR300 maintains the Pocket Colorimeter legacy of reliability while providing state-of-the-art data transfer capability and connection to Claros*. Reduce data collection hassles, eliminate transcription errors, and ensure stronger compliance traceability.
Please note that reagents are not included in the kit and need to be purchased separately.
*Claros connectivity currently available only in US, Canada and EU.
Connected*
Reliable
Simple
Connected*

Optional Bluetooth connectivity allows you to safely transfer measurement data to Claros – Hach®'s Water Intelligence System – reducing errors and saving time by eliminating manual data entry.

Reliable

Rugged, waterproof (IP67) design withstands whatever conditions you encounter in the field (drops, extreme temperatures, rain and dirt) and still delivers years of dependable, accurate measurements.

Simple

Simple, intuitive operation reduces potential manual error, ensuring accurate measurement data you can trust, time after time. Larger display with improved backlight makes reading measurements in all conditions even easier.

Absorbance
0 – 2.5 Abs
Data Logger
Last 50 measurements
Detector
Silicon photodiode
Dimensions (H x W x D)
34 mm x 69 mm x 157 mm
Display
LCD with backlight
Enclosure Rating
IP67, waterproof at 1 m for 30 minutes
Measurement method
Ternary Complex
Operating Conditions
0 – 50 °C; 0 – 90% relative humidity (non-condensing)
Parameter
Molybdenum
Power supply
Four AAA alkaline batteries; approximate life is 5000 tests
Range
0.02 – 3.00 mg/L Mo
0.1 – 12.0 mg/L Mo
Region
US
Sample cell compatibility
1 cm (10 mL), 25 mm (10 mL)
Source Lamp
Light emitting diode (LED)
Spectral Bandwidth
15 nm filter bandwidth
Warranty
12 months
Wavelength
600 ±2 nm
Weight
0.25 kg
What's included?
Each DR300 Pocket Colorimeter comes as a ready-to-use kit in a sturdy custom carrying case (4660200), including batteries, sample cells (2427606), and a manual. Reagents have to be purchased separately.