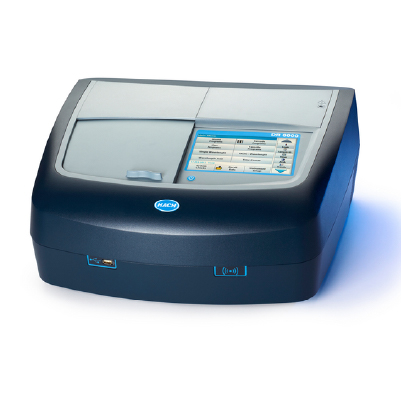 DR6000 Spectrophotometer (UV / VIS)
The water industry's most advanced lab spectrophotometer.
The Hach DR6000 is a benchtop spectrophotometer designed to optimise laboratory testing procedures, saving users both time & money.
Utilising both the UV and visible spectrum, the Hach DR6000 benchtop spectrophotometer has over 250 pre-programmed methods specially designed for the environmental & water analysis industries, including the most common testing methods used today.  With optional accessories allowing for high volume testing (carousel sample changer), and increased accuracy via a sample delivery system that eliminates optical difference errors, the DR6000 is a must have for water industry professionals.
When combined with Hach's unique TNTplus reagent vials, DR6000 operators gain additional accuracy with guided step-by-step testing procedures; with scratched, flawed or dirty glassware rendered a non-issue due to the 10 readings averaging system (and outlier discard).
Pre-written Method Statements (see Methods tab) allow users to deliver accurate results quickly & safely.  Hach TNT & TNT+ chemistries further optimise testing events.
Hach DR6000 Spectrophotometers are NOT sold with chemical reagents.
Reagents must be purchased separately.
Hach DR6000 tests include:
• Alkalinity
• Aluminum
• Ammonia
• Ammonia, Free
• Anammox Activity
• Arsenic
• Barium
• Benzotriazole / Tolyltriazole
• Boron
• Bromine
• Cadmium
• Cationic Surfactants
• Chloride
• Chlorine Dioxide
• Chlorine, Free
• Chlorine, Total
• Chromium, Hexavalent
• Chromium, Hexavalent & Total
• Chromium, Total
• Cobalt
• COD (Chemical Oxygen Demand)
• Color
• Copper
• Cyanide
• Detergents / Surfactants
• Dissolved Oxygen
• Fluoride
• Formaldehyde
• Hardness
• Hydrazine
• Hydrogen Peroxide
• Iodine
• Iron
• Lead
• Magnesium, Total
• Manganese
• Mercury
• Molybdenum
• Monochloramine
• Nickel
• Nitrate
• Nitrite
• Nitrogen, Ammonia
• Nitrogen, Total
• Nitrogen, Total Inorganic (TIN)
• Nonionic surfactants
• Oxygen Scavengers
• Organic Constituents (UV-254)
• Ozone
• Peracetic Acid (PAA)
• Phenols
• Phosphonates
• Phosphorus
• Potassium
• Quaternary Ammonium Compounds
• Selenium
• Silica
• Silver
• Sulfate
• Sulfide / Hydrogen Sulfide
• Sulfite
• Suspended Solids
• Tannin and Lignin
• TKN
• Total Organic Carbon (TOC)
• Toxicity
• TPH in soil
• Trihalomethanes, Total (THM)
• Volatile Acids
• Zinc
Hach DR6000 benchtop spectrophotometers are NOT sold with chemical reagents.
Reagents must be purchased separately.
Hazardous Item
Some reagents associated with this item may be considered hazardous under some shipping conditions.  If necessary, we will change your selected shipping method to accommodate.  Please consult Aqualab prior to purchasing.
Your Water Testing Needs, All in One Spectrophotometer

The DR 6000 has the most pre-programmed testing methods, including high-speed wavelength scanning across the UV and Visible Spectrum.

Accessories for High Volume and High Accuracy Testing Needs

A carousel sample changer allows up to seven sequential measurements. The Sipper Module, an instrument-controlled sample delivery system, increases precision by constant optical characteristics.

Advanced Quality Assurance at Your Fingertips

The DR 6000 comes with integrated QA software for scheduling, documenting and interpreting all of your needed quality measurements.

Guided Procedures and Elimination of False Readings

The DR 6000, when used with TNTplus® reagent vials, provides the accurate results you need by guiding you step-by-step through your testing procedures. With TNTplus, the instrument averages 10 readings and eliminates outliers, making scratched, flawed or dirty glassware a non-issue.

Automatically Avoids Errors

RFID* technology automatically updates the program calibration factors when you place a TNTplus reagent box near the DR 6000. The instrument identifies chemistry expiration dates via a barcode on the vials, and detects chemistry coefficient factors to avoid errors that can occur in lot-to-lot variations in the chemistry.
*RFID technology currently available only in US, Anguilla, American Samoa, Australia, Bolivia, Canada, Cayman Islands, Columbia, Dominican Republic, El Salvador, Federated States of Micronesia, Guam, Guatemala, Marshall Islands, New Zealand, Northern Mariana Islands, Palau, Panama, Puerto Rico, and US Virgin Islands.

Data Logger
5000 data points (result, date, time, sample-ID, user-ID)
Display
TFT 7 inch WVGA color touch
Enclosure Rating
IP20 with closed lid
Includes
1 x Power Cord (US, EU)
1x Universal-Adapter
1x Dust Cover
Matched pair of 1 inch glass sample cells
Printed multilingual basic user manual (en, es, fr, ja, ko, pt, zh)
Interfaces
USB type A (2), USB type B, Ethernet, RFID module
Manual Languages
en, es, fr, ja, ko, pt, zh
Operating Conditions
10 – 40 °C, max. 80% relative humidity (non-condensing)
Operating Mode
Transmittance (%), absorbance and concentration (wavelength, time)
Optical System
Reference beam, spectral
Photometric Accuracy
5 mAbs @ 0.0 – 0.5 Abs
<1% @ 0.5 – 2.0 Abs @ 546 nm
Photometric Linearity
0.005 – 2 Abs
≤ 0.01 at > 2 Abs with neutral glass at 546 nm
Photometric Measuring Range
± 3 Abs
Power Requirements
100 – 240 V; 50/60 Hz
Preprogrammed Methods
> 240
Region
US
Sample Cell Compatibility
Rectangular: 10, 20, 30, 50 mm, 1 inch; round: 13 mm, 16 mm, 1 inch
Optional 100 mm rectangular cell with additional adapter
Scanning Speed
900 nm/min (in 1 nm steps)
Source Lamp
Tungsten (visible range), deuterium (UV range)
Specific Technology
RFID for easy method update, sample ID and Certificate of Analysis
Spectral Bandwidth
2 nm
Storage conditions
-25 to 60 °C / max. 80% relative humidity (non-condensing)
Stray Light
KI-solution at 220 nm < 3.3 Abs/ < 0.05%
User Interface Languages
bg, cn, cz, da, en, es, fr, gr, hr, hu, it, jp, kr, nl, pl, pt, ro, ru, sl, sl, sv, tr
User Programs
200
Warranty
12 months
Wavelength Accuracy
± 1 nm
Wavelength Range
190 – 1100 nm
Wavelength Reproducibility
< 0.1 nm
Wavelength Resolution
0.1 nm
Wavelength Selection

Automatic, based on method selection

Weight
What's included?

Includes: printed instrument manual, power cords (115V and 230V), universal holder, dust cover, 1-in. square matched glass sample cells, and a universal-adapter

Various DR6000 models are available depending on your requirements.

Please consult with Aqualab before ordering.

Available models include:

DR 6000™ UV VIS Spectrophotometer with RFID Technology
Product number# LPV441.99.00012

Alkalinity, (Method 10239), TNT

DOC316.53.01257.pdf
Download now

Aluminum, (Method 10215), TNT

DOC316.53.01004_10ed.pdf
Download now

Aluminum, (Method 8012), Power Pillows

DOC316.53.01002_11ed.pdf
Download now

Aluminum, (Method 8326), Powder Pillows

DOC316.53.01003_10ed.pdf
Download now

Anammox Activity, (Method 882), TNT+

DOC316.53.01537_1ed.pdf
Download now

Arsenic Silver, Dientyldithiocarbamate (Method 8013)

DOC316.53.01005.pdf
Download now

Barium, (Method 8014)

DOC316.53.01007.pdf
Download now

Barium, (Method 10251), Powder Pillows

DOC316.53.01315.pdf
Download now

Benzotriazole/Tolyltriazole UV Photolysis (Method 8079), Powder Pillows

DOC316.53.01008.pdf
Download now

Boron, Carmine (Method 8015)

DOC316.53.01009.pdf
Download now

Boron, Azomethine (Method 10274), TNT+

DOC316.53.01506_1Ed.pdf
Download now

Boron, Carmine (Method 10252), Powder Pillows

DOC316.53.01313.pdf
Download now

Bromine, (Method 8016), DPD

DOC316.53.01011.pdf
Download now

Cadmium, Cadion, (Method 10217), TNT+

DOC316.53.01013_9ed.pdf
Download now

Cadmium, Dithizone, (Method 8017)

DOC316.53.01012_9ed.pdf
Download now

Cationic Surfactants, (Method 10305), TNT+

DOC316.53.01542_1ed.pdf
Download now

Chloramine (Mono) & Nitrogen, Free Ammonia Method (Method 10200)

DOC316.53.01016_14ed.pdf
Download now

Chloramine (Mono) LR, Indophenol (Method 10171), Powder Pillows

DOC316.53.01015_12ed.pdf
Download now

Chloramine (Mono) HR, Indophenol (Method 10172), TNT

DOC316.53.01014.pdf
Download now

Chloride, Mercuric Thiocynanate (Method 8113)

DOC316.53.01017_9ed.pdf
Download now

Chloride, Mercuric Thiocyanate (Method 10291), TNT+

DOC316.53.01532_1ed.pdf
Download now

Chlorine Dioxide, Direct Reading (Method 8138)

DOC316.53.01019.pdf
Download now

Chlorine Dioxide, (Method 10126), Powder Pillows

DOC316.53.01021_11ed.pdf
Download now

Chlorine Dioxide MR, (Method 8345)

DOC316.53.01020.pdf
Download now

Chlorine Dioxide LR, Chlorophenol Red (Method 8065)

DOC316.53.01022.pdf
Download now

Chlorine, Free (Method 10231) and Total (Method 10232), TNT+

DOC316.53.01248_9ed.pdf
Download now

Chlorine, Free, Rapid Liquid Pour-Thru™ Cell (Method 10059), DPD

DOC316.53.01026.pdf
Download now

Chlorine, Free, Indophenol (Method 10241), Powder Pillows

DOC316.53.01256_12ed.pdf
Download now

Chlorine, Free, (Method 10069) DPD & Powder Pillows

DOC316.53.01025_11ed.pdf
Download now

Chlorine, Free, Method 10102 DPD Method Test 'N Tube

DOC316.53.01024_10ed.pdf
Download now

Chlorine, Free (Method 10102), DPD & TNT

DOC316.53.01023.pdf
Download now

Chlorine, Free, MR, (USEPA Method 10245), Powder Pillows

DOC316.53.01303_11ed.pdf
Download now

Chlorine, Total (Method 10014), DPD, Pour-Thru Cell and OriFlo™ Filtration

DOC316.53.01032.pdf
Download now

Chlorine, Total (Method 8370), DPD & Pour-Thru™ Cell

DOC316.53.01031.pdf
Download now

Chlorine, Total, Rapid Liquid (Method 10060), Pour-Thru Cell

DOC316.53.01030.pdf
Download now

Chlorine, Total, (Method 8167), DPD & Powder Pillows

DOC316.53.01027_10ed.pdf
Download now

Chlorine, Total, (Method 10070), DPD & Powder Pillows

DOC316.53.01029_11ed.pdf
Download now

Chlorine, Total (Method 10101), DPD & TNT

DOC316.53.01028_10ed.pdf
Download now

Chlorine MR, Total (Method 10250), DPD, Powder Pillows

DOC316.53.01304.pdf
Download now

Chromium, Hexavalent, 1,5-Diphenylcarbohydrazide (Method 8023), Powder Pillows

DOC316.53.01033_10ed.pdf
Download now

Chromium, Hexavalent, 1,5-diphenylcarbohydrazide (Method 10218), TNT+ AND Chromium, Total, 1,5-Diphenylcarbohydrazide (Method 10219), TNT+

DOC316.53.01035.pdf
Download now

Chromium, Total, Alkaline Hypobromite Oxidation (Method 8024), Powder Pillows

DOC316.53.01034_10ed.pdf
Download now

Cobalt, 1-(2-Pyridylazo)-2-Naphthol (PAN) (Method 8078), Powder Pillows

DOC316.53.01036.pdf
Download now

Cobalt, Standard (Method 8025), 5cm Cell

DOC316.53.01037_Ed10.pdf
Download now

Color, ADMI Weighted Ordinate (Method 10048)

DOC316.53.01122_11ed.pdf
Download now

Color LR, True & Apparent, Platinum-Cobalt Standard (Method 8025)

DOC316.53.01252_4ed.pdf
Download now

Copper, Bicinchoninate, (Method 8506) and (Method 8026), Powder Pillows

DOC316.53.01039_11ed.pdf
Download now

Copper, Porphyrin, (Method 8143), Powder Pillows

DOC316.53.01038.pdf
Download now

Copper, Bathocuproine, (Method TNT+ & Method 10238)

DOC316.53.01255.pdf
Download now

Cyanide, Pyridine Barbituric Acid, (Method 10265), TNT+

DOC316.53.01495_6ed.pdf
Download now

Cyanide, Pyridine-Pyrazalone, (Method 8027), Powder Pillows

DOC316.53.01040.pdf
Download now

Dissolved Oxygen UHR, (Method 8333), AccuVac®

DOC316.53.01097.pdf
Download now

Dissolved Oxygen, HR, (Method 8166), AccuVac®

DOC316.53.01096.pdf
Download now

Dissolved Oxygen LR, Indigo Carmine, (Method 8316), AccuVac®

DOC316.53.01098.pdf
Download now

Fluoride, SPADNS 2, (Method 10225), Reagent Solution or AccuVac®

DOC316.53.01184.pdf
Download now

Fluoride, SPADNS, (Method 8029), Reagent Solution or AccuVac®

DOC316.53.01041_10ed.pdf
Download now

Fluoride, USEPA SPADNS 2, (Method 10225), TNT+

DOC316.53.01507_4ed.pdf
Download now

Formaldehyde, MBTH, (Method 8110), Powder Pillows

DOC316.53.01042_9ed.pdf
Download now

Formaldehyde, Colorimetric, (Method 10295), TNT+

DOC316.53.01529_1ed.pdf
Download now

Hardness, Calcium & Magnesium; Calmagite Colorimetric, (Method 8030)

DOC316.53.01043_10ed.pdf
Download now

Hardness, Calcium & Magnesium; Chlorophosphonazo Colorimetric, (Method 8374), Solution Pillow

DOC316.53.01044_10ed.pdf
Download now

Hardness, Calcium/Magnesium-Metal Phthalein Colorimetric, (Method 10293) TNT+

DOC316.53.01528_1ed.pdf
Download now

Hardness, Total-Calcium & Magnesium Chlorophosphonazo Rapid Liquid, (Method 8374), Pour-Thru Cell

DOC316.53.01045_9ed.pdf
Download now

Hydrazine, p-Dimethyaminobenzaldehyde, (Method 8141), Reagent Solution or AccuVac®

DOC316.53.01046_10ed.pdf
Download now

Iodine, (Method 8031), DPD, Powder Pillows or AccuVac

DOC316.53.01047_9ed.pdf
Download now

Iron, Ferrous 1,10-Phenanthroline (Method 8146), Powder Pillows, AccuVac®

DOC316.53.01049_11ed.pdf
Download now

Iron, Ferrous, Rapid Liquid, (Method 8147), Powder Pillows, AccuVac®

DOC316.53.01050.pdf
Download now

Iron, HPT251 (Method 10306)

DOC316.53.01536_2ed.pdf
Download now

Iron, FerroZine® Rapid Liquid, (Method 8147), Pour-Thru Cell

DOC316.53.01048.pdf
Download now

Iron, Phenanthroline, (Method 10229)

DOC316.53.01249_9ed.pdf
Download now

Iron, Total FerroZine® (Method 10287)

DOC316.53.01520_2ed.pdf
Download now

Iron, Total, TPTZ, (Method 8112), Powder Pillows or AccuVac®

DOC316.53.01051_10ed.pdf
Download now

Iron, Total, FerroMo, (Method 8365), Powder Pillows

DOC316.53.01052.pdf
Download now

Iron, Total, FerroVer® (Method 8008), Powder Pillows or AccuVac®

DOC316.53.01053.pdf
Download now

Iron, Total, USEPA FerroVer® LR, MR, HR (Method 10249), Note: Application for oil and gas field water; digestion is required for determining total iron

DOC316.53.01314.pdf
Download now

Lead, Dithizone, (Method 8033), Powder Pillows

DOC316.53.01055.pdf
Download now

Lead, LeadTrak™ Fast Column Extraction, (Method 8317)

DOC316.53.01054_9ed.pdf
Download now

Lead, PAR, (Method 10216), TNT+

DOC316.53.01056_9ed.pdf
Download now

Manganese, 1-(2-Pyridylazo)-2-Naphthol PAN, (Method 8149), Powder Pillows

DOC316.53.01057_10ed.pdf
Download now

Manganese, Periodate Oxidation, (Method 8034), Powder Pillows

DOC316.53.01058.pdf
Download now

Mercury, Cold Vapor Mercury Concentration, (Method 10065)

DOC316.53.01059.pdf
Download now

Molybdenum, Mercaptoacetic Acid (Method 8036), Powder Pillows or AccuVac

DOC316.53.01061_10ed.pdf
Download now

Molybdenum, Ternary Complex, (Method 8169), Powder Pillows

DOC316.53.01062.pdf
Download now

Nickel, 1-(2-Pyridylazo), 2-Napthol (PAN), (Method 8150), Powder Pillows

DOC316.53.01063.pdf
Download now

Nickel, Dimethylglyoxime (Method 10220)

DOC316.53.01065_10ed.pdf
Download now

Nickel, Heptoxime, (Method 8037), Powder Pillows

DOC316.53.01064.pdf
Download now

Nitrate HR, Chromotropic Acid, (Method 10020), TNT

DOC316.53.01068.pdf
Download now

Nitrate LR, Cadmium Reduction, (Method 8192), Powder Pillows

DOC316.53.01067_11ed.pdf
Download now

Nitrate HR, Dimethylphenol, (Method 10206), TNT+

DOC316.53.01071_12ed.pdf
Download now

Nitrate LR, Dimethylphenol, (Method 10206), TNT+

DOC316.53.01070_12ed.pdf
Download now

Nitrate HR, Cadmium Reduction, (Method 8039), Powder Pillows or AccuVac®

DOC316.53.01066_10ed.pdf
Download now

Nitrate MR, Cadmium Reduction, (Method 8171), Powder Pillows or AccuVac®

DOC316.53.01069.pdf
Download now

Nitrate, UV Screening (Method 10049)

DOC316.53.01072_8ed.pdf
Download now

Nitrite LR, Diazotization, (Method 10019), TNT

DOC316.53.01073.pdf
Download now

Nitrite LR, Diazotization, (Method 10207), TNT+

DOC316.53.01076_9ed.pdf
Download now

Nitrite LT, Diazotization, (Method 8507), Powder Pillows or AccuVac®

DOC316.53.01074_11ed.pdf
Download now

Nitrite, Diazotization, (Method 10296), TNT+

DOC316.53.01533_1ed-1.pdf
Download now

Nitrite HR, Diazotization, (Method 10237), TNT+

DOC316.53.01253_4ed.pdf
Download now

Nitrite HR, Ferrous Sulfate, (Method 8153), Powder Pillows

DOC316.53.01075.pdf
Download now

Nitrogen, Total, Inorganic-Titanium Trichloride Reduction, (Method 10021), TNT

DOC316.53.01088_11ed-1.pdf
Download now

Nitrogen ULR, Ammonia Salicylate, (Method 10205), TNT+

DOC316.53.01081_11ed.pdf
Download now

Nitrogen, Ammonia, Salicylate (Method 10277), TNT+

DOC316.53.01508_3ed.pdf
Download now

Nitrogen, Ammonia-Nessler, (Method 8038)

DOC316.53.01078_9ed.pdf
Download now

Nitrogen HR, Ammonia-Salicylate, (Method 10031), TNT

DOC316.53.01079_10ed.pdf
Download now

Nitrogen HR, Ammonia-Salicylate, (Method 10205), TNT+

DOC316.53.01083_11ed.pdf
Download now

Nitrogen LR, Ammonia-Salicylate, (Method 10205), TNT+

DOC316.53.01082_11ed.pdf
Download now

Nitrogen LR, Ammonia-Salicylate, (Method 10023), TNT

DOC316.53.01080_10ed.pdf
Download now

Nitrogen, Ammonia-Salicylate, (Method 8155), Powder Pillows

DOC316.53.01077_10ed.pdf
Download now

Nitrogen, Free, Ammonia-Indophenol, (Method 10201), Powder Pillows

DOC316.53.01084_14ed.pdf
Download now

Nitrogen, Simplified TKN, (Method 10242), TNT+

DOC316.53.01258_8ed.pdf
Download now

Nitrogen, Total, Kjeldahl-Nessler, (Method 8075), Digestion Required

DOC316.53.01091_10ed.pdf
Download now

Nitrogen HR, Total, Persulfate Digestion, (Method 10072), TNT

DOC316.53.01085.pdf
Download now

Nitrogen LR, Total, Persulfate Digestion, (Method 10071), TNT

DOC316.53.01086.pdf
Download now

Nitrogen LR, Total, Persulfate Digestion, (Method 10208), TNT+

DOC316.53.01087_10ed-1.pdf
Download now

Nitrogen UHR, Total, Persulfate Digestion, (Method 10208), TNT+

DOC316.53.01089_12ed-1.pdf
Download now

Organic Carbon HR, Total (TOC), Direct (Method 10128), TNT

DOC316.53.01095.pdf
Download now

Organic Carbon LR, Total (TOC) Direct, (Method 10129), TNT

DOC316.53.01093.pdf
Download now

Organic Carbon MR, Total (TOC), Direct, (Method 10173), TNT

DOC316.53.01094.pdf
Download now

Organic Carbon, Total (TOC), Direct (Method 10273), TNT+

DOC316.53.01505_3ed.pdf
Download now

Organic Constituents, UV Absorbing (UV-254), Direct Reading, (Method 10054)

DOC316.53.01092_9ed.pdf
Download now

Organic Constituents, UV Transmission (UV-254), Direct Reading, (Method 10243)

DOC316.53.01305.pdf
Download now

Orthophosphate, Ascorbic Acid, (Method 10307)

DOC316.53.01539_1ed.pdf
Download now

Oxygen Demand in Salt Water, Chemical, (Method 10299), TNT+

DOC316.53.01535_4ed.pdf
Download now

Oxygen Demand HR (COD), Chemical, Mercury-Free (Method 10236), TNT+, Digestion Required

DOC316.53.01254.pdf
Download now

Oxygen Demand (COD), Chemical-Manganese III, (Method 10067), with Chloride Removal, TNT, Digestion Required

DOC316.53.01101.pdf
Download now

Oxygen Demand (COD), Chemical-Manganese III, (Method 10067), without Chloride Removal, TNT, Digestion Required

DOC316.53.01102_9ed-1.pdf
Download now

Oxygen Demand ULR, LR, HR & HR (COD), Chemical-Reactor Digestion (Method 8000)

DOC316.53.01099_13ed-1.pdf
Download now

Oxygen Demand ULR (COD), Chemical-Reactor Digestion (Method 8000), TNT+

DOC316.53.01100_10ed.pdf
Download now

Oxygen Demand, Chemical-Reactor Digestion ULR Method 10211, TNTplus™ 820

DOC316.53.01103_9ed.pdf
Download now

Oxygen Demand ULR (COD), Chemical-Reactor Digestion (Method 10211), TNT+

DOC316.53.01525_1ed.pdf
Download now

Oxygen Demand UHR (COD), Chemical-USEPA, (Method 10212) Digestion Required, TNT+

DOC316.53.01104_9ed.pdf
Download now

Oxygen Scavengers, Iron Reduction, (Method 8140), Powder Pillows

DOC316.53.01105.pdf
Download now

Ozone, Indigo, (Method 8311), AccuVac®

DOC316.53.01106_9ed.pdf
Download now

Peracetic Acid (PAA) & Hydrogen Peroxide (H2O2), (Method 10290), DPD, Powder Pillows

DOC316.53.01523_3ed.pdf
Download now

Phenols, 4-Aminoantipyrine, (Method 8047)

DOC316.53.01108.pdf
Download now

Phenols, USEPA 4-Aminoantipyrine, (Method 10266), TNT+

DOC316.53.01496_5ed.pdf
Download now

Phosphonates, Persulfate UV Oxidation, (Method 8007), Powder Pillows

DOC316.53.01109.pdf
Download now

Phosphorus, Acid Hydrolyzable-PhosVer® 3 with Acid Hydrolysis, (Method 8180), TNT

DOC316.53.01111.pdf
Download now

Phosphorus, Reactive (Orthophosphate) Amino Acid Reagent, (Method 8178)

DOC316.53.01113.pdf
Download now

Phosphorus, Reactive (Orthophosphate), (Method 10209) & Total Phosphorus HR (Method 10210), Ascorbic Acid Method using TNT+

DOC316.53.01125.pdf
Download now

Phosphorus, Reactive (Orthophosphate), (Method 10209) & Total Phosphorus LR, (Method 10210), Ascorbic Acid Method using TNT+

DOC316.53.01124.pdf
Download now

Phosphorus, Reactive (Orthophosphate), (Method 10209) & Total Phosphorus UHR, (Method 10210), UHR Ascorbic Acid Method using TNT+

DOC316.53.01126.pdf
Download now

Phosphorus, Reactive (Orthophosphate) Molybdovanadate, (Method 10214), TNT+

DOC316.53.01120.pdf
Download now

Phosphorus, Reactive (Orthophosphate) Molybdovanadate Method 8114, Reagent Solution or AccuVac® Ampuls

DOC316.53.01115_10ed.pdf
Download now

Molybdovanadate, (Method 8114), TNT

PhosphorusReactiveMolybdovanadateTNT_DOC316.53.01116.pdf
Download now

Phosphorus, Reactive (Orthophosphate), PhosVer® 3 (Method 8048), TNT

DOC316.53.01118_10ed.pdf
Download now

Phosphorus, Reactive (Orthophosphate), PhosVer 3 (Ascorbic Acid), (Method 8048), Powder Pillows, AccuVac®

DOC316.53.01119.pdf
Download now

Phosphorus LR, Reactive, Ascorbic Acid Rapid Liquid, (Method 10055), Pour-Thru Cell

DOC316.53.01117_9ed.pdf
Download now

Phosphorus HR, Reactive-Molybdovanadate Rapid Liquid, (Method 8114), Pour-Thru Cell

DOC316.53.01114.pdf
Download now

Phosphorus HR, Total, Molybdovanadate Method with Acid Persulfate Digestion, (Method 10127), TNT

DOC316.53.01123.pdf
Download now

Phosphorus, Total-PhosVer® with Acid Persulfate Digestion, (Method 8190), TNT

DOC316.53.01121_10ed.pdf
Download now

Potassium, Tetraphenylborate, (Method 8049), Powder Pillows

DOC316.53.01127_9ed.pdf
Download now

Potassium, Tetraphenylborate, (Method 8049), Powder Pillows

DOC316.53.01339.pdf
Download now

Quaternary Ammonium Compounds, Direct Binary Complex, (Method 8337), Powder Pillows

DOC316.53.01128.pdf
Download now

Selenium, Diaminobenzidine, (Method 8194)

DOC316.53.01129.pdf
Download now

Silica LR, Heteropoly Blue, (Method 8186), Powder Pillows

DOC316.53.01132_10ed.pdf
Download now

Silica UHR, Heteropoly Blue, (Method 8282), Pour-Thru Cell

DOC316.53.01130_9ed.pdf
Download now

Silica ULR, Heteropoly Blue, Rapid Liquid, (Method 8282), Pour-Thru Cell

DOC316.53.01131_10ed.pdf
Download now

Silver, Silicomolybdate (Method 8120), Powder Pillows

DOC316.53.01133.pdf
Download now

Silver, Colorimetric, (Method 8120), Powder Pillows

DOC316.53.01134_9ed.pdf
Download now

Sulfate, SulfaVer 4, (Method 8051), Powder Pillows

DOC316.53.01135_11ed.pdf
Download now

Sulfate HR, Turbidimetric, (Method 10227), TNT+

DOC316.53.01232_9ed.pdf
Download now

Sulfate LR, Turbidimetric, (Method 10227), TNT+

DOC316.53.01233_8ed.pdf
Download now

Sulfate LR, MR & HR, USEPA, SulfaVer 4, (Method 10248), Powder Pillows

DOC316.53.01316_11ed.pdf
Download now

Sulfide, Methylene Blue, (Method 8131)

DOC316.53.01136_11ed.pdf
Download now

Surfactants, Anionic (Detergents), Crystal Violet, (Method 8028)

DOC316.53.01138.pdf
Download now

Suspended Solids, Photometric, (Method 8006)

DOC316.53.01139.pdf
Download now

Tannin &Lignin, Tyrosine, (Method 8193)

DOC315.53.01140.pdf
Download now

Total Organic Carbon (TOC) LR, Direct, (Method 10267), TNT+

DOC316.53.01334_4ed.pdf
Download now

Total Organic Carbon (TOC) HR, Direct, (Method 10267), TNT+

DOC316.53.01335_4ed.pdf
Download now

Total Petroleum Hydrocarbons (TPH), Immunoassay, (Method 10050)

DOC316.53.01142_11ed.pdf
Download now

Toxicity, ToxTrak™ (Method 10017), TNT

DOC316.53.01141.pdf
Download now

Trihalomethanes, THM Plus™ (Method 10132)

DOC316.53.01143_9ed.pdf
Download now

Phosphorus ULR, Reactive (Orthophosphate) & Total, Ascorbic Acid, (Method 10209 & Method 10210), TNT+

DOC316.53.01321_3ed.pdf
Download now

Vicinal Diketones (VDK), (Method 10276), TNT+

DOC316.53.01516_3ed.pdf
Download now

Volatile Acids, Esterification, (Method 8196)

DOC316.53.01144.pdf
Download now

Volatile Acids, Esterification (Method 10240), TNT+

DOC316.53.01336_1ed.pdf
Download now

Zinc, Zincon (Method 8009), Powder Pillows

DOC316.53.01145_9ed.pdf
Download now

DR6000 Spectrophotometer Deuterium Lamp (UV Lamp)
Product number# A23792
DR6000 Spectrophotometer Tungsten Lamp (VIS Lamp)
Product number# A23778
DR6000 Spectrophotometer Sipper Set (SIP 10) for pour-thru methods, 1 inch vial
Product number# LQV157.99.20002
DR6000 Spectrophotometer Application Pack (Brewery Analysis)
Product number# LZV942

Hach's DR 6000 UV-Vis Spectrophotometer, the Industry's Most Advanced Lab Spec!

DR6000 Spectrophotometer Software Update

Save the ZIP file to your PC or USB memory stick.
Unpack the ZIP file and save the files to the USB memory stick.
Connect the USB memory stick to the USB interface of your spectrophotometer and start the update procedure.
Please find more information in the README file enclosed in the ZIP file.

Download now