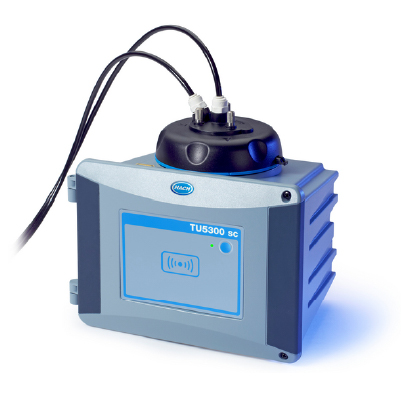 TU5400sc Ultra-High Precision Low Range Laser Turbidimeter
The Hach TU5400sc incorporates the latest & most accurate technology in turbidity measurement.   The result?  The TU5400 employs unique 360° x 90° optical technology that detects more turbidity than any other turbidimeter.
Designed to work with a smaller sample volume, the TU5400sc provides a fast & accurate response to changes in turbidity, allowing users to detect turbidity events almost immediately.
The TU5400sc comes with a variety of options to ensure this instrument will be one of the best investments you will ever make, including:
• Flow sensor
• Automatic cleaning module (ACM)
• Maintenance Kit with StablCal (>0.1NTU Glass Rod,  20NTU, 600NTU)
• Massive desiccant cartridge with active airflow
• System health check software
• Optional bubble trap
One of the unique features of the TU5400sc is the ability to remove the uncertainty between lab & process instruments.  Hach have incorporated the same unique 360° x 90° optical technology into the TU5300 benchtop turbidimeter.  You can now compare lab & process samples using the exact same technology!
Groundbreaking 360° x 90° Detection Technology

The TU5 Series employs a unique optical design that sees more of your sample than any other turbidimeter, delivering the best low level precision and sensitivity while minimizing variability from test to test.

Matching lab and online results

For the first time you will be able to remove the uncertainty of which measurement to trust, thanks to identical 360° x 90° Detection Technology in both instruments.

Everything about turbidity – faster

The TU5 Series dramatically reduces the time needed to get a turbidity measurement you can rely on, with 98% less online sample surface area to clean, sealed vials for calibration, and the elimination of the need for indexing and silicone oil in the lab. Not to mention, a smaller online sample volume means you will detect events almost immediately.

No surprises

Prognosys monitors your TU5 Series online instrument, proactively alerting you to maintenance needs before your measurement becomes questionable. And a Hach Service Agreement protects your investment and helps ensure that you stay in compliance and on budget.

Accuracy
±2% or 0.01 NTU from 0 – 40 NTU
Cable Length
1.6 m (5.25 ft), extendable up to 50 m (164 ft) for instrument without accessories
Calibration Method
For Formazin and Stablcal:
20 NTU from 0 to 40 NTU; at 20 FNU and 600 NTU for full rangeCustom calibration for up to 6-point calibrations
Certifications
CE compliant
US FDA accession number: 1420493-000 EPA version, 1420492-000 ISO version
Australian ACMA Marking
Channels
Sensor Only
Communication
System Check and RFID
Compliance
ISO
Controller Options
Sensor Only
Dimensions (H x W x D)
249 mm x 268 mm x 190 mm
Enclosure Rating
Electronic compartment IP55; all other functional units IP65 with process head/ACM attached to the TU5300sc/TU5400sc instrument
Fitting type
Sample quick connector: ¼-in. for ¼-in. tubing
Instrument
Standard Process Head
Light source
Class 2 laser product, with embedded 650 nm (EPA 0.43 mW) or Class 1 laser product, with embedded 850 nm (ISO), max. 0.55 mW (complies with IEC/EN 60825-1 and to 21 CFR 1040.10 in accordance with Laser Notice No. 50)
Lower Limit of Detection (LOD)
0.0001 FNU
Material
ASA Luran S 777K / RAL7000, TPE RESIN Elastocon STK40,
Thermoplastic Elastomer TPS-SEBS
Model
TU5400sc
Mounting Configurations
Wall Mount
Operating Humidity
Relative humidity: 5 – 95% at different temperatures, non-condensing
Operating temperature range
0 – 50 °C
Options
Process Head Only
Power requirements (Voltage)
None
Range
EPA:
0 – 1000 NTU / FNU / TE/F / FTU
0 – 250 EBC
Region
Global (Sensor Only)
Regulatory
ISO
Repeatability
Better than 1% of reading or ±0.0006 NTU on Formazin at 25 °C (77 °F), whichever is greater
Resolution
0.0001 NTU / FNU / TE/F / FTU / EBC
Response time
TU5400sc: T90 <30 seconds at 100 mL/min
Sample Flow Rate
Range: 100 – 1000 mL/min;
Optimal flow rate: 200 – 500 mL/min
Sample Pressure
6 bar maximum, compared to air at sample temperature range from 2 – 40 °C
Sample Temperature
2 – 60 °C
Signal Average Time
TU5400sc: 1 – 90 seconds
Storage conditions
-40 – 60 °C
Stray Light
<10 mNTU
System Check
System Check
Units
NTU, FNU, TE/F, FTU, EBC
Verification
Liquid: Stablcal, Formazin (0.1 – 40 NTU)
Dry: Glass Rod at <0.1 NTU
Warranty
12 months
Weight
2.7 kg (5.0 kg with all accessories)
What's included?
TU5400sc Turbidimeter, User Manual, Wall Mount, Vial Replacement Tool, Screw Set, Drying Cartridge, Flow Regulator, Service Bracket

Various TU5400sc models are available depending on your requirements.

Please consult with Aqualab before ordering.

Available models include:

TU5400sc Ultra-High Precision Low Range Laser Turbidimeter with System Check and RFID, ISO Version
Product number# LXV445.99.13222
TU5400sc Ultra-High Precision Low Range Laser Turbidimeter with Flow Sensor, Automatic Cleaning, and RFID, ISO Version
Product number# LXV445.99.52222
TU5400sc Ultra-High Precision Low Range Laser Turbidimeter with Flow Sensor, Automatic Cleaning, and RFID, EPA Version
Product number# LXV445.99.52212
TU5400sc Ultra-High Precision Low Range Laser Turbidimeter with Flow Sensor, Automatic Cleaning, and System Check, ISO Version
Product number# LXV445.99.51222
TU5400sc Ultra-High Precision Low Range Laser Turbidimeter with Flow Sensor, Automatic Cleaning, and System Check, EPA Version
Product number# LXV445.99.51212
TU5400sc Ultra-High Precision Low Range Laser Turbidimeter with Flow Sensor and Automatic Cleaning, ISO Version
Product number# LXV445.99.50222
TU5400sc Ultra-High Precision Low Range Laser Turbidimeter with Flow Sensor and Automatic Cleaning, EPA Version
Product number# LXV445.99.50212
TU5400sc Ultra-High Precision Low Range Laser Turbidimeter with Automatic Cleaning, System Check and RFID, EPA Version
Product number# LXV445.99.33212
TU5400sc Ultra-High Precision Low Range Laser Turbidimeter with Automatic Cleaning and RFID, EPA Version
Product number# LXV445.99.32212
TU5400sc Ultra-High Precision Low Range Laser Turbidimeter with Automatic Cleaning and System Check, ISO Version
Product number# LXV445.99.31222
TU5400sc Ultra-High Precision Low Range Laser Turbidimeter with Automatic Cleaning and System Check, EPA Version
Product number# LXV445.99.31212
TU5400sc Ultra-High Precision Low Range Laser Turbidimeter with Automatic Cleaning, ISO Version
Product number# LXV445.99.30222
TU5400sc Ultra-High Precision Low Range Laser Turbidimeter with Flow Sensor, RFID, and System Check, EPA Version
Product number# LXV445.99.23212
TU5400sc Ultra-High Precision Low Range Laser Turbidimeter with Flow Sensor and RFID, ISO Version
Product number# LXV445.99.22222
TU5400sc Ultra-High Precision Low Range Laser Turbidimeter with Flow Sensor and RFID, EPA Version
Product number# LXV445.99.22212
TU5400sc Ultra-High Precision Low Range Laser Turbidimeter with Flow Sensor and System Check, ISO Version
Product number# LXV445.99.21222
TU5400sc Ultra-High Precision Low Range Laser Turbidimeter with Flow Sensor and System Check, EPA Version
Product number# LXV445.99.21212
TU5400sc Ultra-High Precision Low Range Laser Turbidimeter with Flow Sensor, ISO Version
Product number# LXV445.99.20222
TU5400sc Ultra-High Precision Low Range Laser Turbidimeter with Flow Sensor, EPA Version
Product number# LXV445.99.20212
TU5400sc Ultra-High Precision Low Range Laser Turbidimeter, EPA version
Product number# LXV445.99.10212
TU5400sc Ultra-High Precision Low Range Laser Turbidimeter, ISO version
Product number# LXV445.99.33122
TU5400sc Ultra-High Precision Low Range Laser Turbidimeter with System Check, EPA Version
Product number# LXV445.99.11212
TU5400sc Ultra-High Precision Low Range Laser Turbidimeter with System Check, ISO Version
Product number# LXV445.99.11222
TU5400sc Ultra-High Precision Low Range Laser Turbidimeter with RFID, EPA Version
Product number# LXV445.99.12212
TU5400 sc Ultra-High Precision Low Range Laser Turbidimeter with RFID, ISO Version
Product number# LXV445.99.12222
TU5400sc Ultra-High Precision Low Range Laser Turbidimeter with System Check and RFID, EPA Version
Product number# LXV445.99.13212
TU5400sc Ultra-High Precision Low Range Laser Turbidimeter with Flow Sensor, Automatic Cleaning, RFID, and System Check, ISO Version
Product number# LXV445.99.53222
TU5400sc Ultra-High Precision Low Range Laser Turbidimeter with Flow Sensor, Automatic Cleaning, RFID, and System Check, EPA Version
Product number# LXV445.99.53212
TU5400sc Ultra-High Precision Low Range Laser Turbidimeter with Automatic Cleaning, EPA Version
Product number# LXV445.99.30212
TU5400sc Ultra-High Precision Low Range Laser Turbidimeter with Flow Sensor, RFID, and System Check, ISO Version
Product number# LXV445.99.23222
TU5400sc Ultra-High Precision Low Range Laser Turbidimeter with Automatic Cleaning and RFID, ISO Version
Product number# LXV445.99.32222
TU5400sc Ultra-High Precision Low Range Laser Turbidimeter with Automatic Cleaning, System Check, and RFID, ISO Version
Product number# LXV445.99.33222
TU5400sc Ultra-High Precision Low Range Laser Turbidimeter with Flow Sensor, RFID, and System Check, EPA Version with SC200 Controller (110-240V AC), 1 Channel
Product number# 8627300
TU5400sc Ultra-High Precision Low Range Laser Turbidimeter with Flow Sensor, RFID, and System Check, EPA Version with SC200 Controller (110-240V AC), 2 Channel
Product number# 8627400
TU5400sc Ultra-High Precision Low Range Laser Turbidimeter with Flow Sensor, Automatic Cleaning, RFID, and System Check, EPA Version with SC200 Controller (110-240V AC), 1 Channel
Product number# 8627500
TU5400sc Ultra-High Precision Low Range Laser Turbidimeter with Flow Sensor, Automatic Cleaning, RFID, and System Check, EPA Version with SC200 Controller (110-240V AC), 2 Channel
Product number# 8627600
TU5400sc Ultra-High Precision Low Range Laser Turbidimeter, EPA version with SC200 Controller (110-240V AC), 2 Channel
Product number# 8627200
TU5400sc Ultra-High Precision Low Range Laser Turbidimeter, EPA version with SC200 Controller (110-240V AC), 1 Channel
Product number# 8627100
TU5400sc Ultra-High Precision Low Range Laser Turbidimeter, ISO Version with SC200 Controller (110-240V AC), 1 Channel
Product number# 25635700
TU5400sc Ultra-High Precision Low Range Laser Turbidimeter, ISO Version with SC200 Controller (110-240V AC), 2 Channel
Product number# 25635800
TU5400sc Low Range Laser Turbidimeter with Flow Sensor, RFID, and System Check, ISO Version with SC200 Controller (110-240V AC), 1 Channel
Product number# 25635900
TU5400sc Low Range Laser Turbidimeter with Flow Sensor, RFID, and System Check, ISO Version with SC200 Controller (110-240V AC), 2 Channel
Product number# 25636000
TU5400sc Low Range Laser Turbidimeter with Flow Sensor, Automatic Cleaning, RFID, and System Check, ISO Version with SC200 Controller (110-240V AC), 1 Channel
Product number# 25636100
TU5400sc Low Range Laser Turbidimeter with Flow Sensor, Automatic Cleaning, RFID, and System Check, ISO Version with SC200 Controller (110-240V AC), 2 Channel
Product number# 25636200
TU5400sc Low Range Laser Turbidimeter, ISO Version with SC200 Controller, 24 VDC, 1 Channel
Product number# 25636900
TU5400sc Low Range Laser Turbidimeter with Flow Sensor, RFID, and System Check, ISO Version with SC200 Controller, 24 VDC, 1 Channel
Product number# 25637000
TU5400sc Low Range Laser Turbidimeter with Flow Sensor, RFID, and System Check, ISO Version with SC200 Controller, 24 VDC, 2 Channel
Product number# 25637100
TU5400sc Low Range Laser Turbidimeter with Flow Sensor, Automatic Cleaning, RFID, and System Check, ISO Version with SC200 Controller, 24 VDC, 1 Channel
Product number# 25637200
TU5400sc Low Range Laser Turbidimeter with Flow Sensor, Automatic Cleaning, RFID, and System Check, ISO Version with SC200 Controller, 24 VDC, 2 Channel
Product number# 25637300
TU5400sc Ultra-High Precision Low Range Laser Turbidimeter, EPA version with SC200 Controller, 24 VDC, 1 Channel
Product number# 2979605
TU5400sc Ultra-High Precision Low Range Laser Turbidimeter, EPA version with SC200 Controller, 24 VDC, 2 Channel
Product number# 2979705
TU5400sc Ultra-High Precision Low Range Laser Turbidimeter with Flow Sensor, RFID, and System Check, EPA Version with SC200 Controller, 24 VDC, 1 Channel
Product number# 2979805
TU5400sc Ultra-High Precision Low Range Laser Turbidimeter with Flow Sensor, Automatic Cleaning, RFID, and System Check, EPA Version with SC200 Controller, 24 VDC, 1 Channel
Product number# 2979855
TU5400sc Ultra-High Precision Low Range Laser Turbidimeter with Flow Sensor, RFID, and System Check, EPA Version with SC200 Controller, 24 VDC, 2 Channel
Product number# 2979905
TU5400sc Ultra-High Precision Low Range Laser Turbidimeter with Flow Sensor, Automatic Cleaning, RFID, and System Check, EPA Version with SC200 Controller, 24 VDC, 2 Channel
Product number# 2979955

TU5400sc Stablcal Calibration Set (without RFID)
Product number# LZY835
TU5400sc Stablcal Calibration Set (with RFID)
Product number# LZY835
TU5400sc Stablcal Calibration Set (with RFID Sealed Vials)
Product number# LZY907.97.00002
TU5400sc Flow Sensor
Product number# LQV160.99.00002
TU5400sc Desiccant Cartridge
Product number# LZY876
TU5400sc Automatic Cleaning Module
Product number# LQV159.97.00002
TU5400sc Sample Vial Replacement
Product number# LZY834
TU5400sc Vial Compartment Wiper (10pk)
Product number# LZY910
TU5400sc Manual Vial Wiper
Product number# LZY903
TU5400sc Calibration Lid
Product number# LZY904.97.00002
TU5400sc TU5xxx sc Bubble Trap
Product number# LZY828.99.00002
TU5400sc Service Bracket
Product number# LZY873
TU5400sc Glass Rod Secondary Turbidity Standard (˂0.1 NTU), with RFID
Product number# LZY901
TU5400sc 20NTU Stablcal Vial
Product number# LZY837
TU5400sc 600 NTU Stablcal Vial (with RFID)
Product number# LZY838
TU5400sc Process Head Holder
Product number# LZY946
TU5400sc Micro Fiber Cloth
Product number# LZY945
TU5400sc Sample Vial Removal Tool
Product number# LZY906
TU5400sc Replacement Tubing
Product number# LZY911

TU5400sc Turbidimeter Software Package

Extract file to your PC. Carefully read instructions: sc sw upload instruction.pdf. Includes all available languages.

Download now

TU5400sc Prognosys Definitions

Download this file to your desktop. Instructions are included in the .ZIP file for both SD Card and Network Updates.

Download now