HL4 Multi-Parameter Water Quality Meter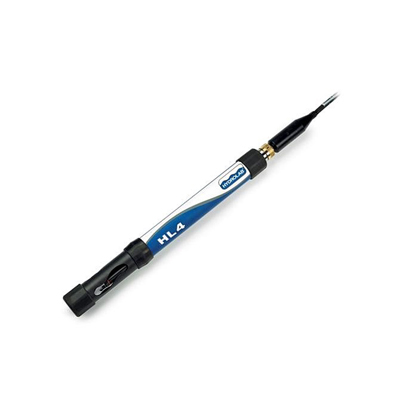 HL4 Multi-Parameter Water Quality Meter
The HYDROLAB HL4 multiparameter sonde is a world class water quality meter suitable for spot check or unattended water quality monitoring.
Versatile and durable, the Hydrolab HL7 has a large sensor suite including:
• Temperature
• Conductivity (EC)
• Salinity (SAL)
• pH
• Oxidation-Reduction Potential (ORP)
• Dissolved Oxygen (LDO)
• Depth
• Turbidity
• Nitrate
• Chloride
• Chlorophyll a
• Blue Green Algae
• Rhodamine
• Ammonia
• Total Dissolved Gas
When measured in real time, results can be viewed on the Hydrolab Surveyor handheld display:   Surveyor HL – Aqualab
Designed for water quality professionals, the Hydrolab HL4 is able to thrive in demanding environmental conditions.  Bio-fouling is minimized when equipped with the central cleaning brush and performance is maximized with an advanced power management system.
Various cable lengths are available with all Hydrolab HL4 models:
• 2 meter
• 5 meter
• 10 meter
• 15 meter
• 25 meter
• 25 meter
• 30 meter
• 50 meter
• 75 meter
• 100 meter
• 150 meter
• 200 meter
With the following output interface, the Hydrolab HL4 is able to easily integrate into real time telemetry systems:
• SDI-12
• RS-485
• RS-232
• USB
Self-monitoring system reports the status of the instrument, flags the data, and shows the user where the problem is with assistance on how to solve the issue
User-scheduled calibration and maintenance intervals indicate when they are due
Guided and semi-automated calibration routines lead the user through the calibration process
Calibration results are stored with date and time, calibration type, user identification, and user notes
Check Calibration process allows the user to verify calibration and store the results
Calibration reports contain information about previous calibrations and calibration checks
Sensor status is saved with every line of data and is contained in the log file
Dedicated communications modules allow easy integration with data loggers and telemetry systems
Compatible with the Surveyor HL – a fully IP67 handheld designed for field use with a full-color screen that is visible in direct sunlight

| | |
| --- | --- |
| Sensors | Temperature sensor and up to four additional sensors plus depth and ORP |
| Electrical | |
| External | 6 … 30 VDC (12 VDC nominal) applied to the communications module,12 VDC: 250 mW average, 19 W peak |
| Internal | (Optional) Internal alkaline D-cell battery, non-rechargeable. |
| Sleep mode at 12 V | 20 mA |
| Communications | Hydrolab communications modules: USB, SDI-12, RS232, RS485, or TTY |
| Memory | 4 GB of internal memory; 1 second interval minimum |
| User Interface | |
| PC Software | Hydrolab Operating Software |
| Handheld | (Optional) Hydrolab Surveyor HL |
| General | |
| Sonde Depth Rating | 200 m (656 ft) |
| Maximum Deployment Cable | 200 m (656 ft) |
| Diameter w/o bumpers | 4.4 cm (1.75 in.) |
| Diameter with bumbers | 5.3 cm (2.1 in.) |
| Weight with internal battery pack (IBP) and storage/calibration cup | 2.2 kg (5 lb) |
| Length – no IBP, standard sensor guard | 51.4 cm (20.25 in.) |
| Length – no IBP, extended sensor guard | 66.4 cm (26.125 in.) |
| Length – IBP and standard sensor guard | 62.2cm (24.5 in.) |
| Length – IBP and extended sensor guard | 77.8 cm (30.625 in.) |
| Environmental conditions | |
| Operating temperature | -5 … 50 °C (23 … 122 °F), non-freezing |
| Storage temperature | 1 … 50 °C (34 … 122 °F) |

Hydrolab HL4 - Flow Cell (normal)
Product number# 014880
Hydrolab HL4 - Flow Cell (extended sensor)
Product number# 013520HY
Hydrolab HL4 - LDO Sensor Cap
Product number# 007460
Hydrolab HL4 - 2m Cable
Product number# CZL002
Hydrolab HL4 - 5m Cable
Product number# CZL005
Hydrolab HL4 - 10m Cable
Product number# CZL010
Hydrolab HL4 - 15m Cable
Product number# CZL015
Hydrolab HL4 - 25m Cable
Product number# CZL025
Hydrolab HL4 - 30m Cable
Product number# CZL030
Hydrolab HL4 - 50m Cable
Product number# CZL050
Hydrolab HL4 - 75m Cable
Product number# CZL075
Hydrolab HL4 - 100m Cable
Product number# CZL100
Hydrolab HL4 - 150m Cable
Product number# CZL150
Hydrolab HL4 - 200m Cable
Product number# CZL200
Hydrolab HL4 - Communications Cable (Lab use only)
Product number# 9310600

HL4

Water Quality Monitoring with OTT HydroMet

Hydrolab HL4 Webinar (2014)