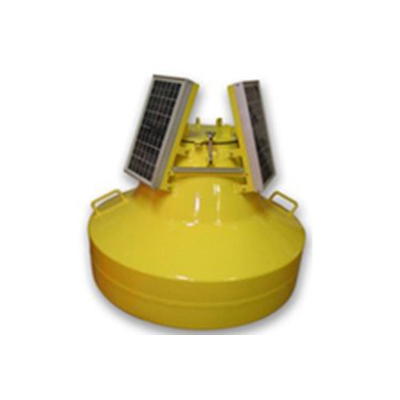 Measuring Buoy
Measurement of water quality in coastal regions and estuaries is critical in the characterization of hypoxic 'dead zones' as a result of nutrient loading and algal blooms in the water bodies. Sediment loading analysis through turbidity measurement is also important for coastal trend identification and modeling. Hydrolab and Sea-bird Coastal offer a variety of multiparameter water quality instrumentation and nutrient sensors for long-term coastal applications.
Certain OTT level sensors (OTT RLS, OTT SE 200) are effective for sea level and tide level monitoring with radar and float pulley technology. Additionally, certain OTT groundwater level sensors can measure salinity and conductivity for detection of saltwater intrusion in freshwater coastal aquifers.
The Aqualab measuring buoy was designed particularly to work in combination with the Hydrolab Multiparameter Probes for water quality monitoring applications. Like the Aqualab Systems, this buoy is equipped with a data logger unit connected to a GSM data transmission unit and has a solar power supply. Different to conventional buoys, the mulitparameter probe is installed laterally in a pipe, so that  the buoy does not have to be opened for maintenance and calibration, which have to be carried out regularly for accurate measurement of water quality. The measuring buoy can be reached from a small boat and the necessary maintenance works can be done easily.
Features:

Solar power supply for the supply of the measuring probe, data logger and Next G GSM/GPRS modem
Access to the Mulitparameter sonde laterally at the buoy – the buoy does not have to be opened in order to calibrat the sonde
The Aqualab measuring buoy is intended for the deployment in lakes, rivers and in the near coastal areas.

• Measured Parameters

Conductivity
Range
0 … 70 mS/cm (0 … 70,000 µS/cm)
Accuracy
± 0.003 mS/cm (3 µS/cm)
Typical Stability
0.003 mS/cm (3 µS/cm) per month
Resolution
0.0001 mS/cm (0.1 µS/cm)




temperature
Range
0 … 70 mS/cm (0 … 70,000 µS/cm)
Accuracy
± 0.003 mS/cm (3 µS/cm)
Typical Stability
0.003 mS/cm (3 µS/cm) per month
Resolution
0.0001 mS/cm (0.1 µS/cm)




pressure
Range
0 … 70 mS/cm (0 … 70,000 µS/cm)
Accuracy
± 0.003 mS/cm (3 µS/cm)
Typical Stability
0.003 mS/cm (3 µS/cm) per month
Resolution
0.0001 mS/cm (0.1 µS/cm)




optical dissolved oxygen
Range
0 … 70 mS/cm (0 … 70,000 µS/cm)
Accuracy
± 0.003 mS/cm (3 µS/cm)
Typical Stability
0.003 mS/cm (3 µS/cm) per month
Resolution
0.0001 mS/cm (0.1 µS/cm)




electrical
Range
0 … 70 mS/cm (0 … 70,000 µS/cm)
Accuracy
± 0.003 mS/cm (3 µS/cm)




power supply
Range
7.8 Amp-hour (nominal) battery pack, 257 Kjoules (derated for calculations)
Accuracy
± 0.003 mS/cm (3 µS/cm)
Power Consumption
(all with pressure)*
Range
0 … 70 mS/cm (0 … 70,000 µS/cm)
CTD-DO Sample Acquisition
(excluding pump)
Real-time data enabled – 0.17 Watts No real-time data – 0.155 Watts
CTD-DO Sample Waiting
(not sampling, pump running, excluding pump)
Real-time data enabled – 0.056 Watts if receive line valid, 0.016 Watts if receive line not valid No real-time data – 0.016 Watts
CTD-DO Between Samples
Real-time data enabled – 0.056 Watts if receive line valid 0.0004 Watts if receive line not valid No real-time data – 0.0004 Watts
Range
0 … 70 mS/cm (0 … 70,000 µS/cm)
Communications
(Power consumption values are for standard RS-232 interface; for optional interfaces, see corresponding manual)*
± 0.003 mS/cm (3 µS/cm)




general
Housing Material
Plastic
Depth Rating
350m (1148 ft)
Weight
3.4 kg (7.5 lbs) in air, 1.5 kg (3.3 lbs) in water