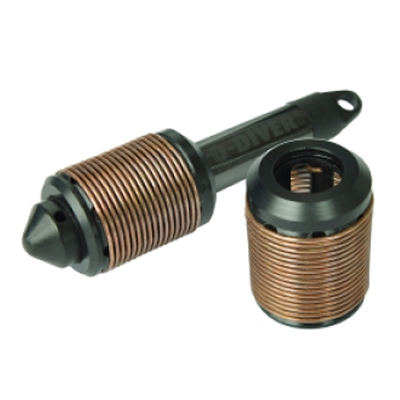 Diver Copper Shield
There are many methods that can be used to prevent and remove the bioaccumulations. However, these methods can be expensive and detrimental to the environment. There is a lesser known natural solution that is a good match for the CTD-Diver and is effective at reducing the development of microorganisms. Schlumberger Water Services has developed a copper coil shield that will significantly reduce the growth of algae on the electrodes. Thus reducing the need for maintenance and decreasing the time spent on site.
Features:

What is bio-fouling? Bio-fouling is the undesirable accumulation of microorganisms, plants, algae, or animals on wetted structures. This is especially prominent in surface water monitoring in warm environments. Bio-fouling causes an algal growth on the electrodes of the CTD-Diver. This may affect the conductivity readings and increases the need for maintenance. Removing the biological materials from the electrodes can be damaging over a prolonged period of time and increase time spent in the field.

Benefits:

Lower maintenance intervals
Reduce algae growth on the conductivity sensor
Improve conductivity readings
Simple to use.