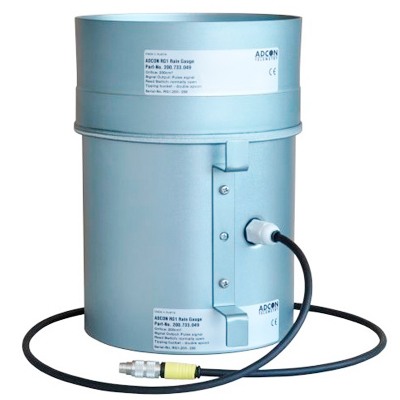 RG1
The Adcon RG1 was designed as a universal rain gauge, that meets the need of most applications. This gauge is built to last, in agriculture as well as in hydrographical or meteorological applications and in rough environments.
This version of the RG1 weighs in at less than half a kilo and is suited for both mast and floor mounting. The measurement is done by a double tipping bucket system that's factory calibrated to remain within a <2% accuracy in rain falls up to 60mm per hour. The steep angle of the buckets makes water run of quickly and thus prevents the build-up of residue, like sand or dust in the buckets.
Water is collected through a funnel with an orifice of 200 cm². Leaves and bird droppings are kept out of it by means of an aluminium filter, that can easily be taken out for cleaning. The funnel attaches to the body with a bayonet-style lock, which prevents the funnel from being shaken off in heavy winds.
All parts (except the buckets) are made of aluminium that's anodized for extra protection and durability.
The sensor comes complete with all mast mounting equipment, two pipe clamps, and a shielded 1m cable with a 7-pin Binder jack, compatible to all RTU's of the A723, A733 and A75x families.
The tipping bucket mechanism:

The measurement unit consists of a double tipping bucket, suspended on long-life precision bearings. Each rain gauge is individually calibrated and undergoes a "burn-in" run to smoothen the surfaces of the bearings prior to deployment. The two adjustment screws are secured against undesired dealignment. Field recalibration is easy (although we recommend this do be done in a controlled environment).

Cable clamp and reed switch:

The cable of the RG1 is connected to a German-made clamp that is being operated by means of sturdy levers. Damaged cables can thus easily be replaced in the field. The image to the left also shows the German-made reed contact, fully sealed in a plastic housing, and ready to operate over one million times.

Funnel filter:

This metal mesh filter prevents bird droppings and leaves from blocking the rain gauge. It can easily be removed by means of an attached handle. To protect the rain gauges anodizing against scratches its edges are covered by a plastic rim.

Funnel lock:

To make sure that the funnel doesn't come off, even in windy areas and if subjected to vibrations, it is locked in place by a bayonet-type mechanism. Put the funnel on and rotate it clockwise until it locks. To remove, turn counter-clockwise.

The "poison box":

And this feature is surely a first! Insects have proven to be a major source of trouble for any rain gauge. Ants and spiders love to build their nests in rain gauges, and often manage to completely block its operation. That's why we have built a "poison box" into the RG1! Place an effective insect repellent as is commercially available in your area into this box, and renew it whenever you make a regular check up on your stations!

•SPECIFICATIONS




Resolution in mm
0.2
Orifice in cm²
200
Measuring Device
Double tipping buckets
Capacity/Minute @ Accuracy
up to 1mm (0.4″) @

 

+

 

2%
1 – 2 mm (0.4 …0.8″) @

 

+

 

5%
Output signal
one pulse per tip
Weight
0.5 kg / 1.1 lb.
Material
anodized aluminum
Cable
PUR, shielded, 1m / 3.3ft
Connector
7-pin Binder M9 male
Operating temperature
freezing point to +75°C (+167°F)