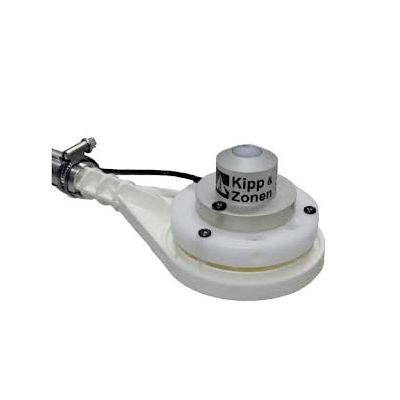 SP Lite
SP-Lite – a low-cost, yet very accurate, universal silicium pyranometer.
Kipp & Zonen SP-Lite
This silicium-pyranometer was especially designed for agro-meteorology, in particular to calculate evapotranspiration for precision irrigation purposes, to monitor solar panels in energy production, for air pollution dispersion calculations and similar applications. SP-Lite can be used under all weather conditions. It compares favourably to ISO 9060-specified First Class Thermopile Pyranometers under clear and unobstructed natural daylight conditions.
SP-Lite uses an extremely accurate and sensitive photo diode detector, which creates a voltage output that is proportional to the incoming radiation. This diode is far superior to low-cost diodes as used in cheap pyranometers, which often start to drift enormously after only one year in the field. SP-Lite has a proven track record of maintaining its original accuracy over many years.
In contrast to low cost sensors SP-Lite is equipped with a dome-shaped, hardened crystal glass lense. The dome-shape of the lense makes sure that water and agro-chemicals can run off easily, rather than drying up on the surface and leaving behind an obstructive layer of dust, dirt and chemicals. The hardened crystal lense makes sure that sand and dust in the air will not scratch the surface and reflect sunlight back into the atmosphere.
In order to provide easy compatibility to all Adcon RTUs the sensor comes with an integrated amplifier, which creates a linear 0 – 2.5V output signal.
The sensor comes complete with all mast mounting equipment, two pipe clamps, and a shielded 2m cable with a 7-pin Binder jack, compatible to all RTU's of the A723, A733 and A75x families.
Albedometers, Pyrgeometers, Net Radiation, First Class Sensors, Secondary Standard
Adcon custom builds amplifiers for other products of Kipp & Zonen, such as the CMP-6, CG3 and NR1 sensors. The German Aerospace Center in Mecklenburg uses 25 Albedometers and 25 Pyrgeometers, built around A740 and A753 weather stations, for the ground truthing of satellite images. Got a project?

•SPECIFICATIONS

| | CMP-3 | SP-Lite |
| --- | --- | --- |
| Sensitivity | 5-20µV/Wm² | ~75 µV/Wm² |
| Spectral Range | 310 – 2800nm | 400 – 1100nm |
| Max. Irradiance | 2000 W/m² | 2000 W/m² |
| T.C. of Sensitivity | +/-5% (-10°C – 40°C) | +/- 0.15% /°C |
| Operating Temperature | -40°C – 80°C-40°F – 176°F | -30°C – 70°C-22°F – 158°F |
| Non-stability (change/year) | +/-1% | n.a. |
| Non-linearity(0-1000 W/m²) | +/- 2.5% | n.a. |
| Tilt response(at 1000 W/m²) | +/- 3% | n.a. |