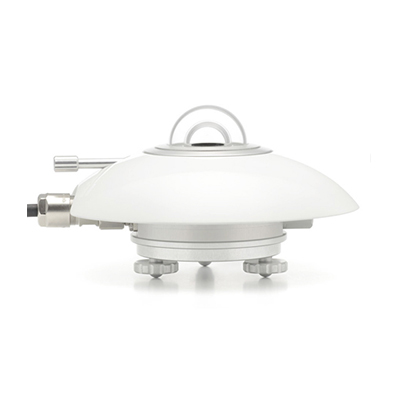 SR11
The SR11 pyranometer offers an outstanding price-performance ratio for an instrument of this class. Compliant with the ISO-9060 First Class standard, it employs a double glass dome to minimize measurement errors. Its thermopile sensor element reacts very fast to changes in radiation, and provides a perfectly flat response across the full solar spectrum. The SR11 is the instrument of choice for Met Offices, science and research, and also for photo-voltaic operations keen to get accurate efficiency evaluations of their operations.
Adcon delivers the SR11 by default with an integrated amplifier. This device provides the standard Adcon analog output signal from 0 to 2.5V, which makes the sensor compatible to all Adcon RTU's.
The sensor comes complete with an extremely rugged, stainless steel mast mounting bracket, and a shielded 3m cable with a 7-pin Binder jack, compatible to all RTU's of the A723, A733 and A75x series.
•SPECIFICATIONS

ISO Classification
First Class
Sensitivity
15µV/Wm²
Spectral Range
305 … 2800nm
Max. Irradiance
2000 W/m²
T.C. of Sensitivity
+/-0,1%/°C
Output signal
0 … 2,5VDC
Operating Temperature
-40°C … 80°C

-40°F … 176°F

Non-stability (change/year)
<+/-1%
Non-linearity (0-1000 W/m²)
<+/- 2.5%
Tilt response (at 1000 W/m²)
<+/- 3%
Applicable Standards
ISO-9060 and 9847

WMO

ASTM E824-94

Dimensions (incl. bracket)
420x355x150mm (LxWxH)
Weight (total)
2,6kg