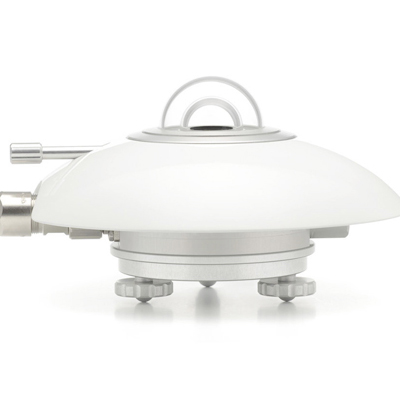 SR20
SR20 is a pyranometer of the highest category in the ISO 9060 classification system: secondary standard. This solar radiation sensor is used where the highest measurement accuracy is required. It measures the solar radiation received by a plane surface from a 180o field of view angle.
In order to improve overall measurement accuracy, this sensor tackles very effectively two major sources of measurement uncertainty: calibration and "zero offset a". The initial calibration uncertainty is reduced to less than 1.2 %, an improvement of 15 % relative to competing models. The "zero offset a" specification of SR20 is 5 W/m2 unventilated, while competing models state 12 W/m2 unventilated and 7 W/m2 ventilated.
The temperature dependence of every individual instrument is tested and supplied as a second degree polynomial. This information can be used for further reduction of temperature dependence during post-processing. SR20's low temperature dependence makes it an ideal candidate for use under very cold and very hot conditions. If a permanent power source is available, the integrated heater can be activated to further reduce measurement errors caused by early-morning dew deposition.
SR20 pyranometer uses a state of the art thermopile sensor with black coated surface, two domes and an anodised aluminium body.
Adcon delivers the SR20 by default with an integrated amplifier. This device provides the standard Adcon analog output signal from 0 to 2.5V, which makes the sensor compatible to all Adcon RTU's.
The sensor comes complete with an extremely rugged, stainless steel mast mounting bracket, and a shielded 3m cable with a 7-pin Binder jack, compatible to all RTU's of the A723, A733 and A75x series.
•SPECIFICATIONS

ISO Classification
Secondary Standard
Sensitivity
5µV/Wm²
Spectral Range
285 … 3000nm
Max. Irradiance
2000 W/m²
Temperature response
<± 1 % (-10°C … +40 °C)

<± 0.4 % (-30°C … +50 °C) with correction in dataprocessing

Calibration uncertainty
< 1.2 % (k = 2)
Zero offset a
5 W/m² unventilated
Output signal
0 … 2,5VDC
Operating Temperature
-40°C … 80°C

-40°F … 176°F

Non-stability (change/year)
<+/-1%
Non-linearity (0-1000 W/m²)
<+/- 2.5%
Tilt response (at 1000 W/m²)
<+/- 3%
Applicable Standards
ISO-9060 and 9847

WMO

ASTM E824-94

Dimensions (incl. bracket)
420x355x150mm (LxWxH)
Weight (total)
2,6kg