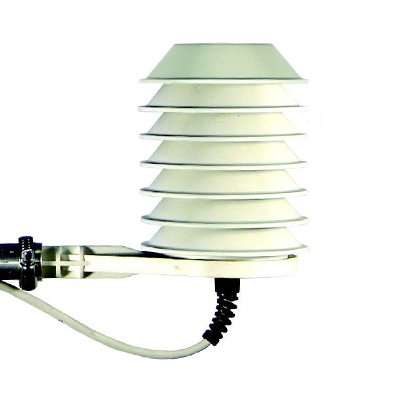 TR2
Combi Sensor "Professional"
The Adcon TR2 is an improved version of the successful TR1. All parameters are designed to match even the most demanding specifications of professional users. Data processing is done right inside the sensor, and all values are ouput via SDI-12.
The temperature sensor offers an accuracy of 0.05°C. Including all potential sources of errors, repeatability, hysteresis, linearity, etc., its accuracy is still better than 0.1°C. The temperature measurement range was extended to +80°C
The humidity sensor, too, is an improved version of the TR1 sensor. It is now almost fully encapsulated to provide maximum protection against particles. The measurement window is specially coated to reduced all possible negative effects of dust, moisture and (agro-)chemicals. The sensor covers the full range up to 100%, with a typical accuracy of 1% up to 90% and 2% from 90 to 100%.
TR2 also calculates dew point directly inside the sensor, and outputs even the mixing ratio.
A highly professional 7-element radiation shield protects the sensor from direct sunlight and provides sufficient ventilation. Solid UV resistant elements reflect radiation on their white surface, while black coating on the inside absorbs accumulating heat.
This sensor is virtually maintenance free and maintains its accuracy over a long period of time. A threaded cap with a wire mesh shield protects the sensor elements against dust, bugs and other pollutants. For applications requiring special protection, e.g. against aggressive dust particles like ammonia in chicken sheds we also offer optional steel sinter, PTFE sinter and PTFE membrane filter caps.
Please note that we have selected the wire filter cap for its combination of two desirable effects: quick reaction to changing humidity and temperature while still providing sufficient protection against small particles. This said please note that smaller pore size will provide better protection, but also slow down the sensor, as smaller pores also reduce the exchange of moisture molecules.
The delivery pack contains the sensor, a 7-element radiation shield, mast mounting gear for poles with a diameter of ~40mm and a 3m cable with a 7-pin Binder connector for Adcon RTUs.
•SPECIFICATIONS

Supply Voltage
5.5 … 15 VDC
Current consumption
< 1,5 mA typ.
Operating Temperature
-40°C … +80°C  / -40°F … +176°F
Operating Humidity
0 … 100% rH
Material of radiation shield
PC
Mounting material
Aluminum tube, PC brackets,pipe clamps of W4 stainless steel
Material of sensor body
Tecapet
Protection class
IP65
Overall Dimensions, incl. mounting & shield
450 x 100 x 270mm     L x W x H

17.7 x 3.95 x 10.7 in.   L x W x H

Dimensions Sensor only
140 x 12mm    L x Diameter
Weight
600g / 1.3 lb.
Cable and Connector
3m cable with male 7-pin M9 Binder
Mounting
mast mounting brackets for 40mm pole,

and with 2 pipe clamps 32-50mm

Relative Humidity
Measuring Range
0 … 100%rH
Accuracy at +20°C:
from 0 – 90% rH

from 90% – max. rH

±1% rH

±2% rH

Temperature dependence
±0.03% rH /°C
Long-term Stability
<1% rH per year
Output Signal
SDI-12
Sensor Element
Capacitance, w/ protective coating (HC01)

Temperature
Measuring range
-40°C … +80°C / -40°F … +176°F
Accuracy at +20°C
±0,1°C
Output signal
SDI-12
Sensor element
pt1000 DIN A

Dew Point
Measuring range
-40°C … +80°C / -40°F … +176°F
Resolution
0,01°C
Output signal
SDI-12