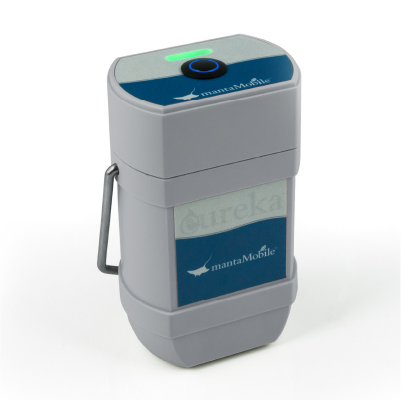 MantaMobile
The MantaMobile is a rechargeable, high-capacity lithium battery.  It is also a Bluetooth transceiver.  Combined within a waterproof (IP67) case, the MantaMobile communicates wirelessly (via Bluetooth) to a mobile device of your choosing (Android or Apple).
The MantaMobile will power one of the below water quality meters for up to 22 hours!
• Eureka EasyProbe
• Eureka Trimeter
• Eureka Manta+ 20
• Eureka Manta+ 25
• Eureka Manta+ 30
• Eureka Manta+ 35
• Eureka Manta+ 40
Note:   PC Laptops currently require a direct cable connection.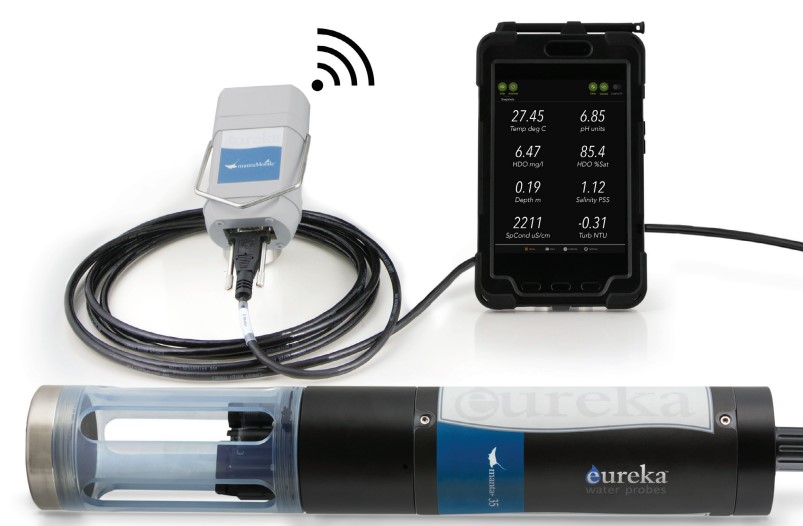 MantaMobile Connectivity
When connected, the mantaMobile allows users to communicate directly with a range of mobile smart devices such as Android (tablets or phones) and iOS (iPhone or iPad).
Wireless communication includes:
• General control features
• Sensor configuration & calibration
• Instant & automated data capture
• File management
• GPS & geofencing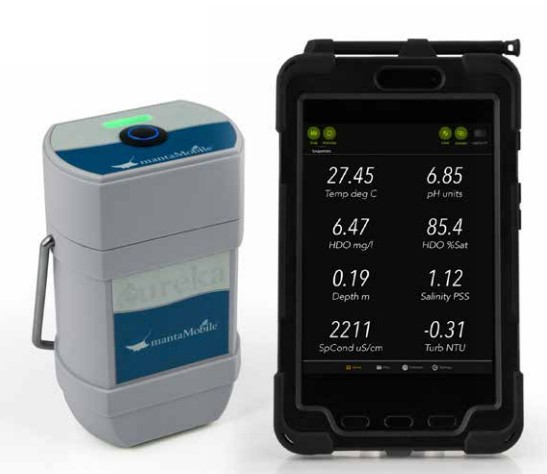 MantaLink App
Users download a mantaLink App to operate & access data from the Manta.  Installing mantaLink on your display device (phone or tablet) takes just a few minutes; after which connecting Manta sondes to your display device is easy.
The mantaLink facilitates:
• Parameter calibration
• Unit selection
• Datalogging initiation
• Data snapshot / screenshot
• Data email
• Geofencing
mantaLink's black background with large, white lettering, allows data to be easily seen in sunlight.
Download the mantaLink App here: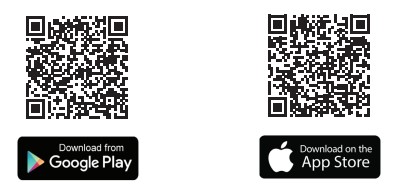 The mantaMobile is proudly manufactured by Eureka and exclusively represented by Aqualab Scientific.
A fully charged device will run up to 22 continuous hours (based on operating a Manta+ multiprobe with 13 sensors). Run time increases with fewer sensors; will vary depending on the type and number of sensors installed.

MantaLink App

You must first download the MantaLink App to your display, from the Google Play Store, or Apple App Store. Once paired with the Bluetooth device, launch the App to connect to a Eureka multiprobe.

Available models include:

mantaMobile Bluetooth Battery Pack
Product number# mantaMobile
mantaLink™ Software App (for phone or tablet)
Product number# mantaLink™

mantaLink Home Screen

mantaLink Calibration

mantaLink Settings

mantaLink File Management