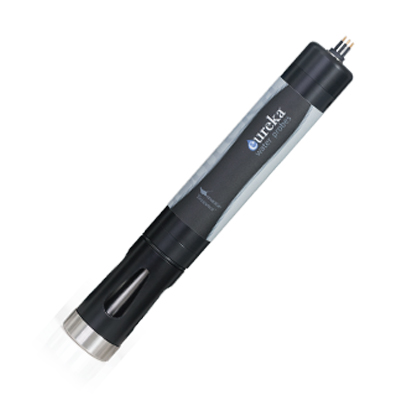 Trimeter
The Trimeter is the latest "mini-probe" launched as part of the Eureka Manta line of water quality meters.  Super versatile, the Trimeter  includes temperature and any other water quality parameter within a 1.85″ diameter housing.  It is suitable for:
• Spot Checking
• Low Flow Sampling
• Unattended Logging
• Remote Telemetry
• Process Control
• Laboratory
• Ground Water
• Lakes, Rivers, Estuaries
• Water & Wastewater
• Education & Research
• Aquaculture
• Dye Tracing
• Oil Spill Response
• Oil & Gas
Available Models
Two Trimeter models are available:
• Trimeter Sonde
• Trimeter Sonde (with external battery pack)
All Trimeter models include:
• 1.85″ diameter housing
• Internal Memory
• Sensor Guard with weight
• Sensor Maintenance Kit
• Manta Software (Android / IOS)
• Soft Carry Bag
All Trimeter models come with an industry best 3 year warranty!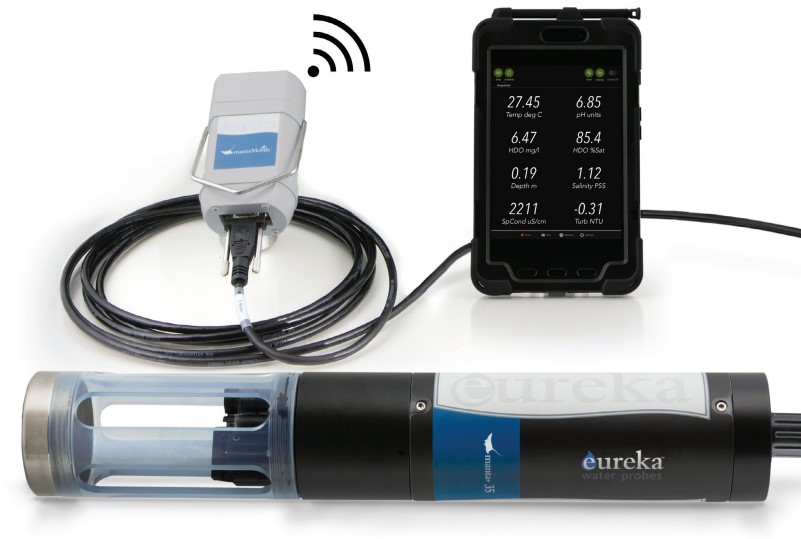 Sensor Suite
The below sensors are included as standard:
• Temperature (Temp)
A Depth sensor is optional:
• Low Range Depth (0 to 25m)
• High Range Depth (0 to 200m)
• Low Range Vented Depth (0 to 10m)
Plus any one of the following sensors:
• Dissolved Oxygen (LDO)
• Conductivity (EC)
• pH
• Oxidation Reduction Potential (ORP)
• Dissolved Oxygen (LDO)
• Turbidity
• Blue Green Algae (fresh water)
• Blue Green Algae (salt water)
• CDOM/FDOM
• Chlorophyll a
• Chlorophyll red
• Crude Oil
• Eosin
• Fluorescein
• Optical Brighteners
• Refined Fuels
• Rhodamine
• Tryptophan
• Carbon dioxide
• Methane
• Photosynthetically Active Radiation (PAR)
• Total Dissolved Gas (TDG)
An internal battery pack for unattended deployments is optional.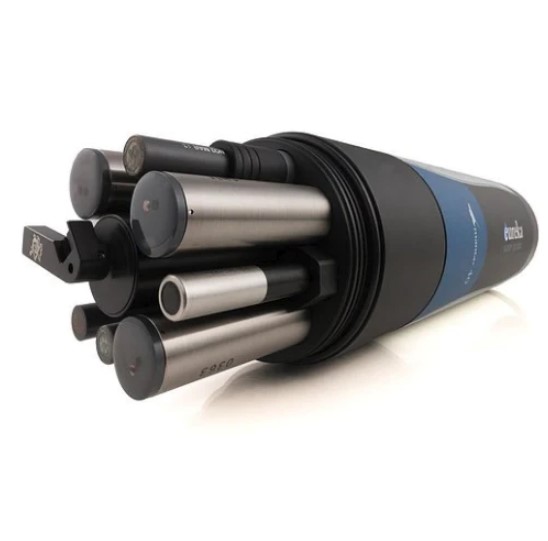 Cable Options
Various cable lengths available:
• 5 meter
• 10 meter
• 20 meter
• 30 meter
• 40 meter
• 50 meter
• 75 meter
• 100 meter
• 150 meter
• 200 meter
Vented cable lengths are also available:
• 5 meter (vented)
• 10 meter (vented)
• 20 meter (vented)
• 30 meter (vented)
• 40 meter (vented)
A Cable Reel is available for Manta models with up to 200m of cable.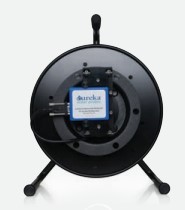 Manta Mobile Battery & Bluetooth Module
The Trimeter requires a MantaMobile to operate.
The MantaMobile is a rechargeable, high-capacity lithium battery.  It is also a Bluetooth transceiver.  Combined within a waterproof (IP67) case, the MantaMobile powers the Manta and communicates wirelessly to a mobile device of your choosing (Android or Apple).
The MantaMobile will power a Manta for eight hours or more.
Note:   PC Laptops currently require a direct cable connection.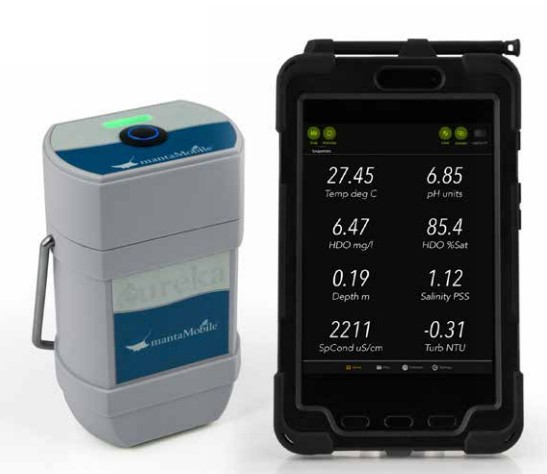 MantaLink App
Users download a mantaLink App to operate & access data from the Manta.  Installing mantaLink on your display device (phone or tablet) takes just a few minutes; after which connecting Manta sondes to your display device is easy.
The mantaLink facilitates:
• Parameter calibration
• Unit selection
• Datalogging initiation
• Data snapshot / screenshot
• Data email
• Geofencing
mantaLink's black background with large, white lettering, allows data to be easily seen in sunlight.
Download the mantaLink App here: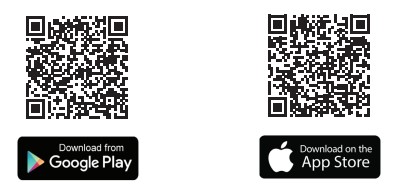 Accessories
SDI-12 and MODBUS output for connection to third-party devices, USB Output, PC Data Cable, Bluetooth-equipped tablet (Apple and Android) with rugged field enclosure, flow cell, copper anti-fouling options, pipe kit, hard carry case, telemetry kit and calibration solutions.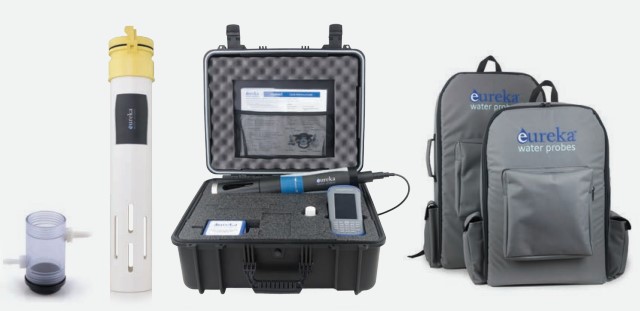 Why choose the Trimeter?
• Reliability.
Manta sondes are built for demanding field conditions, and as such Eureka is the only manufacturer providing a 3 year warranty – which includes sensors!
• Superiority
Superior sensors mean you can stand behind your data.
• Fitness for Purpose.
Manta sonde construction has been tested in thousands of demanding applications.
• Lifetime Cost
Not only do Manta sondes have a highly competitive purchase price, but they also have the lowest maintenance costs in the industry.
• Ease of Use
Manta sondes are easy to calibrate. Simple & intuitive software walks you through the calibration process within a few minutes. You will not need a user manual to learn the software features.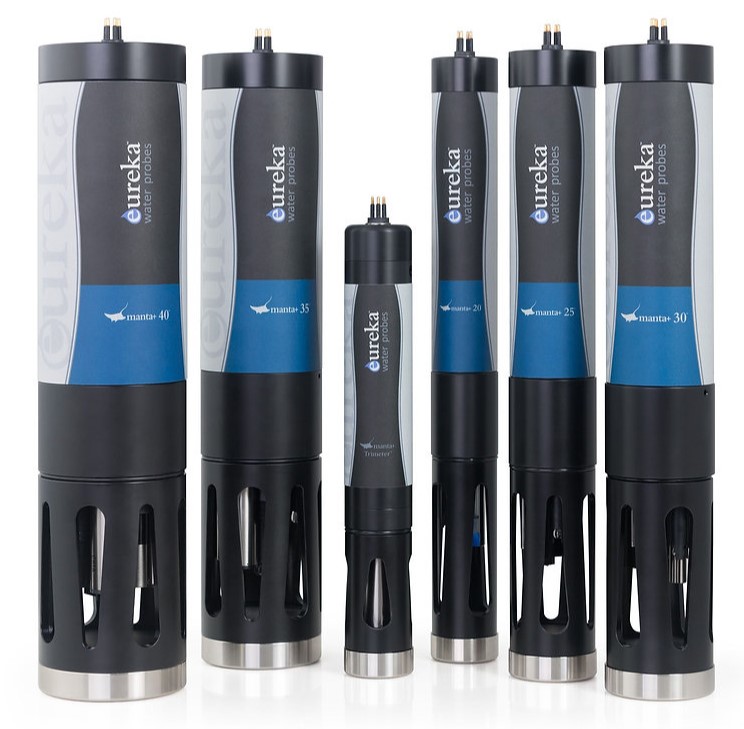 Eureka products have proven themselves over two decades in every kind of application – deep or shallow; hot or cold; fresh or salt; clean or fouling; lakes, rivers, estuaries, near-shore marine, and process waters in thousands of sites around the world.
The Manta water quality meter is proudly manufactured by Eureka and exclusively represented by Aqualab Scientific.
Rugged
• Anti-corrosive housings and sensors
• Industry leading 3 year warranty
• Anti-fouling options

Intelligent
• Sensor health indicator
• Automatic recording of internal calibration data
• LED status indicator

Simple
• One touch and automatic data capture
• Fast easy calibration
• Intuitive software

Modern
• Bluetooth communication with a range of mobile / tablet devices!

The Trimeter package includes:
The Trimeter package incorporates temperature and any other water quality parameter within a 1.85″ diameter housing.  You can modify your Manta package by adding or subtracting sensors & accessories.

It is suitable for:

• Spot Checking
• Low Flow Sampling
• Unattended Logging
• Remote Telemetry
• Process Control
• Laboratory
• Ground Water
• Lakes, Rivers, Estuaries
• Water & Wastewater
• Education & Research
• Aquaculture
• Dye Tracing
• Oil Spill Response
• Oil & Gas

Eureka Water Probes continues to provide innovative, reliable multiprobes backed by market leading customer service. Designing and manufacturing the world's best multiprobes remains our sole focus.

Customise your Manta by adding or removing sensors!

Available models include:

Trimeter multiprobe
Product number# Trim base
Trimeter multiprobe (external battery pack)
Product number# Trim add IBP
ADD Turbidity Sensor (Turb)
Product number# turbidity
ADD Blue Green Algae Sensor (Phycocyanin / Fresh Water)
Product number# BGA fresh
ADD Blue Green Algae Sensor (Phycoerythrin/ Marine Water)
Product number# BGA salt
ADD CDOM/fDOM Sensor
Product number# CDOM/fDOM
ADD Chlorophyll a Sensor
Product number# chlorophyll
ADD Chlorophyll red Sensor
Product number# chlorophyll red
ADD Crude Oil Sensor
Product number# crude oil
ADD Eosin Sensor
Product number# eosin
ADD Fluorescein Sensor
Product number# fluorescein
ADD Optical Brighteners Sensor
Product number# optical brighteners
ADD Refined Fuels Sensor
Product number# refined fuels
ADD Rhodamine Sensor
Product number# rhodamine
ADD Tryptophan Sensor
Product number# tryptophan
ADD Carbon Dioxide (CO2) Sensor
Product number# CO2
ADD Methane (CH4) Sensor
Product number# Methane
ADD Photosynthetically Active Radiation (PAR) Sensor
Product number# PAR
ADD Total Dissolved Gas Sensor
Product number# TDG
ADD SDI-12/MODBUS output
Product number# SDI-12/MODBUS

mantaMobile Bluetooth Battery Pack
Product number# mantaMobile
mantaLink™ Software App (for phone or tablet)
Product number# mantaLink™
Trimeter Flow Cell (M20)
Product number# flow cell 20
Marine Cable (5m)
Product number# cable M+ 5m
Marine Cable (10m)
Product number# cable M+ 10m
Marine Cable (20m)
Product number# cable M+ 20m
Marine Cable (30m)
Product number# cable M+ 30m
Marine Cable (40m)
Product number# cable M+ 40m
Marine Cable (50m)
Product number# cable M+ 50m
Marine Cable (75m)
Product number# cable M+ 75m
Marine Cable (100m)
Product number# cable M+ 100m
Marine Cable (150m)
Product number# cable M+ 150m
Marine Cable (200m)
Product number# cable M+ 200m
Vented Marine Cable (10m)
Product number# M+ vented 10m
Vented Marine Cable (20m)
Product number# M+ vented 20m
Vented Marine Cable (30m)
Product number# M+ vented 30m
Vented Marine Cable (40m)
Product number# M+ vented 40m
Trimeter Cable Reel (<200m)
Product number# cable reel
Hard Carry Case (Trimeter)
Product number# case hard Trim - 30
Hard Carry Case (Trimeter with extended battery pack)
Product number# case hard Trim - 30 IBP
Anti-Fouling Kit (Copper Gauze)
Product number# copper antifoul kit 20
Protective Pipe Kit (Trimeter )
Product number# pipe kit 2"
Protective Pipe Kit (Trimeter with extended battery pack)
Product number# pipe kit 2" IBP
Android Tablet Display (8")
Product number# Galaxy Active Tab3 Android field display
Android Tablet Rugged Display (7")
Product number# MESA3 field display
Juniper Tablet Display (8")
Product number# Juniper Cedar Android field display
iPAD mini Tablet Display
Product number# Apple iPad Mini display

mantaLink Home Screen

mantaLink Calibration

mantaLink Settings

mantaLink File Management

Manta Control Software for PC (2V2.2.6)

Additional software can be downloaded using QR Codes:

- MantaLink (iOS) from the Apple APP Store
- MantaLink (Android) from Google Play
- MantaLink (Android / Legacy) from Google Play

Download now