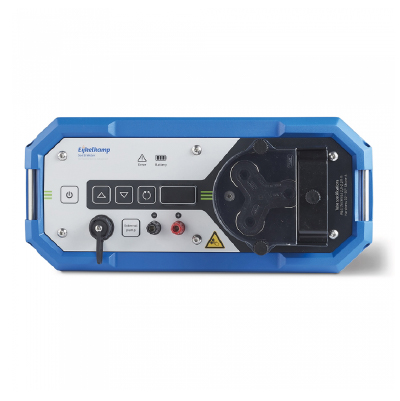 Peristaltic Pump (12 VDC)
The Eijkelkamp Peristaltic Pump (#12.35.SB) is an incredibly versatile, field ready, digitally controlled, 12vdc battery powered Peristaltic Pump.
Typical applications include:
• Contaminated site assessment (groundwater sampling & purging).
• In-line filtration with 0.45 micro disposable filters.
• Low Flow Sampling.
The Eijkelkamp Peristaltic Pump (#12.35.SB) incorporates a maintenance-free 12 volt lithium-ion battery allowing the pump to be operated for at least two to five hours at a time (depending on the load).  The splash-proof housing (IP66 rated) ensures this pump is a firm field favourite.
The inbuilt microprocessor provides a user adjustable constant speed, allowing field operators to sample to depths of 6 – 9 meters.
Why add this to your equipment fleet?
• The battery can be recharged at any time, without being fully discharged.
• The battery is protected against over-discharge, ensuring a long service life.
• The pump may be used during charging. When the charger is connected, the pump is powered from the charger rather than the battery.
Note:  The battery can be charged via a 12v connection in the car. This requires a special cable plug (#123505) not supplied with the pump as standard.
Contemporary design
Digitally controlled peristaltic pump
Stable pump speed with a constant flow rate between 50 ml-2000 ml/minute
Display of rotations per minute and battery percentage
Battery indicator
Designed for long and frequent use
To be used with the prescribed silicone tubes
Suction head up to 6-9 meters
Basic tool for all groundwater research
Ideal for purging and sampling with the low-flow sampling method of groundwater monitoring wells

Fit for silt loaden water
yes
International Protection Rating
IP66
Maximum pumping capacity
2.0 L/min
Maximum sample depth
9 m
Power supply
battery
Product material
stainless steel, Teflon
Sample diameter
4 mm
Flux
2 L/min
Package size
46 x 26 x 37 cm
Voltage
12 volt
Weight
8.5 kg

Applications

Environmental soil research
Monitoring well installation
Water quality research
Monitoring water quality
Anaerobe sampling
Water sampling
Ground water sampling

Available models include:

Eijkelkamp Peristaltic Pump (12 VDC) - with battery
Product number# 12.35.SB
Eijkelkamp Peristaltic Pump (12 VDC) - without battery
Product number# 12.35

Eijkelkamp Peristaltic Pump (12 VDC) - Battery Charger (100-240v)
Product number# 123501
Eijkelkamp Peristaltic Pump (12 VDC) - Replacement Battery
Product number# 123503
Eijkelkamp Peristaltic Pump (12 VDC) - Software Update Cable
Product number# 123504
Eijkelkamp Peristaltic Pump (12 VDC) - 12v Car Charger Cable
Product number# 123505
Eijkelkamp Peristaltic Pump (12 VDC) - Polyethylene tubing (6mm ID x 8mm OD) roll of 100m
Product number# 122004
Eijkelkamp Peristaltic Pump (12 VDC) - Polyethylene tubing (6mm ID x 8mm OD) roll of 200m
Product number# 122005
Eijkelkamp Peristaltic Pump (12 VDC) - Polyethylene tubing (8mm ID x 10mm OD) roll of 100m
Product number# 122008
Eijkelkamp Peristaltic Pump (12 VDC) - Silicone tubing (4mm ID x 8mm OD), roll of 5m
Product number# 122046
Eijkelkamp Peristaltic Pump (12 VDC) - Silicone tubing (6mm ID x 10mm OD), roll of 5m
Product number# 122048

Eijkelkamp Peristaltic Pump (12 VDC) - Introduction to the Eijkelkamp Peristaltic Pump

Peristaltic Pump (12 VDC) (12.35.SB) - Evolution of the Eijkelkamp Peristaltic Pump