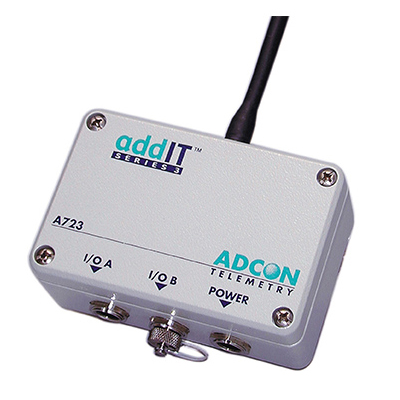 A723 UHF RTU
A723 Series 4 uses a robust aluminum case and sturdy Binder connectors, made in Germany, that have proven to work very well since their introduction in 1998. Power consumption is extremely low, and our postcard sized solar panels are sufficient to run the show.
Connect up to 6 analog sensors from our range of environmental equipment, 2 pulse counters, 2 TTL signals (in or out) and up to 40 SDI-12 sensors. A good installation can yield distances of 1000m and more (3.000ft).
A723 addIT Series 4 is fully compatible to all current Adcon long range devices, A731/A751 addRELAY, A733/A753 addWAVE, and to the A850 Telemetry Gateway . It can thus easily be integrated into existing networks.
Features:

SDI-12 Adapter on-board Resolution of A/D Converter Stabilized Excitation Power Asynchronous Sampling Pulse Counter Frequency 30% more Battery Power, 80% more Solar Power More Memory for Data and Firmware Firmware Upgrade without opening the case Same Sensor Connectors as in A733

Benefits:

The addITs are particularly popular in agriculture. Optimizing irrigation systems requires the installation of soil moisture sensors in large numbers within limited areas. With several soil moisture sensors attached to only one addIT vital soil data can thus inexpensively be relayed back to base through an existing network of Adcon weather stations. The internal SDI-12 Adaptor makes the A723 addIT Series 4 even more competitive. Up to 40 additional sensors can be attached, provided they either have a very low power consumption or bring their own battery pack. Imagine this to be e.g. 5 multi-level soil moisture probes, or a big multi-parameter probe for water quality monitoring, which outputs anything from temperature, level, and pH to EC, turbidity and VOC's.

•SPECIFICATIONS




Dimensions
100 x 70 x 40 mm
Weight
450g
Protection type
IP-67
Transmission distance
up to 1.000 m (dep. on topography)
Power Supply
internal 6.2V NiMH battery w. 2200 mAh, charged by solar panel or mains adapter
6 analog inputs
0 – 2.5 V with 12-Bit resolution or
0 – 1V with 11-Bit resolution
2 counter Inputs
for standard reed switches as used eg. in rain gauges or water meters. Max. frequency 30 pulses per second; min. pulse length 17ms, min. break time 17ms
SDI-12 port:
On-Board via I/O port A. Accepts up to 40 sensor values
2 Digital I/O's
Configurable as either TTL-inputs for status control or as TTL-outputs to switch a relay (might require relay amplifier interface ADI-24)
Stabilized Sensor Excitation
Adjustable from 3.3V to 5.5V
Unregulated Sensor
Excitation
Feeds battery voltage to the sensors, unregulated from 5.6V to 7.5V
Memory
64KB for up to 20.000 readings (dep. on type of sensors attached)
Connectors
2 x Binder M9 7-pin female (Sensor)
1 x Binder M9 5-pin female (Power)
Mounting
Mast mounting bracket
Temperature range
-30°C … +70°C
Radio:
Tx Output Power
10mW
Rx Sensitivity
-110dBm
Frequency range
432 … 470MHz
Type Approvals
R&TTE, CE, FCC, Ind.Canada, ACMA AUS