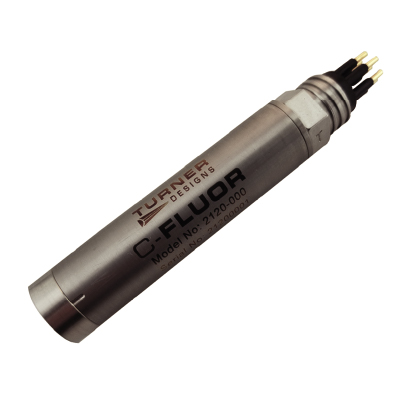 C-FLUOR Fluorometer
C-FLUOR is a combination Fluorometer & Turbidity sensor ideal for spot check or unattended measurements.
C-FLUOR is a world class sensor.  It is super sensitive, extremely low power, single wavelength, and available in several optical configurations (see below).
Every C-FLUOR is Factory calibrated and ships with a calibration certificate, which is used to convert the output signal to a specific concentration estimate.  No additional user calibration is required.
Both Analogue & Digital C-FLUOR sensors are available.
Analogue C-FLUOR sensors are pin-compatible with Cyclops 7F Sensors so they are easily integrated into many of the same third-party systems that accept 0-5V signal.
C-FLUOR Fluorometer: Available Parameters
Available optical configurations include:
• Blue Green Algae (Phycocyanin – freshwater)
• Blue Green Algae (Phycoerythrin – marine)
• CDOM/FDOM
• Chlorophyll in vivo (Blue)
• Chlorophyll in vivo (Red)
• Crude Oil
• Fluorescein
• Optical Brighteners
• Rhodamine
• Turbidity
C-FLUOR Fluorometer: Third Party Platforms 
C-FLUOR sensors easily integrate into third-party platforms. Aqualab Scientific & Turner Designs has partnered with several integrators to provide:
• single sensor packages
• multi-probes
• remote monitoring solutions
Examples of third-party integrations (available at Aqualab) include:
• DataBank Handheld Datalogger
• Trimeter Multiparameter Sonde
• Manta+25 Multiparameter Sonde
• Manta+30 Multiparameter Sonde
• Manta+35 Multiparameter Sonde
• Manta+40 Multiparameter Sonde
For longer term, or unattended deployments, Aqualab recommend the addition of a Hydro-Wiper mechanical wiper system to promote robust data capture.
The C-FLUOR Fluorometer is proudly manufactured by Turner Designs and exclusively represented by Aqualab Scientific within Australia.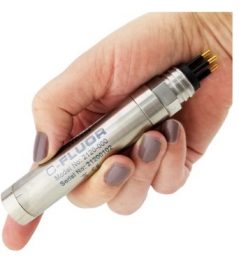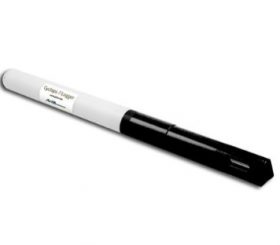 Low power consumption
≤12mA @ 12V (Analog Output)
≤22mA @ 12V (Digital Output)
Fast response time
T99 < 0.6 seconds​
No calibration required
2,000 meter depth rating
Titanium housing and connector
Analog or digital data output
Analog probes Interface with 

DataBank™ Handheld Datalogger

Integrated solutions available from our partners

Dimensions
13.24 (Length) x 2.23 cm (Diameter)
Weight
89g (Analog)

95g (Digital)

C-FLUOR is available in both Analogue & Digital formats. Please discuss with Aqualab prior to ordering.

Available models include:

C-FLUOR (Analogue) with Chlorophyll optics
Product number# 2120-000-C
C-FLUOR (Analogue) with Red Excitation Chlorophyll optics
Product number# 2120-000-D
C-FLUOR (Analogue) with Rhodamine WT optics
Product number# 2120-000-R
C-FLUOR (Analogue) with Fluorescein optics
Product number# 2120-000-F
C-FLUOR (Analogue) with Phycocyanin (Blue Green Algae - Freshwater) optics
Product number# 2120-000-P
C-FLUOR (Analogue) with Phycocyanin (Blue Green Algae - Marine) optics
Product number# 2120-000-E
C-FLUOR (Analogue) with CDOM/FDOM optics
Product number# 2120-000-U
C-FLUOR (Analogue) with Crude Oil optics
Product number# 2120-000-O
C-FLUOR (Analogue) with Optical Brighteners optics
Product number# 2120-000-B
C-FLUOR (Analogue) with Turbidity optics
Product number# 2120-000-T
C-FLUOR (Digital RS-232) with Chlorophyll optics
Product number# 2120-000-C-232
C-FLUOR (Digital RS-232) with Rhodamine WT optics
Product number# 2120-000-R-232
C-FLUOR (Digital RS-232) with CDOM/FDOM optics
Product number# 2120-000-U-232
C-FLUOR (Digital RS-232) with Turbidity optics
Product number# 2120-000-T-232

C-FLUOR: Solid Secondary Standard
Product number# 2100-900
C-FLUOR: UV Solid Secondary Standard
Product number# 2100-904
C-FLUOR: Fluorescein Dye, 10 ppb (1L)
Product number# 10-508
C-FLUOR: Fluorescein Dye, 100 ppb (1L)
Product number# 10-506
C-FLUOR: Fluorescein Dye, 400 ppb (1L)
Product number# 10-509
C-FLUOR: PTSA Dye, 100 ppb (1L)
Product number# 10-608
C-FLUOR: PTSA Dye, 300 ppb (1L)
Product number# 10-607
C-FLUOR: PTSA Dye, 400 ppb (1L)
Product number# 10-609
C-FLUOR: Rhodamine WT Dye, 20% Concentrate (8 oz)
Product number# 10-108
C-FLUOR: Rhodamine WT Dye, 20% Concentrate (8lb)
Product number# 10-208
C-FLUOR: Rhodamine WT Dye, 200 ppb (1L)
Product number# 6500-020
C-FLUOR: Rhodamine WT Dye, 400 ppb (1L)
Product number# 6500-120
C-FLUOR: Rhodamine WT Dye, 800 ppb (1L)
Product number# 6500-220

What is C-FLUOR?

C-FLUOR Submersible Probes Overview | Turner Designs

HAB Monitoring Made Easy - Tech Talk