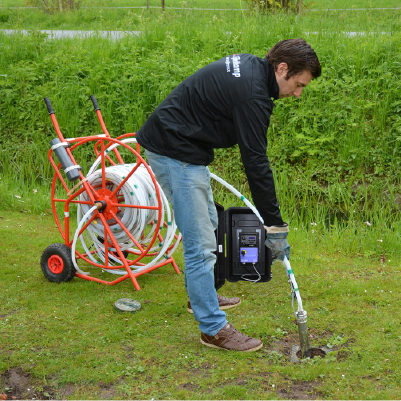 Grundfos MP 1 submersible pump sets
The Grundfos MP 1 pump used in the Grundfos MP 1 submersible pump sets is specially designed for purging and sampling monitoring wells with a diameter of at least 50 mm and a depth to 90 meters. The pump motor is controlled by a special adjustable frequency converter. Since the frequency is continuously adjustable, the capacity of the Grundfos MP 1 pump can be controlled from 0 to 2 m3/hour. This creates a constant flow of anaerobic water.
Each new measurement must be purged before samples can be taken. The large capacity of the Grundfos MP 1 pump ensures that the measuring point is quickly purged. By setting it at a lower pumping capacity, the Grundfos MP 1 can also be used for sampling. Built-in safeguards protect the Grundfos MP 1 pump and frequency converter against overloads. The actual frequency can be read out on a display.
High pumping capacity for purging, slow pumping for sampling
Easy to install; mobile
Resistant to corrosive liquids
The pumped material only comes into contact with stainless steel and Teflon
Anaerobic sampling
Simple cleaning procedures

Various standards sets are available with a sampling depth of 30 (art.no. 1227SF with Teflon tube and 1227SL with LDPE tube), 60 (art.no. 1227SG Teflon and 1227SM LDPE tube) and 90 m (art.no. 1227SH Teflon and 1227SN LDPE tube).

The standard sets include: the Grundfos MP 1 submersible pump, frequency converter, cooling jacket, service set, cable, hose with connection, hose reel cart and service kit.

All materials in the set are fully assembled.