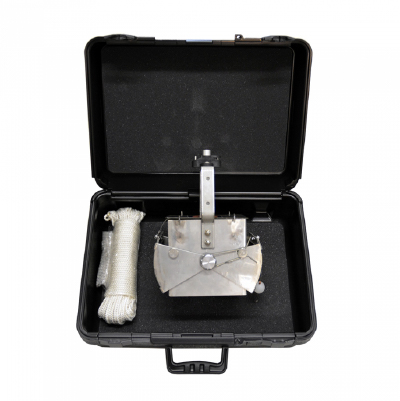 Ekman Grab Sampler (04.34)
The Ekman Grab Sampler is designed for the sediment sampling of water bodies (lakes, rivers etc).
Simply lower the Ekman Grab Sampler into a water column, slowly & steadily, with jaws in the open position.  The jaws close when a weight is dropped (cable operated) or a button is pressed (rod operated), thus capturing a sediment sample at the required depth.
The Ekman Grab Sampler holds a sediment volume equivalent of 3.5 litres.
Grab dimensions are 152mm x 152mm x 152mm.
A  1.5 m Rod (#043401)  enables the rod-operated use of the Ekman Grab Sampler in shallow water.
The flaps overlap on closing to prevent the loss of the sample;
Stainless steel construction;
Equipped with drop-weight system so that sampling can be carried out at any depth.

| | |
| --- | --- |
| Maximum sample depth | > 10 m |
| Product material | stainless steel, iron, other material |
| Rod or Cable length | 30 m |
| Rod or cable operated | cable |
| Sample specification | semi-disturbed |
| Sample volume | 3.3 liter |
| Package size | 56 x 22 x 40 cm |
| Weight | 7 kg |
| Applications | Sediment sampling |

Ekman Grab Sampler (04.34) - 1.5m Rod
Product number# 043401