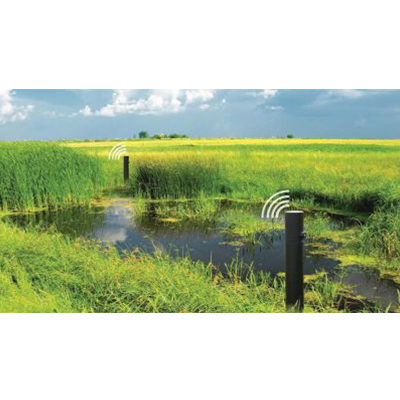 Diver NETZ
Diver-NETZ is a complete wireless system for managing groundwater monitoring networks.
Dramatically improve data collection efficiency
Simplify groundwater monitoring workflows
Gain a complete understanding of groundwater conditions
From wireless field data collection and recording, to project execution in the office, Diver-NETZ is a complete network of first-class technologies that integrates superior field instrumentation with the industry's latest wireless communication and data management capabilities. All Diver-NETZ components are designed to streamline project workflows, enabling you to effectively manage your groundwater resources for the long-term.
Improve efficiency by up to 85% by collecting field data wirelessly from multiple wells
Safely collect data wirelessly in areas where wildlife or environmental hazards may pose a safety risk
Achieve precise measurements of groundwater levels, temperature and conductivity with reliable Diver dataloggers
Install effortlessly in virtually any environment and in most monitoring wells
Simplify project workflows by automatically processing monitoring data
Manage, analyze, visualize, and report your monitoring data using user-friendly desktop software and/or a secure online portal.

How Does Diver-NETZ Work?
A Diver groundwater datalogger is suspended on a DXT cable which is connected to a Diver-DXT radio device at the top of the well. A gateway device, the Diver-Gate, is able to establish a connection with the Diver-DXT (one or multiple Diver-DXTs) in a well within a 500m range and collect the Diver data wirelessly.

There are two different Diver-NETZ configurations: Diver-NETZ Mobile and Diver-NETZ Static.

Diver-NETZ Mobile

Diver-NETZ Mobile requires that a field technician carries a portable Diver-Gate(M) device into the field. When the device is within radio range of the Diver-DXT, the Diver data can then be collected wirelessly to the Diver-Gate(M), which then sends the data via Bluetooth connection to your smartphone device. Downloaded data can be automatically sent to the office via GSM/GPRS network or alternatively the mobile device can be physically brought back to the office, where the data can be analyzed or interpreted using desktop software.

Diver-NETZ Static

Diver-NETZ Static consists of a Diver-Gate(S) device placed permanently in the field within the radio range of the Diver-DXT. At a scheduled interval the Diver-Gate wirelessly connects to nearby Diver-DXT devices and collects the data. Through a connection with the GSM/GPRS network, this data is automatically forwarded to a server and can then be visualized in the Diver-HUB online portal. The desktop software Diver-Office can be used to interpret, validate or visualize the Diver data.

Any existing network of Divers can be quickly and easily fitted with the Diver-NETZ system.

Integration with Third Party Telemetry Sytems

In addition to Diver-NETZ, Diver dataloggers can be connected to third-party telemetry systems using the Diver-SDI or the Diver-MOD:

The Diver -SDI is specifically engineered to integrate Divers into any SDI-12 compatible telemetry system. The Diver-SDI enables real-time digital transmission of water level and water quality data. The SDI-12 standard was developed to interface dataloggers with smart sensors for environmental data acquisition, and is used globally for applications in water resource management, industry, mining, and research.

The Diver-MOD is a Modbus interface for Divers and is conform to the Modbus Application Protocol Specification. This module enables to interface Divers in a RS485 network using the Modbus/RTU protocol and can be used in SCADA networks.