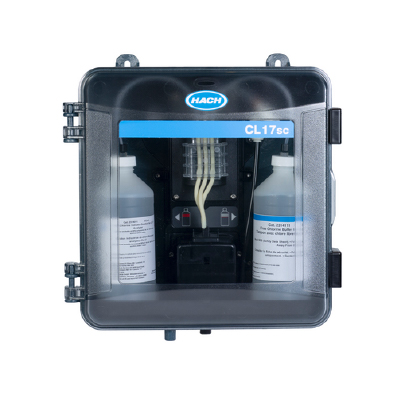 CL17sc Colorimetric Chlorine Analyser
The Hach CL17sc is a process control Chlorine analyser designed for the real time monitoring of Free Chlorine or Total Chlorine.
Using industry standard colorimetric DPD chemistry, the Hach CL17sc continuously monitors sample, unattended, for up to 30 days.  The Hach CL17sc is compliant with US EPA regulation 40 CFR 141.74.
Incorporating a step-by-step, on-screen instruction for all routine maintenance activities, monthly maintenance for the Hach CL17sc can be performed within a few minutes.  No special tools are required.
The Hach CL17sc is equipped with a comprehensive set of diagnostic features that help you prevent downtime. With a built-in flow meter, three-colour status light, measurement cycle indicators, colorimeter window, and on-screen diagnostics menu you'll spend less time identifying and fixing issues when they arise.
Hazardous Item
This item may be considered hazardous under some shipping conditions.
If necessary, we will change your selected shipping method to accommodate.  Please consult Aqualab prior to purchasing.
Maintenance made easy

The CL17sc reduces your routine maintenance touch time with programmable alerts, simplified tubing replacement, and step-by-step maintenance instructions.

Peace of mind through comprehensive diagnostics

With upgraded features like a flow meter, colorimeter window, multi-colour status light, and predictive diagnostic software, you know your instrument is operating as intended.

Expanded connectivity. Increased flexibility.

By pairing the CL17sc with Hach's SC controller platform, your options increase significantly: internal data logging; external analogue and digital communication alternatives; and multi-parameter instrument flexibility.

The CL17sc is compliant with US EPA regulation 40 CFR 141.74. Both Method 4500-CL G and Method 334.0 can be used for measuring residual chlorine in drinking water.

Accuracy
± 5% or ± 0.04 mg/L (whichever is greater) from 0 – 5 mg/L Cl₂
± 10% from 5 – 10 mg/L Cl₂
Air purge
Optional with 3/8-inch quick-connect fitting and tubing; 0.003 m3/min at 1.38 bar maximum
Alerts
Low and high chlorine. Dirty cell. Low and high sample flow.
Certifications
CE compliant with: EN 61326-1, CISPR 11, EN 50581
ACMA RCM
South Korea KC Certificate
North America: FCC Supplier's Declaration of Conformance, IEC/EN 60529, ICES-003
Controller Compatibility
SC200, SC1000, SC1500, SC4200c
Cycle Time
2.5 minutes
Dimensions (H x W x D)
342 mm x 329 mm x 177 mm
Drain
½-inch ID flexible hose
Enclosure Rating
IP66
Inlet
¼-inch OD polyethylene tube, quick-disconnect fitting
Inlet Pressure
0.3 – 5.2 bar supplied to Y-strainer
0.1 – 0.3 bar supplied to analyser
Installation Kit
Standpipe Installation Kit
Interferences
Other oxidising agents such as bromide, chlorine dioxide, permanganate, and ozone will cause a positive interference. Hardness must not exceed 1,000 mg/L CaCO₃.
Light source
LED, measurement at 510 nm, 1 cm light pathlength
Lower Limit of Detection (LOD)
0.03 mg/L
Mounting
Wall mount
Operating Humidity
0 – 90% relative humidity, non-condensing
Operating temperature range
5 – 40 °C
Parameter
Chlorine, free
Power requirements (Voltage)
12 VDC, 400 mA maximum (supplied by the controller)
Range
0 -10 mg/L Cl₂
Reagent Consumption
0.5 L of buffer solution and 0.5 L of indicator solution in 31 days
Region
US
Sample Flow Rate
60 – 200 mL/min through the instrument
Sample requirements:
Y-strainer filtration with 40-mesh screen or higher
Sample Temperature:
5 – 40 °C
Warranty
Weight
4.1 kg
What's included?
Model dependent

Various CL17sc models are available depending on your requirements.

Please consult with Aqualab before ordering.

Available models include:

CL17sc Colorimetric Chlorine Analyser with Pressure Regulator Installation Kit and Reagents for Free Chlorine
Product number# 8572900
CL17sc Colorimetric Chlorine Analyser with Pressure Regulator Installation Kit and Reagents for Total Chlorine
Product number# 8573000
CL17sc Colorimetric Chlorine Analyser with Standpipe Installation Kit and Reagents for Free Chlorine
Product number# 8572700
CL17sc Colorimetric Chlorine Analyser with Standpipe Installation Kit and Reagents for Total Chlorine
Product number# 8572800

CL17sc Free Chlorine Reagent Set
Product number# 2556900
CL17sc Total Chlorine Reagent Set
Product number# 2557000
CL17sc Cell Cleaning Kit
Product number# 8573100
CL17sc Tubing Kit (pre-assembled)
Product number# 8560400

Software/Firmware Type Language Size Date Edition CL17sc - Field Upgrade Package

Download now

CL17sc ModBus Register

csv-file

Download now