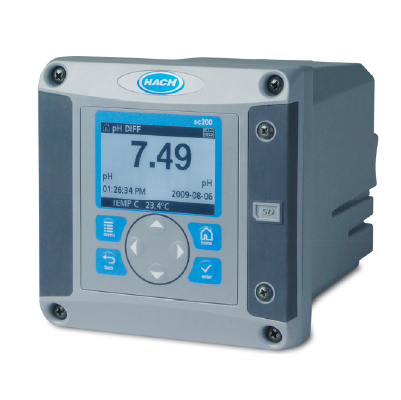 SC200 Universal Controller
Control your Process Control!
The Hach SC200 Controller is the most versatile controller available within the water quality industry.   It allows the use of both digital and analogue sensors, either alone or in combination, to provide compatibility with the broadest range of sensors.  It replaces the Hach sc100 digital & GLI53 analog controllers with advanced features for easier operator use.  Password-protected SD card reader offers a simple solution for data download and transfer.
The Hach SC200 Controller can be configured to operate two digital sensor inputs, two analog sensor inputs, or a combination of one digital and one analog input. Customers may add communication modules for a variety of protocols including MODBUS RTU, Profibus DPV1, and HART.
Various models available, please consult with Aqualab before ordering.
Maximum Versatility

• Standardized controller eliminates the need for a variety of dedicated controllers
• Multi-channel controller operates either 1 or 2 sensors reducing inventory holding costs, and providing an inexpensive option to add a second sensor at a later time
• "Plug and Play" operation with all Hach digital sensors
• True dual sensor controller provides 4-20 mA outputs to transmit primary and secondary measurement values

Ease of Use

• New display and guided calibration procedures reduce operator error
• Simple, intuitive user interface for navigating both sensor and controller options

Confidence in Results

Password protected SD card reader offers a simple solution for data download and transfer. Visual warning system provides critical alerts

One Controller, Numerous Communication Options

Hach offers the largest portfolio sensors and analyzers for water analytics with MODBUS RS232, MODBUS RS485, Profibus® DP, and HART capability.

Broadest Range of Sensors

Use the SC200 Universal Controller in combination with over 30 different sensor families covering 17 different parameters

Analog Output Functional Mode
Linear, logarithmic, bi-linear, PID
Analog Outputs
Two (Five with optional expansion module) isolated current outputs, max 550 Ω, Accuracy:± 0.1% of FS (20mA) at 25 °C, ± 0.5% of FS over -20 °C to 60 °C range
Operational Mode: measurement or calculated value
Communication

MODBUS RS232/RS485, PROFIBUS DPV1, or HART 7.2 optional

Standard (2x 4-20 mA outputs)

Communication Capabilities
2x 4-20mA Out
Conduit Openings
1/2″ NPT Conduit
Dimensions (H x W x D)
144 mm x 144 mm x 181 mm
Display
Graphic dot matrix LCD with LED backlighting, transreflective
Display Resolution
240 x 160 pixels
Display Size
48 x 68 mm
Electrical Certifications
EMC
CE compliant for conducted and radiated emissions:
– CISPR 11 (Class A limits)
– EMC Immunity EN 61326-1 (Industrial limits)
Safety
cETLus safety mark for:
– General Locations per ANSI/UL 61010-1 & CAN/CSA C22.2. No. 61010-1
– Hazardous Location Class I, Division 2, Groups A,B,C & D (Zone 2, Group IIC) per FM 3600 / FM 3611 & CSA C22.2 No. 213 M1987 with approved options and appropriately rated Class I, Division 2 or Zone 2 sensors
cULus safety mark
– General Locations per UL 61010-1 & CAN/CSA C22.2. No. 61010-1
Enclosure Rating
IP66 / NEMA 4X
Length
181 mm
Manual Languages
Bulgarian, Chinese (PRC), Croatian, Czech, Danish, Dutch, English, Estonian, Finnish, French, German, Greek, Hungarian, Italian, Japanese, Korean, Lithuanian, Polish, Portuguese (Brazil), Portuguese (Portugal), Romanian, Russian, Slovak, Slovenian, Spanish, Swedish, Thai, Turkish
Material Enclosures
Polycarbonate
Aluminium (powder coated)
Stainless steel
Mounting Configurations
Wall
Pole
Panel Mounting
Operating temperature range
-20 – 60 °C at 0 – 95% RH (non-condensing)
Power Options
100 – 240 VAC, no power cord
Power requirements (Hz)
50 – 60 Hz
Power requirements (Voltage)
100 – 240 VAC
Power supply
Without power cord
Region
US
Operational Mode
Primary or secondary measurement, calculated value (dual channel only) or timer
Relay Functions:
Scheduler (timer), alarm, feeder control, event control, pulse width modulation, frequency control, and warning
Relays
Four electromechanical SPDT (Form C) contacts, 1200 W, 5 A
Security Levels
2 password-protected levels
Sensor Input #1
Analog pH/ORP/DO
Sensor Input #2
None
Storage conditions
-20 °C to 70 °C
Warranty
Weight
1.70 kg
What's included?
Controller, Mounting Hardware, Basic User Manual

Various SC200 models are available depending on your requirements.

Please consult with Aqualab before ordering.

Available models include:

SC200 Controller: 100-240 V AC with one analog pH/ORP/DO sensor input and two 4-20 mA outputs
Product number# LXV404.99.00102
SC200 Controller: 100-240 V AC with two digital sensor inputs and two 4-20 mA outputs
Product number# LXV404.99.00552
SC200 Controller: 100-240 V AC with one digital sensor input and two 4-20 mA outputs
Product number# LXV404.99.00502
SC200 Controller: 100-240 V AC with one digital sensor input, one 4-20mA input and two 4-20 mA outputs
Product number# LXV404.99.00542
SC200 Controller: 100-240 V AC with one digital sensor input, one analog pH/ORP/DO sensor input and two 4-20 mA outputs
Product number# LXV404.99.00512
SC200 Controller: 100-240 V AC with one digital sensor input, one analog conductivity sensor input and two 4-20 mA outputs
Product number# LXV404.99.00522
SC200 Controller: 100-240 V AC with one digital sensor input, one analog flow sensor input and two 4-20 mA outputs
Product number# LXV404.99.00532
SC200 Controller: 100-240 V AC with two analog pH/ORP/DO sensor inputs and two 4-20 mA outputs
Product number# LXV404.99.00112
SC200 Controller: 100-240 V AC with one analog conductivity sensor input and two 4-20 mA outputs
Product number# LXV404.99.00202
SC200 Controller: 100-240 V AC with two analog conductivity sensor inputs and two 4-20 mA outputs
Product number# LXV404.99.00222
SC200 Controller: 100-240 V AC with one analog conductivity sensor input, one analog pH/ORP/DO sensor input and two 4-20 mA outputs
Product number# LXV404.99.00212
SC200 Controller: 100-240 V AC with two 4-20mA inputs (no sensor inputs) and two 4-20 mA outputs
Product number# LXV404.99.00442
SC200 Controller: 100-240 V AC with one analog pH/ORP/DO sensor input, Modbus RS232/RS485 and two 4-20 mA outputs
Product number# LXV404.99.01102
SC200 Controller: 100-240 V AC with two analog pH/ORP/DO sensor inputs, Modbus RS232/RS485 and two 4-20 mA outputs
Product number# LXV404.99.01112
SC200 Controller: 100-240 V AC with one analog conductivity sensor input, Modbus RS232/RS485 and two 4-20 mA outputs
Product number# LXV404.99.01202
SC200 Controller: 100-240 V AC with one analog conductivity sensor input, one analog pH/ORP/DO sensor input, Modbus RS232/RS485 and two 4-20 mA outputs
Product number# LXV404.99.01212
SC200 Controller: 100-240 V AC with one digital sensor input, one analog pH/ORP/DO sensor input, Modbus RS232/RS485 and two 4-20 mA outputs
Product number# LXV404.99.01512
SC200 Controller: 100-240 V AC with one digital sensor input, one analog conductivity sensor input, Modbus RS232/RS485 and two 4-20 mA outputs
Product number# LXV404.99.01522
SC200 Controller: 100-240 V AC with one digital sensor input, one 4-20mA input, Modbus RS232/RS485 and two 4-20 mA outputs
Product number# LXV404.99.01542
SC200 Controller: 100-240 V AC with two digital sensor inputs, Modbus RS232/RS485 and two 4-20 mA outputs
Product number# LXV404.99.01552
SC200 Controller: 100-240 V AC with one digital sensor input, one analog pH/ORP/DO sensor input, Profibus DP and two 4-20 mA outputs
Product number# LXV404.99.03512
SC200 Controller: 100-240 V AC with two digital sensor inputs, Profibus DP and two 4-20 mA outputs
Product number# LXV404.99.03552
SC200 Controller: 100-240 V AC with two analog pH/ORP/DO sensor inputs and five 4-20mA outputs
Product number# LXV404.99.09112
SC200 Controller: 100-240 V AC with two analog conductivity sensor inputs and five 4-20mA outputs
Product number# LXV404.99.09222
SC200 Controller: 100-240 V AC with two digital sensor inputs and five 4-20mA outputs
Product number# LXV404.99.09552
SC200 Controller: 100-240 V AC (North America power cord) with one analog pH/ORP/DO sensor input, and two 4-20mA outputs
Product number# LXV404.99.50102
SC200 Controller: 100-240 V AC (North America power cord) with two analog pH/ORP/DO sensor inputs and two 4-20 mA outputs
Product number# LXV404.99.50112
SC200 Controller: 100-240 V AC (North America power cord) with two digital sensor inputs and two 4-20 mA outputs
Product number# LXV404.99.50552
SC200 Controller: 24 V DC with one analog pH/ORP/DO sensor input and two 4-20 mA outputs
Product number# LXV404.99.70102
SC200 Controller: 24 V DC with two analog pH/ORP/DO sensor inputs and two 4-20 mA outputs
Product number# LXV404.99.70112
SC200 Controller: 24 V DC with one analog conductivity sensor input and two 4-20 mA outputs
Product number# LXV404.99.70202
SC200 Controller: 24 V DC with two digital sensor inputs and two 4-20 mA outputs
Product number# LXV404.99.70552
SC200 Controller: 24 V DC with two digital sensor inputs, Modbus RS232/RS485 and two 4-20 mA outputs
Product number# LXV404.99.71552
SC200 Controller: 100-240 V AC with one 4-20mA input, and two 4-20mA outputs
Product number# LXV404.99.00402
SC200 Controller: 100-240 V AC with one digital sensor input, MODBUS RS232 & RS485 and two 4-20mA outputs
Product number# LXV404.99.01502
SC200 Controller: 100-240 V AC with one analog pH/ORP/DO sensor input, Profibus DP and two 4-20mA outputs
Product number# LXV404.99.03102
SC200 Controller: 100-240 V AC with one analog conductivity sensor input, Profibus DP and two 4-20mA outputs
Product number# LXV404.99.03202
SC200 Controller: 100-240 V AC with two 4-20mA inputs, Profibus DP and two 4-20mA outputs
Product number# LXV404.99.03442
SC200 Controller: 100-240 V AC with one digital sensor input, Profibus DP and two 4-20mA outputs
Product number# LXV404.99.03502
SC200 Controller: 100-240 V AC with one analog pH/ORP/DO sensor input, HART and two 4-20mA outputs
Product number# LXV404.99.05102
SC200 Controller: 100-240 V AC with two analog pH/ORP/DO sensor inputs, HART and two 4-20mA outputs
Product number# LXV404.99.05112
SC200 Controller: 100-240 V AC with one analog conductivity sensor input, HART and two 4-20mA outputs
Product number# LXV404.99.05202
sc200 Controller: 100-240 V AC with one analog flow sensor input, HART and two 4-20mA outputs
Product number# LXV404.99.05302
SC200 Controller: 100-240 V AC with one digital sensor input, HART and two 4-20mA outputs
Product number# LXV404.99.05502
SC200 Controller: 100-240 V AC with one digital sensor input, one analog pH/ORP/DO sensor input, HART and two 4-20mA outputs
Product number# LXV404.99.05512
SC200 Controller: 100-240 V AC with two digital sensor inputs, HART and two 4-20mA outputs
Product number# LXV404.99.05552
SC200 Controller: 100-240 V AC with one digital sensor input, one analog pH/ORP/DO sensor input, and five 4-20mA outputs
Product number# LXV404.99.09512
SC200 Controller: 100-240 V AC with 2 cord grips, one 4-20mA input, and two 4-20mA outputs
Product number# LXV404.99.10402
SC200 Controller: 100-240 V AC with 2 cord grips, two 4-20mA inputs, and two 4-20mA outputs
Product number# LXV404.99.10442
SC200 Controller: 100-240 V AC with 2 cord grips, one digital sensor input, one 4-20mA input, and two 4-20mA outputs
Product number# LXV404.99.10542
SC200 Controller: 100-240 V AC with 2 cord grips, two digital sensor inputs, and two 4-20mA outputs
Product number# LXV404.99.10552
SC200 Controller: 100-240 V AC with 2 cord grips, one analog conductivity sensor input, MODBUS RS232 & RS485 and two 4-20mA outputs
Product number# LXV404.99.11202
SC200 Controller: 100-240 V AC with 2 cord grips, one analog conductivity sensor input, one analog pH/ORP/DO sensor input, MODBUS RS232 & RS485 and two 4-20mA outputs
Product number# LXV404.99.11212
SC200 Controller: 100-240 V AC with 2 cord grips, two analog conductivity sensor inputs, MODBUS RS232 & RS485 and two 4-20mA outputs
Product number# LXV404.99.11222
SC200 Controller: 100-240 V AC with 2 cord grips, one 4-20mA input, MODBUS RS232 & RS485 and two 4-20mA outputs
Product number# LXV404.99.11402
SC200 Controller: 100-240 V AC with 2 cord grips, one 4-20mA input, one analog pH/ORP/DO sensor input, MODBUS RS232 & RS485 and two 4-20mA outputs
Product number# LXV404.99.11412
SC200 Controller: 100-240 V AC with 2 cord grips, one 4-20mA input, one analog conductivity sensor input, MODBUS RS232 & RS485 and two 4-20mA outputs
Product number# LXV404.99.11422
SC200 Controller: 100-240 V AC with 2 cord grips, one digital sensor input, MODBUS RS232 & RS485 and two 4-20mA outputs
Product number# LXV404.99.11502
SC200 Controller: 100-240 V AC with 2 cord grips, two digital sensor inputs, MODBUS RS232 & RS485 and two 4-20mA outputs
Product number# LXV404.99.11552
SC200 Controller: 100-240 V AC with 2 cord grips, one 4-20mA input, Profibus DP and two 4-20mA outputs
Product number# LXV404.99.13402
SC200 Controller: 100-240 V AC with 2 cord grips, two 4-20mA inputs, Profibus DP and two 4-20mA outputs
Product number# LXV404.99.13442
SC200 Controller: 100-240 V AC with 2 cord grips, one digital sensor input, Profibus DP and two 4-20mA outputs
Product number# LXV404.99.13502
SC200 Controller: 100-240 V AC with 2 cord grips, one digital sensor input, one 4-20mA input, Profibus DP and two 4-20mA outputs
Product number# LXV404.99.13542
SC200 Controller: 100-240 V AC with 2 cord grips, two analog flow sensor inputs, HART and two 4-20mA outputs
Product number# LXV404.99.15332
SC200 Controller: 100-240 V AC with 2 cord grips, two 4-20mA inputs, and five 4-20mA outputs
Product number# LXV404.99.19442
SC200 Controller: 100-240 V AC with 2 cord grips, one digital sensor input, one analog conductivity sensor input, and five 4-20mA outputs
Product number# LXV404.99.19522
SC200 Controller: 100-240 V AC with 2 cord grips, one digital sensor input, one 4-20mA input, and five 4-20mA outputs
Product number# LXV404.99.19542
SC200 Controller: 100-240 V AC (EU power cord) with one 4-20mA input, and two 4-20mA outputs
Product number# LXV404.99.20402
SC200 Controller: 100-240 V AC (EU power cord) with two 4-20mA inputs, and two 4-20mA outputs
Product number# LXV404.99.20442
SC200 Controller: 100-240 V AC (EU power cord) with one digital sensor input, one 4-20mA input, and two 4-20mA outputs
Product number# LXV404.99.20542
SC200 Controller: 100-240 V AC (EU power cord) with two digital sensor inputs, and two 4-20mA outputs
Product number# LXV404.99.20552
SC200 Controller: 100-240 V AC (EU power cord) with one 4-20mA input, Profibus DP and two 4-20mA outputs
Product number# LXV404.99.23402
SC200 Controller: 100-240 V AC (EU power cord) with two 4-20mA inputs, Profibus DP and two 4-20mA outputs
Product number# LXV404.99.23442
SC200 Controller: 100-240 V AC (EU power cord) with one digital sensor input, one 4-20mA input, Profibus DP and two 4-20mA outputs
Product number# LXV404.99.23542
SC200 Controller: 100-240 V AC (EU power cord) with two digital sensor inputs, Profibus DP and two 4-20mA outputs
Product number# LXV404.99.23552
SC200 Controller: 100-240 V AC (EU power cord) with two 4-20mA inputs, and five 4-20mA outputs
Product number# LXV404.99.29442
SC200 Controller: 100-240 V AC (EU power cord) with one digital sensor input, one 4-20mA input, and five 4-20mA outputs
Product number# LXV404.99.29542
SC200 Controller: 100-240 V AC (EU power cord) with two digital sensor inputs, and five 4-20mA outputs
Product number# LXV404.99.29552
SC200 Controller: 100-240 V AC (North America power cord) with two analog conductivity sensor inputs, and two 4-20mA outputs
Product number# LXV404.99.50222
SC200 Controller: 100-240 V AC (North America power cord) with one digital sensor input, and two 4-20mA outputs
Product number# LXV404.99.50502
SC200 Controller: 100-240 V AC (North America power cord) with one digital sensor input, MODBUS RS232 & RS485 and two 4-20mA outputs
Product number# LXV404.99.51502
SC200 Controller: 100-240 V AC (North America power cord) with two digital sensor inputs, MODBUS RS232 & RS485 and two 4-20mA outputs
Product number# LXV404.99.51552
SC200 Controller: 100-240 V AC (North America power cord) with one 4-20mA input, Profibus DP and two 4-20mA outputs
Product number# LXV404.99.53402
SC200 Controller: 100-240 V AC (North America power cord) with two 4-20mA inputs, Profibus DP and two 4-20mA outputs
Product number# LXV404.99.53442
SC200 Controller: 100-240 V AC (North America power cord) with one analog flow sensor input, HART and two 4-20mA outputs
Product number# LXV404.99.55302
SC200 Controller: 100-240 V AC (North America power cord) with two digital sensor inputs, and five 4-20mA outputs
Product number# LXV404.99.59552
SC200 Controller: 24 V DC with one analog conductivity sensor input, one analog pH/ORP/DO sensor input, and two 4-20mA outputs
Product number# LXV404.99.70212
SC200 Controller: 24 V DC with two analog conductivity sensor inputs, and two 4-20mA outputs
Product number# LXV404.99.70222
SC200 Controller: 24 V DC with one digital sensor input, and two 4-20mA outputs
Product number# LXV404.99.70502
SC200 Controller: 24 V DC with one digital sensor input, one analog pH/ORP/DO sensor input, and two 4-20mA outputs
Product number# LXV404.99.70512
SC200 Controller: 24 V DC with one analog conductivity sensor input, one analog pH/ORP/DO sensor input, MODBUS RS232 & RS485 and two 4-20mA outputs
Product number# LXV404.99.71212
SC200 Controller: 24 V DC with two 4-20mA inputs, MODBUS RS232 & RS485 and two 4-20mA outputs
Product number# LXV404.99.71442
SC200 Controller: 24 V DC with one digital sensor input, MODBUS RS232 & RS485 and two 4-20mA outputs
Product number# LXV404.99.71502
SC200 Controller: 24 V DC with one digital sensor input, one analog conductivity sensor input, MODBUS RS232 & RS485 and two 4-20mA outputs
Product number# LXV404.99.71522
SC200 Controller: 24 V DC with one digital sensor input, one 4-20mA input, MODBUS RS232 & RS485 and two 4-20mA outputs
Product number# LXV404.99.71542
SC200 Controller: 24 V DC with two 4-20mA inputs, Profibus DP and two 4-20mA outputs
Product number# LXV404.99.73442
SC200 Controller: 24 V DC with one digital sensor input, Profibus DP and two 4-20mA outputs
Product number# LXV404.99.73502
SC200 Controller: 24 V DC with two digital sensor inputs, Profibus DP and two 4-20mA outputs
Product number# LXV404.99.73552
SC200 Controller: 24 V DC with one analog pH/ORP/DO sensor input, HART and two 4-20mA outputs
Product number# LXV404.99.75102
SC200 Controller: 24 V DC with one analog conductivity sensor input, HART and two 4-20mA outputs
Product number# LXV404.99.75202
SC200 Controller: 24 V DC with two analog conductivity sensor inputs, HART and two 4-20mA outputs
Product number# LXV404.99.75222
SC200 Controller: 24 V DC with one digital sensor input, HART and two 4-20mA outputs
Product number# LXV404.99.75502
SC200 Controller: 24 V DC with two digital sensor inputs, HART and two 4-20mA outputs
Product number# LXV404.99.75552
SC200 Controller: 24 V DC with one analog conductivity sensor input, one analog pH/ORP/DO sensor input, and five 4-20mA outputs LXV404.99.79212
Product number# LXV404.99.79212
SC200 Controller: 24 V DC with two analog conductivity sensor inputs, and five 4-20mA outputs
Product number# LXV404.99.79222
SC200 Controller: 24 V DC with two 4-20mA inputs, and five 4-20mA outputs
Product number# LXV404.99.79442
SC200 Controller: 24 V DC with one digital sensor input, one 4-20mA input, and five 4-20mA outputs
Product number# LXV404.99.79542
SC200 Controller: 24 V DC with two digital sensor inputs, and five 4-20mA outputs
Product number# LXV404.99.79552
sc200 Controller: 100-240 V AC with one analog flow sensor input and two 4-20 mA outputs
Product number# LXV404.99.00302
sc200 Controller: 100-240 V AC with two analog flow sensor inputs and two 4-20 mA outputs
Product number# LXV404.99.00332
sc200 Controller: 100-240 V AC with one analog flow sensor input, one analog pH/ORP/DO sensor input and two 4-20 mA outputs
Product number# LXV404.99.00312
sc200 Controller: 100-240 V AC with one analog flow sensor input, one analog conductivity sensor input and two 4-20 mA outputs
Product number# LXV404.99.00322
sc200 Controller: 100-240 V AC with one analog flow sensor input, Modbus RS232/RS485 and two 4-20 mA outputs
Product number# LXV404.99.01302
sc200 Controller: 100-240 V AC with one analog flow sensor input, one analog pH/ORP/DO sensor input, MODBUS RS232 & RS485 and two 4-20mA outputs
Product number# LXV404.99.01312
sc200 Controller: 100-240 V AC with two analog flow sensor inputs, MODBUS RS232 & RS485 and two 4-20mA outputs
Product number# LXV404.99.01332
sc200 Controller: 100-240 V AC with one analog flow sensor input, one analog pH/ORP/DO sensor input, and five 4-20mA outputs
Product number# LXV404.99.09312
sc200 Controller: 100-240 V AC with 2 cord grips, one analog flow sensor input, and two 4-20mA outputs
Product number# LXV404.99.10302
sc200 Controller: 100-240 V AC (North America power cord) with one analog flow sensor input, and two 4-20mA outputs
Product number# LXV404.99.50302
sc200 Controller: 100-240 V AC (North America power cord) with one analog flow sensor input, one analog pH/ORP/DO sensor input, and two 4-20mA outputs
Product number# LXV404.99.50312
sc200 Controller: 100-240 V AC (North America power cord) with two analog flow sensor inputs, and two 4-20mA outputs
Product number# LXV404.99.50332
sc200 Controller: 100-240 V AC (North America power cord) with one analog flow sensor input, MODBUS RS232 & RS485 and two 4-20mA outputs
Product number# LXV404.99.51302
sc200 Controller: 24 V DC with one analog flow sensor input, and two 4-20mA outputs
Product number# LXV404.99.70302
sc200 Controller: 24 V DC with one analog flow sensor input, one analog pH/ORP/DO sensor input, and two 4-20mA outputs
Product number# LXV404.99.70312
sc200 Controller: 24 V DC with one analog flow sensor input, MODBUS RS232 & RS485 and two 4-20mA outputs
Product number# LXV404.99.71302
sc200 Controller: 24 V DC with one analog flow sensor input, one analog conductivity sensor input, and five 4-20mA outputs
Product number# LXV404.99.79322
SC200 Controller: 100-240 V AC with two analog conductivity sensor inputs, Modbus RS232/RS485 and two 4-20 mA outputs
Product number# LXV404.99.01222

SC200 Controller UV Protection Screen
Product number# 8809200
SC200 Controller Weather & Sun Shield with UV Protection Screen
Product number# 9220600
SC200 Controller Panel Mount Bracket
Product number# 8001316
SC200 Controller 4-20mA Input Module
Product number# 9012800
SC200 Controller Analog Conductivity Sensor Input Module
Product number# 9013000
SC200 Controller Analog pH/ORP/Dissolved Oxygen Sensor Input Module
Product number# 9012900
SC200 Controller MODBUS RS232/485 Communication Module
Product number# 9013200
SC200 Controller HART Network Communication Module
Product number# 9328100
SC200 Controller Analog Flow Sensor Input Module
Product number# 9012700
SC200 Controller 4GB SD card
Product number# 9218100

TU5 Series Turbidimeters - Installation: Configuration with an sc200

DataCom Software for sc100 Controller

DataCom is a PC Application Utility for the purpose of downloading data log and event log files from an sc100 Controller and its installed sensors. DataCom can also be used to update firmware for the controller and sensors.

Download now

Hach Multidevice DTM for sc200 Controller and Instructions

Download now

sc 200 pH-ORP-DO Software Update

Download now

SC1000 Certified Multi-Sensor-DTM Software Package

Zip file

Download now

sc200 Controller Software

Extract file to your PC. Carefully read instructions: Instructions Software Upload sc200 (DOC273.xx.80530_2ed). Includes all available languages.

Download now

sc200 pH-ORP-DO Module Software Language Pack1

Extract file to your PC. Carefully read instructions: sc sw upload instruction.pdf. Includes all available languages.

Download now

sc200 pH-ORP-DO Module Software Language Pack2

Extract file to your PC. Carefully read instructions: sc sw upload instruction.pdf. Includes all available languages.

Download now