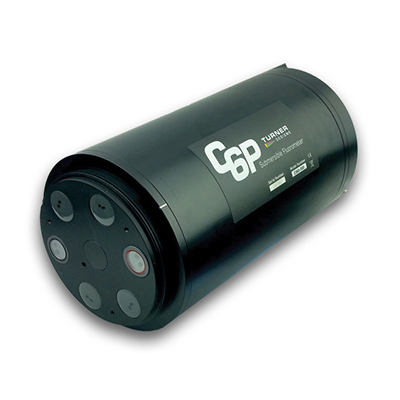 CP6 Fluorometer
The CP6 is a submersible Fluorometer that can be configured with an additional six optical sensors, ranging from deep ultraviolet to the infrared spectrum.
Available Parameters
(choose up to six optical sensors)
CDOM/FDOM
Chlorophyll in vivo (blue excitation)
Chlorophyll in vivo (red excitation)
Fluorescein Dye
Oil – Crude
Oil – Fine
Optical Brighteners
Phycocyanin (freshwater cyanobacteria)
Phycoerythrin (marine cyanobacteria)
PTSA Dye
Rhodamine Dye
Tryptophan
Turbidity
Sensors on the CP6 are factory installed to provide maximum sensitivity, with a broad range of detection.  Every CP6 comes with a factory installed temperature sensor, an optional depth sensor, and an optional mechanical wiper system with copper arms.
The CP6 features a delrin housing, making it highly resistant to harsh environments.  An antifouling copper plate is available for long term deployments.
Features:

One, Two, Three, Four, Five or Six Optical Sensors
Temperature Sensor Included
Optional Depth Sensor
Optional 3-Brush Mechanical Wiper
All Plastic Housing
Robust Memory – Over 60,000 Data Lines!
Easy to Use Software with Data Management Capabilities
Optional Antifouling Copper Plate
Optional Integration Firmware

• Specifications

Application
Minimum Detection Limit
Linear Range
CDOM/FDOM
0.1 ppb*
0.5 ppb**
0-1500 ppb*
0-3000 ppb**
Chlorophyll in vivo (Blue Excitation)
Chlorophyll in vivo (Red Excitation)
0.03 μg/L
0.3 μg/L
0-500 μg/L
0-500 μg/L
Fluorescein Dye
0.01 ppb
0-500 ppb
Oil – Crude
0.2 ppb**
0-1500 ppb**
Oil – Fine
0.4ppb***
0-20 ppb***
Optical Brighteners
0.6 ppb
0-2500 ppb
Phycocyanin
(Freshwater Cyanobacteria)
2 ppbPC
0-4500 ppbPC
Phycoerythrin
(Marine Cyanobacteria)
0.1 ppbPE
0-750 ppbPE
PTSA Dye
0.1 ppb**
0-650 ppb**
Rhodamine Dye
0.01 ppb
0-1000 ppb
Tryptophan
3 ppb
0-5000 ppb
Turbidity
0.05 NTU
0-1500 NTU

* 1,5 Napthalene Disulfonic Disodium Salt
** Quinine Sulfate
*** PTSA (1,3, 6, 8 – Pyrenetetrasulfonic Acid Tetrasodium Salt)
**** BTEX (Benzene, Toluene, Ethylbenzene, Xylenes)
PC Phycocyanin pigment from Prozyme diluted in Deionized water
PE Phycoerythrin pigment from Prozyme diluted in Deionized water



C6P Physical Specifications
Weight in Air
2.54 kg; 5.6 lbs
Length
27.43 cm; 10-8 in
Diameter
13.84 cm; 5.25 in
Material
Delrin Plastic
Temperature
-2 to 50 degrees C
Depth
0 to 600 meters




C6P Electrical Specifications
Output
Digital (ASCII)
Interface
RS232 Interface
Minimum Sample Interval
1 Second
Minimum Power Supply
8 to 30 volts; 5 watts
Maximum Current Draw at 12 volts
– operational
– sleep mode
300 mA
3 mA




CP6 Fluorometer: Copper Wiper Arm Replacement Kit, 3 arm
Product number# 2360-459
CP6 Fluorometer: 3-arm Mechanical Wiper
Product number# 2360-450
CP6 Fluorometer: Replacement Spacers for Mechanical Wiper
Product number# 2360-462
CP6 Fluorometer: Replacement Brushes for Mechanical Wiper
Product number# 2200-460
CP6 Fluorometer: Pressure Sensor
Product number# 2300-360
CP6 Fluorometer: Shade Cap
Product number# 2360-500
CP6 Fluorometer: Shade Cap Weight
Product number# 2360-510
CP6 Fluorometer: Flow Cap
Product number# 2360-700
CP6 Fluorometer: Antifouling Copper Plate
Product number# 2360-507
CP6 Fluorometer: Rechargeable Battery Pack
Product number# 2200-601
CP6 Fluorometer: Battery Bracket
Product number# 2360-603
CP6 Fluorometer: High Capacity Submersible Battery w/ Charger & Cable
Product number# 3200-600
CP6 Fluorometer: High Capacity Battery Bracket
Product number# 2360-605
CP6 Fluorometer: Solid Secondary Standard Insert (Chlorophyll, Rhodamine, Fluorescein, Phycoerythrin and Phycocyanin) - requires #2360-905
Product number# 2300-901
CP6 Fluorometer: UV Solid Secondary Standard Insert (Crude Oil, CDOM/FDOM, Refined Fuels, Tryptophan and Optical Brighteners) - requires #2360-905
Product number# 2300-902
CP6 Fluorometer: Solid Secondary Standard Cap (Required part numbers 2300-901 and 2300-902)
Product number# 2360-905
CP6 Fluorometer: PTSA Dye, 200 ppb (1L)
Product number# 10-606
CP6 Fluorometer: Fluorescein Dye, 40% Concentrate (8oz)
Product number# 10-109
CP6 Fluorometer: Fluorescein Dye, 10 ppb (1L)
Product number# 10-508
CP6 Fluorometer: Fluorescein Dye, 400 ppb (1L)
Product number# 10-509
CP6 Fluorometer: PTSA Dye, 100 ppb (1L)
Product number# 10-608
CP6 Fluorometer: PTSA Dye, 300 ppb (1L)
Product number# 10-607
CP6 Fluorometer: PTSA Dye, 400 ppb (1L)
Product number# 10-609
CP6 Fluorometer: Rhodamine WT Dye, 20% Concentrate (8lb)
Product number# 10-208
CP6 Fluorometer: Rhodamine WT Dye, 20% Concentrate (8 oz)
Product number# 10-108
CP6 Fluorometer: Rhodamine WT Dye, 200 ppb (1L)
Product number# 6500-020
CP6 Fluorometer: Rhodamine WT Dye, 400 ppb (1L)
Product number# 6500-120
CP6 Fluorometer: Rhodamine WT Dye, 800 ppb (1L)
Product number# 6500-220