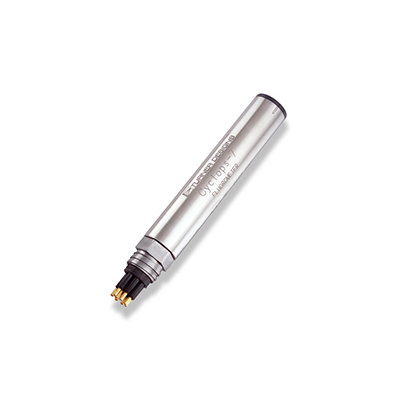 Cyclops 7F
Manufactured by Turner Designs, the Cyclops-7F is a combination Fluorometer & Turbidity sensor ideal for spot check or unattended measurements.
Cyclops-7F sensors are high performance, compact submersible fluorescence and turbidity sensors designed for integration into any platform that provides power and datalogging.
Cyclops-7F are pin-compatible with Analog C-FLUOR Submersible Probes so they are easily integrated into many of the same third-party systems that accept 0-5V signal.
Available Parameters
• Blue Green Algae
– Phycoerythrin (marine)
– Phycocyanin (freshwater)
• CDOM/FDOM
• Chlorophyll in vivo
– Blue excitation
– Red excitation (high CDOM)
• Fluorescent Dye Tracing
– Fluorescein
– PTSA
– Rhodamine
• Hydrocarbons
– Crude Oil
– Refined Fuels
• Turbidity
• Wastewater Monitoring
– Optical Brighteners
– Tryptophan
• Custom Optics Available: 260-900 nm
Third Party Platforms
Cyclops-7F Sensors easily integrate into third-party platforms. Aqualab Scientific & Turner Designs has partnered with several integrators to provide single sensor packages, multi-probes and remote monitoring solutions for in situ sampling.  Examples include:
For longer term, or unattended deployments, Aqualab recommend the addition of a Hydro-Wiper mechanical wiper system to promote robust data capture.
Extremely small size – 5.7″ x 0.9″ s/s or Ti. 5.7″ x 1.25″ (Delrin)

Features:

Affordable price / excellent value
Built-in light scatter rejection
Low power consumption
Interfaces with DataBank™ Datalogger
Cyclops-7 Submersible Logger Available
Cyclops Explorer enables various lab applications
No Housing version available for integration
Custom optics available: 260-900 nm

Benefits:

CYCLOPS-7 can be easily added to typical multiparameter systems within existing space constraints. Measurement capabilities are not compromised by using the CYCLOPS-7 compact sensor. In CTD/AUV applications, you can choose between a smaller battery pack or longer operation on each battery charge. Measurements can be made at any frequency and interval, as determined by an external data logger. Price barrier has been significantly lowered for adding a fluorometer to existing monitoring platforms.

•SPECIFICATIONS

Cyclops-7 Performance
Linearity
0.99R2




Application
Minimum Detection Limit
Dynamic Range
CDOM/FDOM
0.15 ppb**
0.5 ppb***
0-1250 ppb**
0-5000 ppb***
Chlorophyll in vivo
Blue Excitation
Red Excitation
0.025 μg/L
0.5 μg/L
0-500 μg/L
>500 μg/L
Fluorescein Dye
0.01 ppb
0-500 ppb
Oil – Crude
0.2 ppb***
0-2700 ppb***
Oil – Fine
10 ppb*
10 ppm****
>10,000 ppb*
>100 ppm****
Optical Brighteners
0.6 ppb***
0-15,000 ppb***
Phycocyanin
(Freshwater Cyanobacteria)
2 ppbPC
0-40,000 ppbPC
Phycoerythrin
(Marine Cyanobacteria)
0.15 ppbPE
0-750 ppbPE
PTSA Dye
0.1 ppb***
0-650 ppb***
Rhodamine Dye
0.01 ppb
0-1000 ppb
Tryptophan
3 ppb
>20,000 ppb
Turbidity
0.05 NTU
0-3000 NTU



* 1,5 Napthalene Disulfonic Disodium Salt
** Quinine Sulfate
*** PTSA (1,3, 6, 8 – Pyrenetetrasulfonic Acid Tetrasodium Salt)
**** BTEX (Benzene, Toluene, Ethylbenzene, Xylenes)
PC Phycocyanin pigment from Prozyme diluted in Deionized water
PE Phycoerythrin pigment from Prozyme diluted in Deionized water



Cyclops-7 Physical Dimensions
Length x Diameter
5.7″ x 0.9″; 14.48 x 2.23 cm (SSt or Ti)
5.7″ x 1.25″, 14.48 x 3.18 cm (Delrin)
Weight
5.0 oz; 142 grams




Cyclops-7 Environmental Characteristics
Temperature Range
Ambient: 0 to 50 deg C
Water Temp: -2 to 50 deg C
Depth Range
600 meters
Signal Output
0 – 5 VDC
Supply Voltage Range
3 – 15 VDC
Power Requirements
< 300mW typical




Cyclops 7F: Solid Secondary Standard (Chlorophyll, Rhodamine, Fluorescein, Phycoerythrin and Phycocyanin) - Stainless or Titanium Sensors
Product number# 2100-900
Cyclops 7F: Solid Secondary Standard (Chlorophyll, Rhodamine, Fluorescein, Phycoerythrin and Phycocyanin) - Plastic Sensors
Product number# 2100-908
Cyclops 7F: Solid Secondary Standard (Crude Oil, CDOM, Refined Fuels, Tryptophan and Optical Brighteners) - Stainless or Titanium Sensors
Product number# 2100-904
Cyclops 7F: Solid Secondary Standard (Crude Oil, CDOM, Refined Fuels, Tryptophan and Optical Brighteners) - Plastic Sensors
Product number# 2100-905
Cyclops 7F: Flowthrough Cap - Stainless or Titanium Sensors
Product number# 2100-600
Cyclops 7F: Flowthrough Cap - Plastic Sensors
Product number# 2100-608
Cyclops 7F: Shade Cap - Stainless or Titanium Sensors
Product number# 2100-701
Cyclops 7F: Shade Cap - Plastic Sensors
Product number# 2100-708
Cyclops 7F: Fluorescein Dye, 40% Concentrate (8oz)
Product number# 10-109
Cyclops 7F: Fluorescein Dye, 10 ppb (1L)
Product number# 10-508
Cyclops 7F: Fluorescein Dye, 100 ppb (1L)
Product number# 10-506
Cyclops 7F: Fluorescein Dye, 400 ppb (1L)
Product number# 10-509
Cyclops 7F: PTSA Dye, 100 ppb (1L)
Product number# 10-608
Cyclops 7F: PTSA Dye, 300 ppb (1L)
Product number# 10-607
Cyclops 7F: PTSA Dye, 400 ppb (1L)
Product number# 10-609
Cyclops 7F: Rhodamine WT Dye, 20% Concentrate (8 oz)
Product number# 10-108
Cyclops 7F: Rhodamine WT Dye, 20% Concentrate (8lb)
Product number# 10-208
Cyclops 7F: Rhodamine WT Dye, 200 ppb (1L)
Product number# 6500-020
Cyclops 7F: Rhodamine WT Dye, 400 ppb (1L)
Product number# 6500-120
Cyclops 7F: Rhodamine WT Dye, 800 ppb (1L)
Product number# 6500-220

Cyclops 7F - HAB Monitoring Made Easy