ecolog 1000
The OTT ecoLog 1000 is a robust, self-contained, 4G enabled groundwater level logger designed for measuring:
• Water Level
• Temperature
• Conductivity (optional)
The OTT ecoLog allows Field Operators to collect, log & telemeter precise & accurate water quality data within a single turnkey solution.
ecoLog 1000 models
The OTT ecoLog is available in four different models:
• OTT ecoLog with battery
• OTT ecoLog with battery & with conductivity
• OTT ecoLog without battery
• OTT ecoLog without battery & with conductivity
Available measurement ranges include:
• 0m – 4m
• 0m – 10m
• 0m – 20m
• 0m – 40m
• 0m – 100m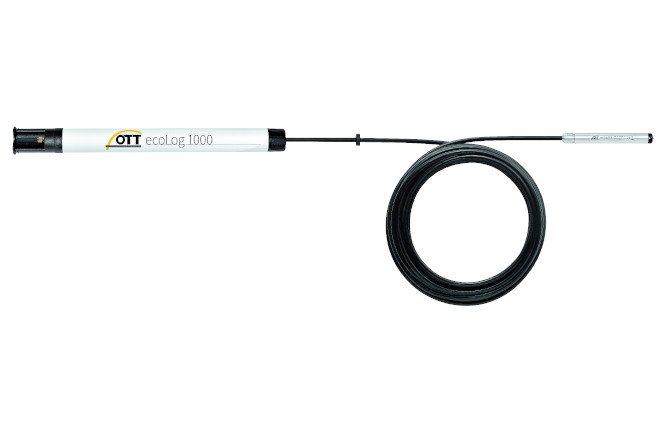 Conductivity Option
The OTT ecoLog is available with an optional conductivity sensor.
• Measuring range:  5μS/cm to 100,000μS/cm
• Accuracy: ±0.5% of measured value (± 1μS/cm minimum)
• Resolution: 1μS/cm
• Units of Measurement: μS/cm or mS/cm
Bluetooth Communication
Local communication is simple using a smart phone APP (via integrated Bluetooth Low Energy (BLE)) on the following devices:
• Android
• iOS
• Mac
• Windows 10 devices
Configure the OTT ecoLog and monitor data remotely with integrated two-way mobile communication to avoid unnecessary, expensive trips to your measurement site and send encrypted data with automatic retries if transmission fails.
No additional cables or dongles are required.  😁
Telemetry Communication
Telemetered data (two-way) is sent through either HTTP(S) or FTP, via an integrated modem using IoT LTE-M (CAT M1) communication, keeping Operators better informed before & after field trips.
Operators can also utilize a bundled solution with OTT HydroMet data hosting solutions, which provides access to web-based data visualization and alarm management.
Telemetered data can be automatically transmitted to multiple locations (up to four Servers) for maximum redundancy.
The logger's long-lasting battery dramatically reduces expensive & unscheduled trips to measurement sites.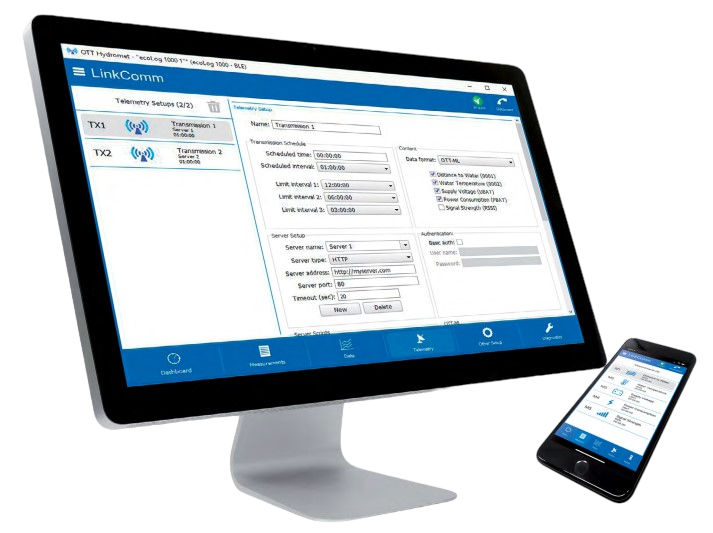 Antenna Options
Telemetered communication from groundwater wells is facilitated by a range of antenna options.
OTT ecoCap
• Specifically designed for ecoLog
• Secures on well without threads
• Robust aluminium housing, weatherproof antenna protection cover, ABS plastic with UV resistant coating.
OTT topCap with rod antenna
• Heavy duty metal construction with robust antenna cover
• Threads on to well pipes w. BPT threads
• Comes with antenna cable to attach ecoLog antenna to antenna cover
• Tamper proof and lockable (uses Pentagon wrench)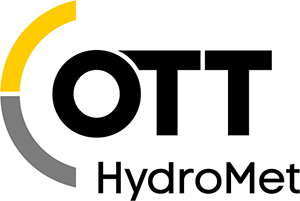 This product is manufactured by OTT and proudly represented by Aqualab Scientific.
Applications:
• Groundwater, in well solution
• Surface water, in pipe solution
• Urban to remote locations with mobile signal
• For fresh, brackish, or salt water

Used by:
• Municipal, state, and federal government agencies
• Water resource managers, scientists, and technicians
• Universities and research centers
• Consultants and engineers

Designed for:
• Ground and surface water level monitoring
• Short-term and long term continuous monitoring to collect more data, more often
• Access the data anytime and anywhere with internet or cell connection (in conjunction with a data hosting bundle)
• Monitor water level rises, drought, climate change, water availability, and water use over time
• Precise and accurate water level data in near real-time

Available models include:

OTT ecoLog with battery
Product number# 5545000190-L
OTT ecoLog with battery & with conductivity
Product number# 5545000190-LC
OTT ecoLog without battery
Product number# 5545000190-L
OTT ecoLog without battery & with conductivity
Product number# 5545000190-LC

Desiccant Cartridge (2pk)
Product number# 9710029695
OTT Cable Stripping Tool
Product number# 9900013695
USB Bluetooth Adapter
Product number# 9796121095
ecoCap (2-4")
Product number# 5544601592
ecoCap (3")
Product number# 5544601792
ecoCap (4")
Product number# 5544601692
Well Adapter (ecoCap installation on 4.5" well)
Product number# 5553047831
Well Adapter (ecoCap installation on 5" well)
Product number# 5553047931
Well Adapter (ecoCap installation on 6" well)
Product number# 5553048031
OTT top cap 2" with rod antenna
Product number# 5544603092
OTT top cap 3" with rod antenna
Product number# 5544603192
OTT top cap 4" with rod antenna
Product number# 5544603292
OTT top cap 5" with rod antenna
Product number# 5544603392
OTT top cap 6" with rod antenna
Product number# 5544603492
Pentagon Wrench
Product number# 2025009541

Introducing the ecoLog 1000

Installing the ecoLog 1000 (USA)

Installing the ecoLog 1000 (UK)