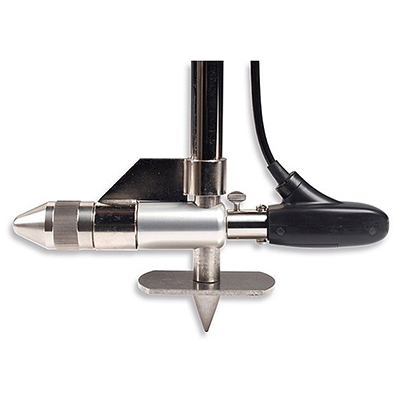 MF Pro
The OTT MF pro is a highly portable magnetic-inductive flow meter designed to spot check the velocity of:
• Streams
• Smaller Rivers
• Canals
• Measurement Flumes
• Open Channels
The system consists of a robust handheld display unit combined with a compact & light weight velocity sensor.  Both system components operate reliably in rough environmental conditions and are designed to be attached to conventional wading rods.
OTT MF Pro:  Overview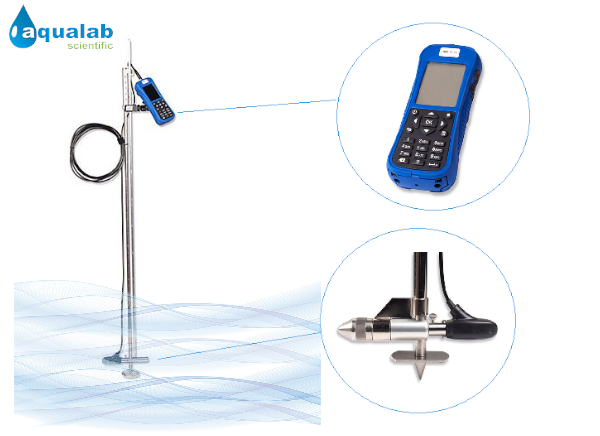 Discharge Automatically Calculated
The OTT MF pro computes discharge automatically based on USGS and ISO methods, saving time and eliminating potential for error caused by hand written transcription.
Real-Time Velocity
Velocity is graphed in real-time on the meter's color display, allowing trends to be visualized quickly.
Maintenance Free
The electromagnetic sensor head has no moving parts and is virtually maintenance-free.
Versatile Applications
The sensor's magnetic inductive measurement principle makes this unit ideal for use in low-flow conditions and environments heavy in organic matter, unlike mechanical or acoustic meters.
User Friendly Handheld Display
A lightweight, water-resistant handheld features a full color display that is easily readable even in bright sunlight.
Depth Sensor
Optionally included in the unit.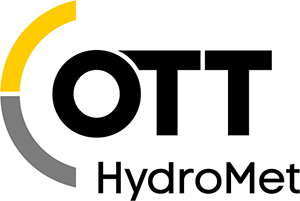 This product is manufactured by OTT and proudly represented by Aqualab Scientific.
Light weight sensor without moving mechanical parts
– requires almost no maintenance

Automatic measurement of vertical depth and sensor immersion (optional)

Automatic storage of all data recorded
– one person is sufficient to perform the measurement within the shortest possible time

Point velocity immediately shown on the display
– allows trends to be visualized quickly

Discharge calculation according to intl. standards
– less time required for desk work, no calculations necessary after measurement

Easy data export from handheld unit to PC through USB interface
– no error-prone copying of log data

Available models include:

MF-Pro Handheld Meter
Product number# 1040500195-S

Product number#
MF-Pro Sensor with 2m cable - no depth
Product number# 1040500595-0N
MF-Pro Sensor with 6m cable - no depth
Product number# 1040500595-1N
MF-Pro Sensor with 12m cable - no depth
Product number# 1040500595-2N
MF-Pro Sensor with 30m cable - no depth
Product number# 1040500595-3N

Product number#
MF-Pro Sensor with 2m cable, with depth
Product number# 1040500595-0D
MF-Pro Sensor with 6m cable, with depth
Product number# 1040500595-1D
MF-Pro Sensor with 12m cable, with depth
Product number# 1040500595-2D
MF-Pro Sensor with 30m cable, with depth
Product number# 1040500595-3D

MF-Pro Replacement Handset
Product number# 1040500195-N
MF-Pro Carry Case
Product number# 10.405.401.9.5
Mini USB Cable
Product number# 97.120.412.9.5
Replacement Lithium ION battery
Product number# 97.820.021.9.5
Handheld mount
Product number# 10.405.405.9.5
Neck strap (lanyard)
Product number# 10.405.403.9.5
Thumb Screw Kit (4pk)
Product number# 10.405.418.9.5
Universal Sensor Mount
Product number# 10.405.419.9.5
Dust Cap, DC jack, handheld
Product number# 10.405.414.9.5
Dust Cap, mini-USB, handheld
Product number# 10.405.415.9.5
Dust Cap, sensor connector, handheld
Product number# 10.405.412.9.5
Dust Cap, USB, series A, handheld
Product number# 10.405.413.9.5
Dust Cover Washers
Product number# 10.405.411.9.5
Dust Cover Screws
Product number# 10.405.410.9.5
Battery Cover Kit, includes screws
Product number# 10.405.416.9.5

OTT MF-Pro

OTT MF-Pro - Cave Measurement

OTT MF-Pro Webinar (2013)

OTT MF Pro Firmware (Version 2.06)

Release date 29.09.2022

Download now