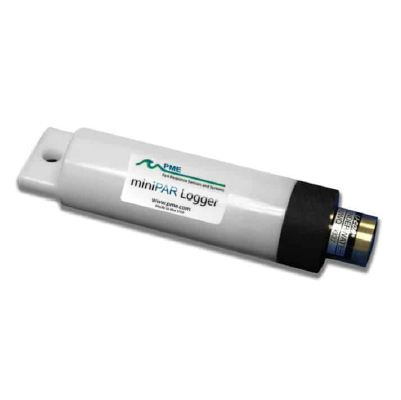 miniPAR
The miniPAR is a completely submersible datalogger that measures & records:
• PAR (Photosynthetically Active Radiation)
• PAR Orientation
• Temperature
Depth rating is a massive 100m!
Each miniPAR logger kit includes a:
• Tilt Sensor to ensure proper orientation
• Temperature sensor
• Batteries
• Micro-SD memory card
The miniPAR is unique among similar loggers in that it contains a tilt sensor to measure the orientation of the device.  Since PAR measurement accuracy is dependent upon the sensor being pointed toward the water surface, the tilt sensor will alert the user if the sensor is rotated in a particular direction.
miniPAR Sensor Specifications 
Data Download Options
Data can be downloaded via a standard USB cable.  When connected to a computer, the logger displays as a connected "thumb drive" making logged data simple to access.
Adjustments to the logging regime, such as setting the time & sample interval, can be accomplished via the USB cable.
miniWIPER
The miniWIPER is a self-contained, completely submersible, wiping device that can combined with the miniPAR.
The miniWIPER incorporates a small brush that rotates over the dissolved oxygen sensor surface before resting in a home position.  Wiping intervals can be programmed from one time only, hourly or daily.
The miniWIPER is powered from two AA Lithium batteries.
The maximum depth rating for the miniWIPER is 25m.

The product is proudly manufactured by PME and exclusively represented by Aqualab Scientific within Australia.

FEATURES 
• Submersible up to 100 meters
• PAR, orientation, and temperature sensors
• Anti-fouling wiper available
• Long-lasting
• User replaceable batteries
• Tilt sensor to monitor sensor direction

Available models include:

miniPAR Logger
Product number# 7530

Communications Cable
Product number# 7286
Logger Maintenance Kit
Product number# 7436
miniWIPER Maintenance Kit
Product number# 5980