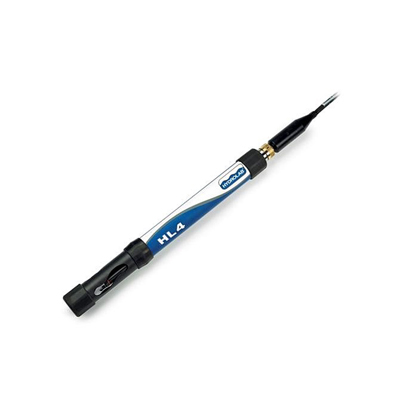 Hydrolab HL4
The Hydrolab water quality meter was the environmental industry's first multiparameter sonde, introduced in 1968.  Today the Hydrolab HL4 water quality meter is a world class product designed for:
• Spot Checking
• Low Flow Sampling
• Unattended Logging
• Remote Telemetry
• Process Control
• Laboratory
• Ground Water
• Lakes, Rivers, Estuaries
• Water & Wastewater
• Education & Research
• Aquaculture
Hydrolab HL4: Sensor Suite
The HL4 has a large sensor suite including:
• Temperature (Temp)
• Dissolved Oxygen (LDO)
• Conductivity (EC)
• Salinity (SAL)
• pH
• Oxidation Reduction Potential (ORP)
• Depth
• Turbidity (Turb)
ISE sensors include:
• Nitrate (NO3-)
• Chloride (Cl-)
• Ammonium (NH4+)
Specialty sensors include:
• Chlorophyll a
• Blue Green Algae
Note:  Not all sensor configurations are available on a single sonde.  Please check with Aqualab before ordering.
The HL4 configuration has six sensor ports restricted to the following:
• 2 fixed sensor ports reserved for temperature & depth (optional).
• 4 non-fixed ports for other sensor options.
• 2 sensor ports available for optical dissolved oxygen & one additional optical sensor.

Available Models
Two HL4 models are available:
• Hydrolab HL4 sonde (with temperature)
• Hydrolab HL4 sonde (with internal battery & temperature)
Both Hydrolab HL4 models include:
• Internal memory
• Calibration cable
• AC power adaptor
• Sensor Guard with weight
• Mooring cap
• Sensor maintenance kit
• USB Communications module
• Hydrolab Operating Software (see downloads)
The Hydrolab HL4 comes with a 2 year warranty!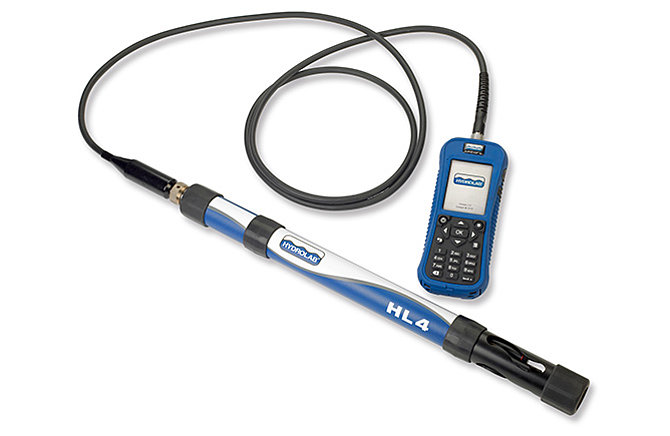 Display Opti

ons

Data from the HL4 can be viewed & logged in real time using a variety of third party display devices, such as tablets & laptops.

For users requiring a dedicated display, the Surveyor handheld display is also available:  Surveyor HL – Aqualab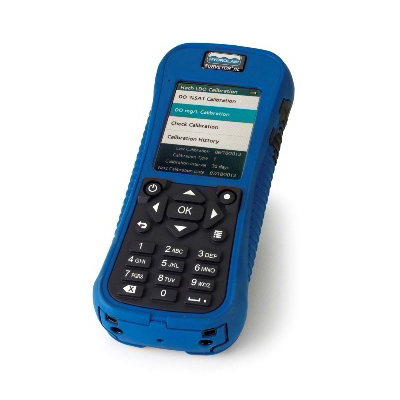 Cable Options
Various HL4 cable lengths are available:
• 2 meter
• 5 meter
• 10 meter
• 15 meter
• 25 meter
• 25 meter
• 30 meter
• 50 meter
• 75 meter
• 100 meter
• 150 meter
• 200 meter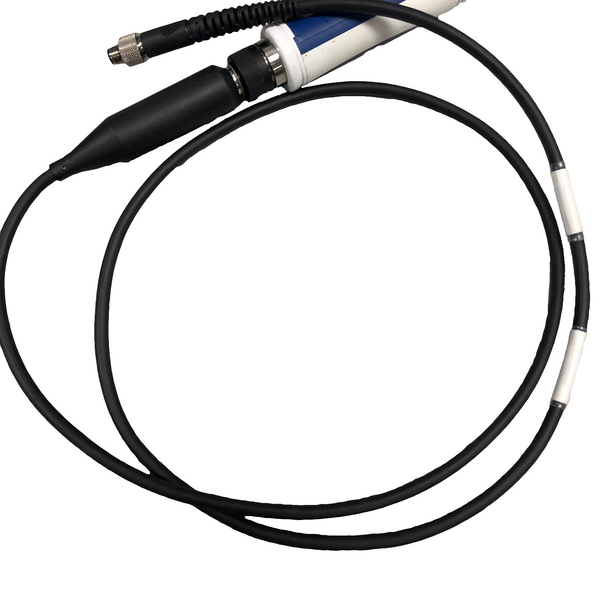 Communication Options
The following communication modules are available with the HL4:
• USB
• SDI-12
• RS485
• RS232
• TTY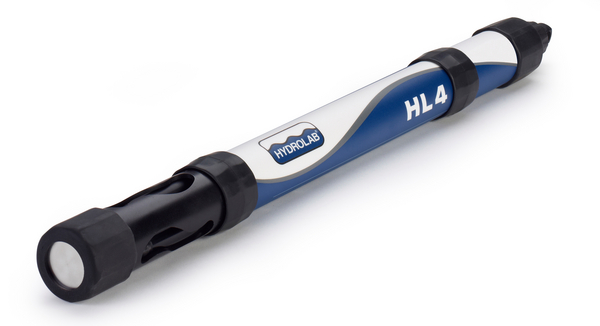 Anti-Fouling options
The following anti-fouling options are available with the HL4: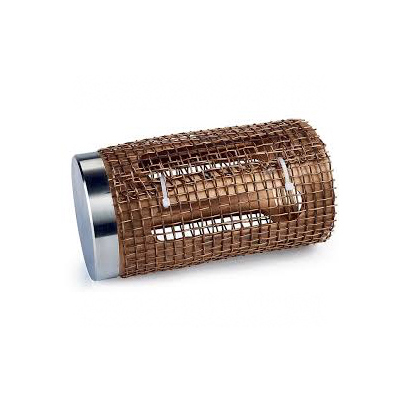 Why choose Hydrolab HL4?
• Reliability.
The HL4 is built for demanding field conditions.  A two year warranty is standard with every unit.
• Superiority
Superior sensors mean you can stand behind your data.
• Fitness for Purpose.
HL4 construction has been tested in thousands of demanding applications.
• Ease of Use
HL4 sondes are easy to calibrate. Simple & intuitive software walks you through the calibration process within a few minutes.
The Hydrolab HL4 water quality meter is manufactured by Hydrolab and proudly represented by Aqualab Scientific.
Self-monitoring system reports the status of the instrument, flags the data, and shows the user where the problem is with assistance on how to solve the issue
User-scheduled calibration and maintenance intervals indicate when they are due
Guided and semi-automated calibration routines lead the user through the calibration process
Calibration results are stored with date and time, calibration type, user identification, and user notes
Check Calibration process allows the user to verify calibration and store the results
Calibration reports contain information about previous calibrations and calibration checks
Sensor status is saved with every line of data and is contained in the log file
Dedicated communications modules allow easy integration with data loggers and telemetry systems
Compatible with the Surveyor HL – a fully IP67 handheld designed for field use with a full-color screen that is visible in direct sunlight

| | |
| --- | --- |
| Sensors | 4 sensor ports available plus temperature |
| Electrical | |
| External | 6 … 30 VDC (12 VDC nominal) applied to the communications module,12 VDC: 250 mW average, 19 W peak |
| Internal | (Optional) Internal alkaline D-cell battery, non-rechargeable. |
| Sleep mode at 12 V | 20 mA |
| Communications | Hydrolab communications modules: USB, SDI-12, RS232, RS485, or TTY |
| Memory | 4 GB of internal memory; 1 second interval minimum |
| User Interface | |
| PC Software | Hydrolab Operating Software |
| Handheld | Hydrolab Surveyor HL |
| General | |
| Sonde Depth Rating | 200 m |
| Maximum Deployment Cable | 200 m |
| Diameter w/o bumpers | 4.4 cm |
| Diameter with bumbers | 5.3 cm |
| Weight with internal battery pack (IBP) and storage/calibration cup | 2.2 kg |
| Length – no IBP, standard sensor guard | 51.4 cm |
| Length – no IBP, extended sensor guard | 66.4 cm |
| Length – IBP and standard sensor guard | 62.2cm |
| Length – IBP and extended sensor guard | 77.8 cm |
| Environmental conditions | |
| Operating temperature | -5°C to 50°C, non-freezing |
| Storage temperature | 1°C to 50°C |

Not all sensor configurations are available on a single Hydrolab sonde.

Please check with Aqualab before ordering.

Available models include:

Hydrolab HL4 Sonde (with temperature)
Product number# HL4TABATT
Hydrolab HL4 Sonde (with internal battery power & temperature)
Product number# HL4TANOBATT
HL4 Temperature Sensor (Temp)
Product number# Included
HL4 Dissolved Oxygen Sensor (LDO)
Product number# HLLDO
HL4 Conductivity / Salinity Sensor (EC)
Product number# HLCOND
HL4 pH Sensor (with standard reference)
Product number# HLPHSREF
HL4 pH Sensor (with integrated reference)
Product number# HLPHIREF
HL4 pH / ORP Combination Sensor (with standard reference)
Product number# HLPHORPSREF
HL4 Depth Sensor (25m)
Product number# HL25MDEPTH
HL4 Depth Sensor (100m)
Product number# HL100MDEPTH
HL4 Depth Sensor (200m)
Product number# HL200MDEPTH
HL4 Turbidity Sensor (Self Cleaning)
Product number# HL4TURB
HL4 Nitrate ISE Sensor (NO3-)
Product number# HLNO3
HL4 Chloride ISE Sensor (Cl-)
Product number# HLCL
HL4 Ammonium ISE Sensor (NH4+)
Product number# HLNH4
HL4 Chlorophyll a sensor (Stainless Steel)
Product number# HL4CHLOR
HL4 Blue Green Algae Sensor (Stainless Steel) - Phycocyanin (Fresh Water)
Product number# HL4BGRNA
HL4 Blue Green Algae Sensor (Stainless Steel) - Phycoerythrin (Marine Water)
Product number# HL4BGRNAMA

HL4 Flow Cell (normal)
Product number# 014880
HL4 Flow Cell (extended sensor)
Product number# 013520HY
HL4 Lightweight Marine Cable (2m)
Product number# CZL002
HL4 Lightweight Marine Cable (5m)
Product number# CZL005
HL4 Lightweight Marine Cable (10m)
Product number# CZL010
HL4 Lightweight Marine Cable (15m)
Product number# CZL015
HL4 Lightweight Marine Cable (25m)
Product number# CZL025
HL4 Lightweight Marine Cable (30m)
Product number# CZL030
HL4 Lightweight Marine Cable (50m)
Product number# CZL050
HL4 Lightweight Marine Cable (75m)
Product number# CZL075
HL4 Lightweight Marine Cable (100m)
Product number# CZL100
HL4 Lightweight Marine Cable (150m)
Product number# CZL150
HL4 Lightweight Marine Cable (200m)
Product number# CZL200
HL4 Communications / Calibration Cable (Lab use only)
Product number# 9310600
HL4 Communications Module (USB)
Product number# 6748600
HL4 Communications Module (SDI-12)
Product number# 9039600
HL4 Communications Module (RS-485)
Product number# 9039700
HL4 Communications Module (RS-232)
Product number# 9039800
HL4 Communications Module (TTY)
Product number# 9312900

Hydrolab HL4: Overview

Hydrolab HL4: Water Quality Monitoring

Hydrolab HL4: Webinar (2014)

Hydrolab HL4: Operating Software