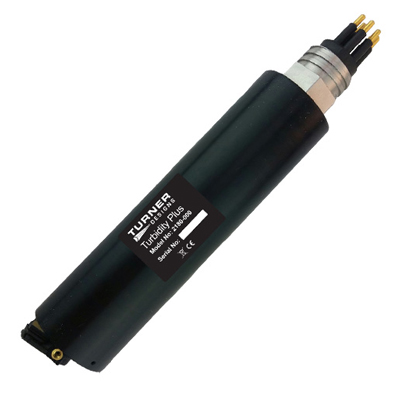 Turbidity Plus
Turbidity Plus is an accurate single-channel turbidity sensor with an
integrated, user-controlled wiper motor.
Turbidity Plus is designed for integration with multiparameter systems and dataloggers from which it receives power and wiper motor triggers at user defined intervals.
Turbidity Plus is available in 2 linear ranges up to 500 or 3,000 NTU with minimum detection limits of 0.05 or 0.5 NTU respectively. It delivers a voltage response proportional to the turbidity of the sample which can be correlated to nephelometric turbidity unit (NTU) concentrations by calibrating the sensor using AMCO Clear Turbidity Standards.
Deployable to 200 meters, Turbidity Plus is available in a variety of configurations to facilitate integration.
Integrated Wiper Package
Low Power Consumption
Excellent Value
Easy-to-integrate Configurations
Wide range of detection

Turbidity Plus Physical Specifications
Diameter of housing:
3.01 cm (Delrin)
Length:
Housing only: 11.05 cm
Housing w/ Connector & Wiper:  15.49 cm
Weight w/ Connector & Wiper:
138 g
Temperature Range:
Ambient: 0 to 50 deg C
Water Temp: -2 to 50 deg C
Depth Range:
200 meters
Turbidity Plus Electrical Specifications
Signal Output:
single gain, 0 – 5 VDC
Supply Voltage Range:
3 – 15 VDC
Wiper Trigger:
3.2 VDC
Maximum Peak Current:
100 mA
Settling Time:
< 3 seconds T99
Power Requirements:
@6V 120 mW signal only
@6V 160 mW while wiper rotates
Turbidity Plus Performance Specifications
Linearity:
0.99R
MDL:
0.5 NTU
Range:
0 – 3,000 NTU
*Accuracy, precision, and resolution are determined by the user's correlation between the 0-5V output and the 0-3,000 NTU

The Turbidity Plus Sensor is available in the following configurations. Please consult with Aqualab before ordering.

Available models include:

Turbidity Plus: with Integrated Wiper
Product number# 2180-000
Turbidity Plus: with Integrated Wiper Motor and Wiper Assembly (No Connector)
Product number# 2180-000-NC
Turbidity Plus: with Integrated Wiper Motor (No Wiper Assembly, No Connector)
Product number# 2180-000-NCW
Turbidity Plus: with Integrated Wiper Motor and Wiper Assembly (No Housing)
Product number# 2180-000-NH
Turbidity Plus: with Integrated Wiper Motor (No Wiper Assembly, No Housing)
Product number# 2180-000-NHW
Turbidity Plus (500NTU): with Integrated Wiper
Product number# 2185-000

Turbidity Plus: Wiper Kit
Product number# 2180-456
Turbidity Plus: 0.6 meter Pigtail Interface Cable w/ Locking Sleeve
Product number# 2200-170
Turbidity Plus: 10 Meter Pigtail Cable w/ Locking Sleeve
Product number# 105-0555