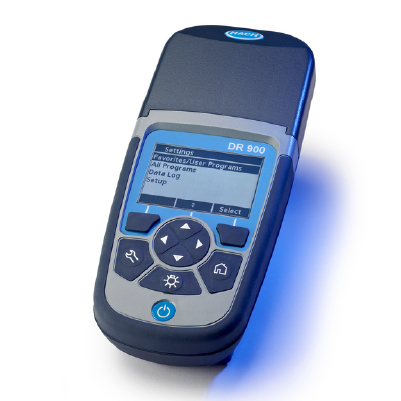 DR900 Multiparameter Portable Colorimeter
Fastest and simplest water testing for the most demanding field environments.
The portable DR900 allows quick and easy access to your most-used testing methods. This colorimeter is waterproof, dustproof and field durable. With an intuitive user interface, easy data transfer abilities, and the ability to test up to 90 of the most commonly tested water methods, the DR900 makes water testing in harsh field environments a little less challenging.
Your Favorites at Your Fingertips

Save time by storing your most standard methods for quick access in less than 4 clicks.

Field Ready in Every Way Possible

This portable, rugged colorimeter is waterproof and dustproof. Drop tested and shock resistant for greater quality assurance.

Intuitive User Interface

Improved user interface allows quick selections and easier testing.

Simple Data Communication

Stores data for up to 500 tests, and comes with a USB port for easily downloading or transferring information.

Satisfies Your Core Testing Needs

A single portable instrument provides access to 90 of the most common parameters.

Battery Life
6 months (typical) @ 5 readings a day / 5 days / week without backlight**
** Backlight usage will decrease battery life.
Battery Requirements
4, AA size alkali cells
Data Logger
500 measured values (Result, Date, Time, Sample ID, User ID)
Detector
Silicon photodiode
Dimensions (H x W x D)
231 mm x 96 mm x 48 mm
Display
Graphical display 240 x 160 pixels (Backlit)
Enclosure Rating
IP67 (vial cover closed)
Includes
DR 900 Colorimeter, two 1-inch glass sample cells marked at 10, 20 and 25 mL, two 1 cm plastic sample cells, 1 x 16-mm COD/Test 'N Tube™ adapter, 4 AA alkaline batteries, printed multilingual instrument manual, instrument and procedure manuals on CD, USB Mini to USB Cable, European CE mark.
Interface
USB type Mini IP67
Manual Languages
English, French, German, Italian, Spanish, Portuguese, Bulgarian, Chinese, Czech, Danish, Dutch, Finnish, Greek, Hungarian, Japanese, Korean, Polish, Romanian, Russian, Slovenian, Swedish, Turkish
Operating Conditions
10 – 40 °C (50 – 104 °F), max. 80 % relative humidity (non- condensing)
Operating Humidity
max 90 % relative humidity (non-condensing)
Operating Mode
Transmittance (%), Absorbance and Concentration
Operating Temperature
10 – 40 °C
Optical System
0 / 180 deg transmittance
Photometric Accuracy
± 0.005 Abs @1.0 ABS Nominal
Photometric Linearity
± 0.002 Abs (0 – 1 Abs)
Photometric Measuring Range
0 – 2 Abs
Power supply
4 x AA size alkaline cells
4x NiMH rechargeable Battery*
(*External charger required)
Region
US
Reproducibility
± 0.005 Abs (0 – 1 A)
Sample Cell Compatibility
1 inch round or 16 mm round (with adapter)
Source Lamp
Light Emitting Diode (LED)
Spectral Bandwidth
15 nm filter bandwidth
Storage conditions:
-30 to 60 °C (-30 – 140 °F), max. 80 % relative humidity (non-condensing)
Supported Chemistry
Hach tests
Temperature Range
0 – 50 °C (32 – 122 °F)
User Interface Languages
English, French, German, Italian, Spanish, Portuguese, Bulgarian, Chinese, Czech,
Danish, Dutch, Finnish, Greek, Hungarian, Japanese, Korean, Polish, Romanian,
Russian, Slovenian, Swedish, Turkish
User Programs
Custom programming 10
Warranty
12 months
Wavelength Accuracy
± 1 nm (fixed, varies with model)
Wavelength Calibration
Wavelength Range
420 nm, 520 nm, 560 nm, 610 nm
Wavelength Selection
Automatic
Weight
0.6 kg with battery
What's included?

Includes: DR900 instrument, USB cable with mini-USB connector, 4-AA alkaline batteries, 2 glass sample cells 1-inch (25 mm) round with 10, 20, 25-mL marks, 2 sample cells 1 cm/10 mL, sample cell adapter and multilingual user manual